Chandhok thought Ricciardo would 'trouble' Norris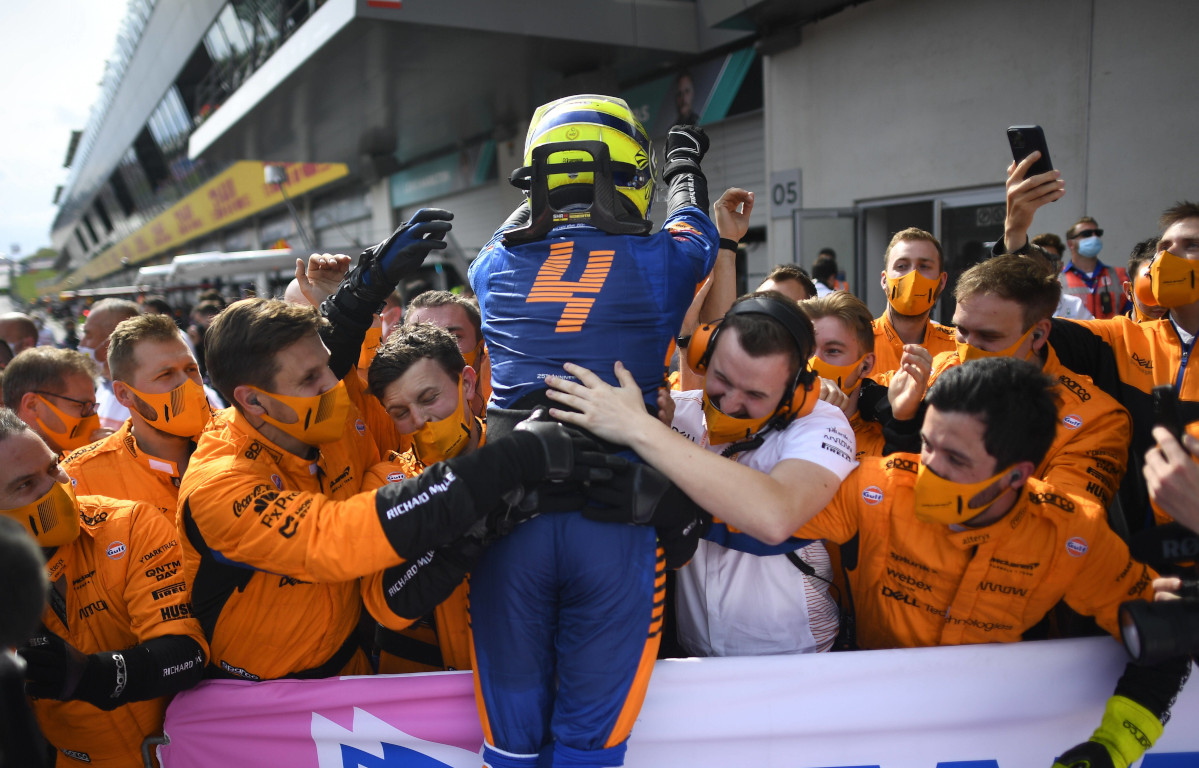 Karun Chandhok has rated Lando Norris as his third best driver of this season, saying his form has cemented him as "one of the stars for the next decade".
Partnering seven-time grand prix winner Daniel Ricciardo in this year's championship, many pundits predicted that it would be a tough test for Norris.
But it is one that he has aced.
While Ricciardo has struggled just to score points, Norris has three podium finishes, more than any other driver outside the Mercedes or Red Bull teams, and in fact has one more than Sergio Perez.
With a run of 10 top-ten results, which ended in Hungary when Valtteri Bottas rear-ended him on the opening lap, he is P3 in the Drivers' Championship.
Norris has shown this season that he can turn difficult grands prix into solid points, while also learning how to pick his battles. So much so that Chandhok reckons the only drivers who have performed better this season are Max Verstappen and Lewis Hamilton.
Such is Norris' popularity with the fans that he sold more merchandise at the British Grand Prix than any other driver, even seven-time World Champion Lewis Hamilton.
Although his point-scoring streak was broken at the Hungarian GP, Lando Norris is still P3 in the Championship👀…

He is definitely in contention for driver of the season🧡 #F1 pic.twitter.com/32zq04jCmg

— Planet F1 (@Planet_F1) August 4, 2021
Stand out from the crowd with McLaren merchandise via the official Formula 1 store
"The young Brit has been a real star of the season thus far," Chandhok said of Norris to Sky Sports.
"I'll be honest, when I heard that Daniel Ricciardo was going to join McLaren, I thought that Lando would be in trouble but actually, this season has cemented Norris' reputation as one of the stars of Formula 1 for the next decade.
"The fact that he's delivering on track and balancing it with wonderful humility, humour and charisma off track has endeared him to fans all around the world. You're definitely doing something right when you sell more merchandise than any other driver at the British Grand Prix.
"It's a very different Lando I've seen this year. Gone are the jokey comments on the radio and instead there's a degree of maturity combined with a working environment that McLaren have created which has unlocked some serious speed.
"Despite the fact he went wide on his quali lap in Imola by a few centimetres, I would still say that weekend was arguably the best single weekend performance of any driver this season."