'Max races Leclerc differently to how he raced Hamilton'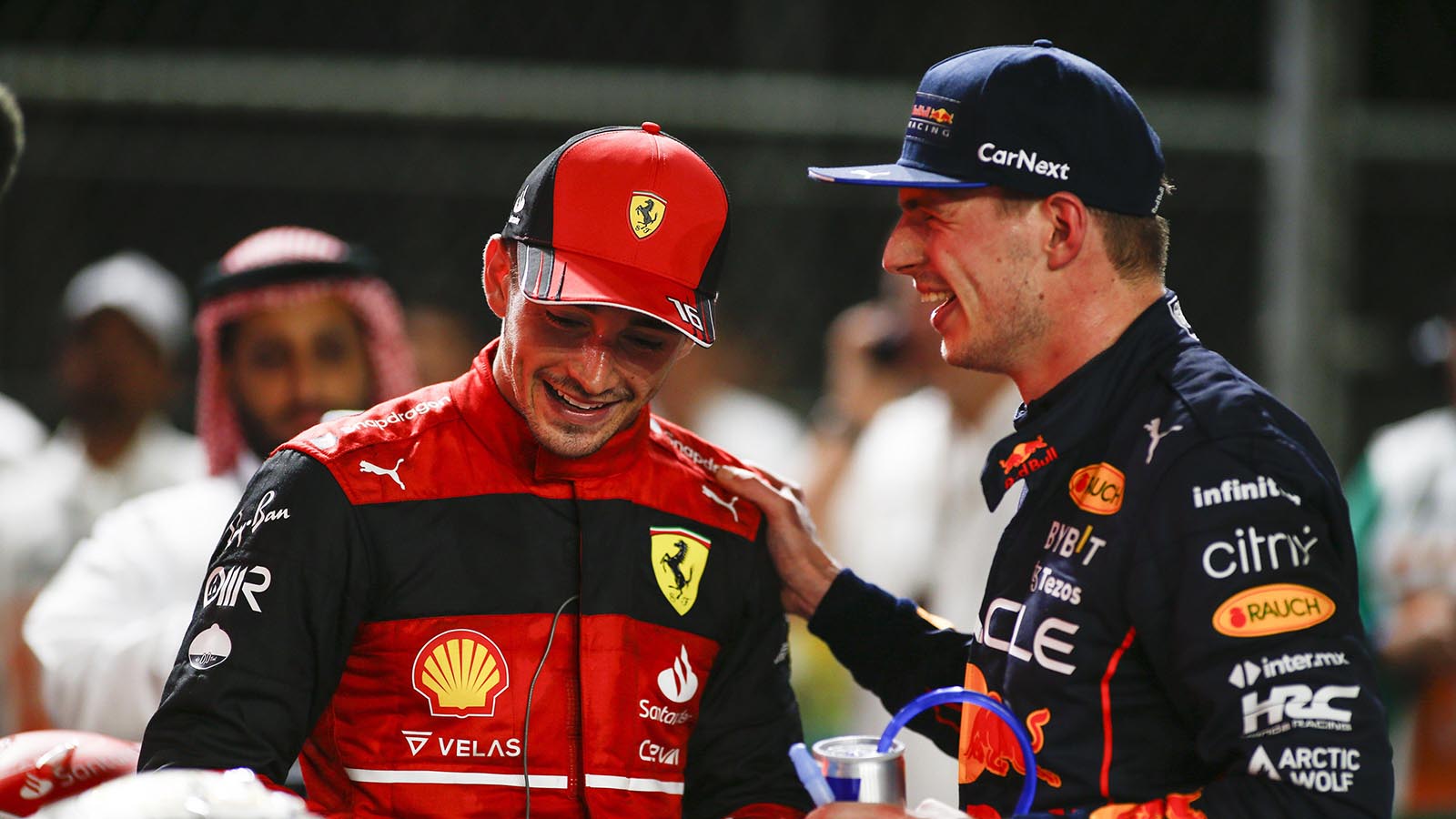 Former F1 driver Karun Chandhok believes Max Verstappen races Charles Leclerc as an "equal", rather than how his battles with Lewis Hamilton were to try and "dethrone" the seven-time World Champion.
Duels between Verstappen and Hamilton became intense at times last season, with contact made between the two of them on several occasions, with the Red Bull driver in particular receiving criticism for the lengths he sometimes went to in holding position against Hamilton.
The title fight went all the way down to the final lap in Abu Dhabi, with the Dutchman breaking the Mercedes driver's run of four World Championships in a row in dramatic circumstances.
But the racing between Verstappen and Leclerc, who had a rivalry with each other during their karting days, has been altogether "cleaner" through this year so far when they've battled for position.
And that could come down to a number of factors, including Verstappen taking the World title, as well as he and Leclerc being long-time "peers", according to former Lotus and HRT driver Chandhok.
Spraying technique 💯🍾 #CanadianGP 🇨🇦pic.twitter.com/gygeZbiLjJ

— Oracle Red Bull Racing (@redbullracing) June 22, 2022
"We talked about it, I think, after Saudi. I still believe that he actually races Leclerc differently to how he raced Lewis last year because I think he was trying to establish himself against Lewis, right?" Chandhok said on Sky F1.
"You know, Lewis was the incumbent, the king of the castle, and Max had to come along, or felt he had to come along, to basically dethrone him and got his elbows out a bit more.
"Whereas with Leclerc, they've grown up as peers, and I feel like Max doesn't feel like he has to necessarily, you know, knock him off that pedestal effectively.
"He sees Leclerc as an equal as someone he's raced with since they were kids and therefore, there's less 'elbows out' in the way they go racing with each other and it's cleaner.
"They give each other more space and maybe some of it is maturity and having that World Championship, but I do think there is a shift in the mindset for sure."
Verstappen currently leads Leclerc in the World Championship by 49 points, after a 95-point swing in his favour in the past six races, having taken five victories in that time.
The Ferrari driver has not ruled out his chances of getting back in the fight however, saying that two race victories will put him back in the hunt.
Max Verstappen is looking unstoppable
The World Champion Max Verstappen looks well on course to retain his crown.