Magnussen: Endurance racing mentally far different to F1
Kevin Magnussen has spoken of the completely different mentality which endurance racing requires compared to Formula 1.
The Danish driver first appeared on the Formula 1 grid in 2014, making his final appearance in 2020 as he swapped F1 for the world of sportscar racing after one podium finish.
Signed by Chip Ganassi Racing to compete in the 2021 WeatherTech SportsCar Championship, Magnussen is also contesting his first Le Mans this year alongside his father, Jan, and Anders Fjordbach with High Class Racing's LMP2 car.
Next year will see him enter the World Endurance Championship as part of Peugeot's line-up.
But while the driving skills picked up in Formula 1 will of course be of benefit to the Dane, when it comes to the mentality needed for endurance racing there are few comparisons to Formula 1.
"At the end of the day it's just trying to drive fast anyway, but I think in a 24-hour race the mentality is different," he said, quoted by f1i.com.
"You're having to look forward so far. In a Formula 1 race, you're more inclined to take risk in the beginning of the race when everyone's close together, for example.
"Whereas in a 24-hour race, that doesn't make a lot of sense. All the way through the race you get in situations, let's say with six hours to go, and you feel like you've done a long race already, you feel like you're getting towards the end and you start fighting, and then you remember it's still six hours to go.
"So, judging when to really take risk against the others is one thing I would say is different, like the mentality of racing other people."
Having raced for McLaren, Renault and Haas in his Formula 1 career, Magnussen was very often fighting in the midfield pack. But again, he feels contending with other cars in Formula 1 and a sportscar race is a totally different situation.
"Then you've got the whole traffic management, when you're in a prototype at least, the GTs are managing it too – they're getting overtaken all the time," he said.
"But I think that's an area that's really interesting. In Formula 1 you start the race and after the first lap mess is done, you fall into a rhythm. And quite often you have that rhythm for the whole race.
"Whereas here, you're always on it. Like mentally, you're trying to judge how fast you're approaching, if you can overtake here or wait for the next [corner], which way to go around and also using the GT traffic to either attack or defend from the other prototypes.
"That part I really like and a 24-hour race, or even two hours of a 24-hour race in this type of racing, is more intense in many ways than a Formula 1 race, and then we do 24 [hours]. So it's pretty cool."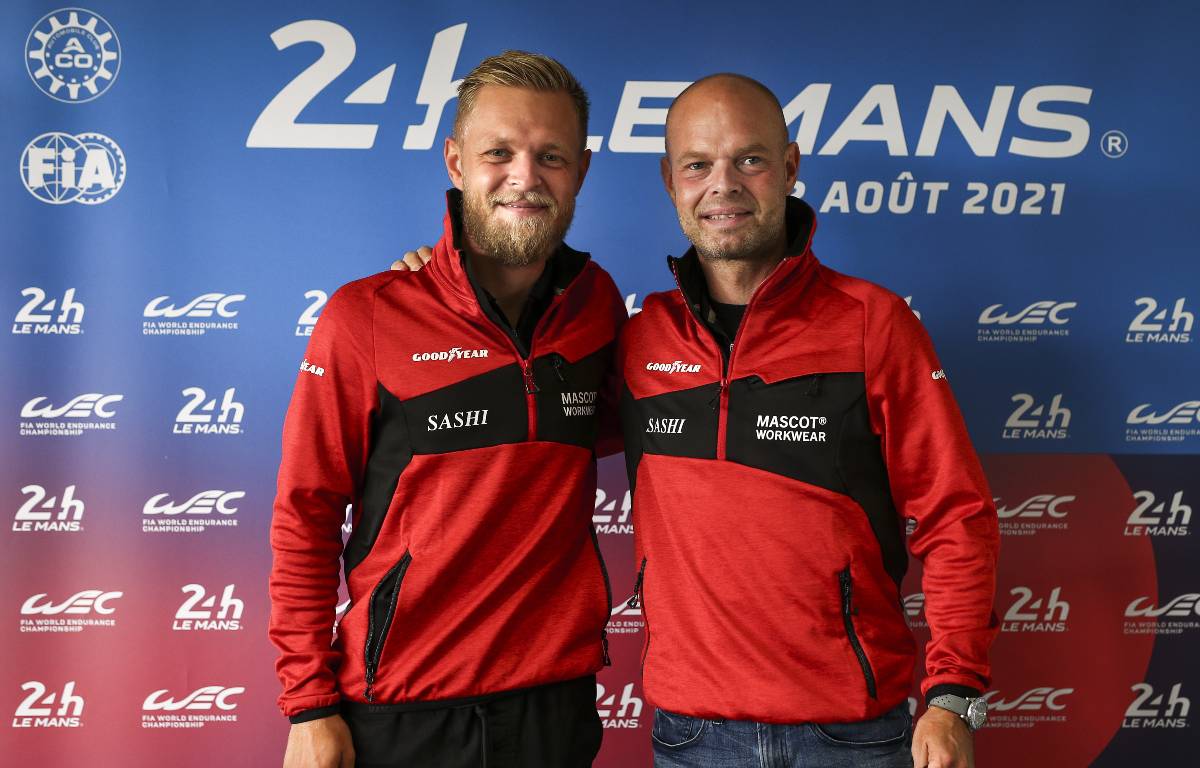 Check all the latest 2021 teamwear via the official Formula 1 store
To see father and son in action for the same team at Le Mans is a dream come true, said Jan Magnussen, one which with the help of the Danish press generated plenty of publicity back home to secure the required funding.
Kevin's father, Jan, is a four-time class winner at Le Mans.
"This came about because I'm racing in the WEC with High Class Racing and they got an extra entry for Le Mans," explained Magnussen Snr.
"Well, that was the opportunity and we grabbed that immediately. But the team knew it was a dream of ours for many, many years, so they were okay with it immediately and we started looking for funding.
"Luckily, we've been talking about this in Denmark to the Danish press so much so that every company we approached knew why we were calling and very soon a lot of companies bought into the dream of this father and son pairing."