Kevin Magnussen hits out at 'over the top' black-and-orange flag call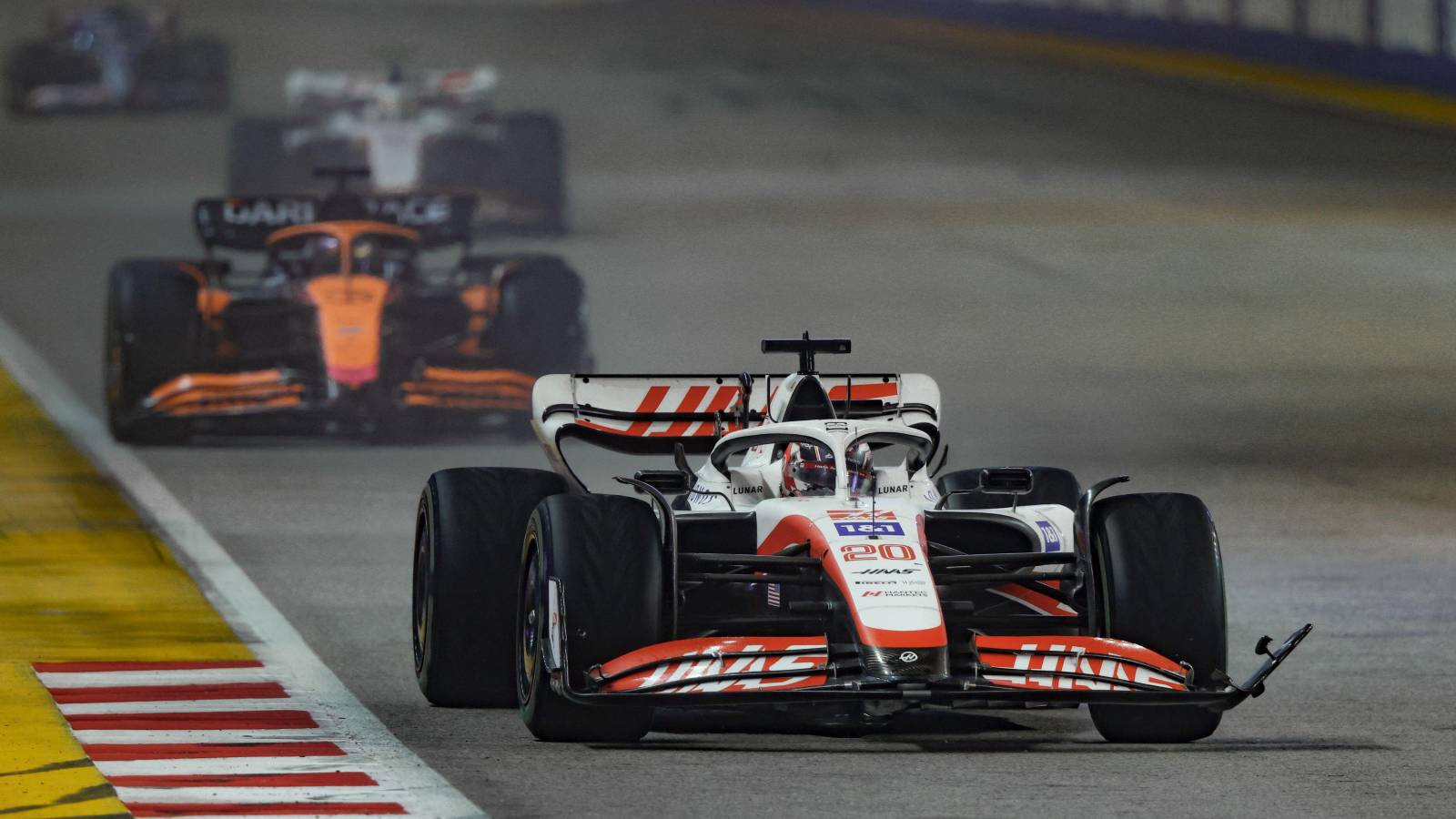 Kevin Magnussen was very frustrated to have received the black and orange flag yet again in Singapore, feeling it was totally unnecessary.
Magnussen sustained damage to the endplate on his front wing on the opening lap following a collision with Max Verstappen, who quickly pointed out over the radio that Magnussen's front wing had seen better days.
In the event that the FIA judge this to be posing a danger, they may force the driver to pit for repairs with the display of a black and orange flag – a fate Magnussen had already met twice this season in Canada and Hungary.
Make that three now as Race Control decided to bring out the black and orange flag once more for Magnussen at the Singapore Grand Prix.
His Haas team did not react well to such a situation in Hungary, with Magnussen now criticising this latest case at the Marina Bay Circuit, stressing there was no danger of the endplate becoming detached from the main front wing.
"I don't know who the contact was with, the damage was minor," Magnussen told reporters after the race, which he finished in P12.
"I don't know why I got this black and orange flag, it seems completely over the top to give me that flag. I mean, there's no safety concern, that thing has tethers, you know, the endplate.
"It wasn't flapping, it was just bent. It obviously had a crack but it wasn't about to fall off. And we've explained that to the FIA because it's the third time this year I got that flag because of that part. So yeah, a frustrating day because of that."
"It was a positive Saturday yesterday, and we've seen the car has some pace, so that's at least encouraging. Hopefully we can keep it up moving forward."#HaasF1 #SingaporeGP pic.twitter.com/jSVbwKKdYD

— Haas F1 Team (@HaasF1Team) October 2, 2022
Magnussen was not the only Haas driver in the wars, Mick Schumacher sustaining a puncture after rubbing wheels with George Russell at Turn 1 in the first of two battles between the pair in the race. Russell was also left with a puncture.
Schumacher explained that while he knew Russell was faster than him when he overtook in the closing stages, when they had battled earlier in the race he did not understand why Russell decided to take such a risk to pass.
Schumacher finished P13 with Russell in P14 to complete the finishing order.
"The contact with George was probably the one which killed our race with a puncture and everything," Schumacher reflected.
"But nonetheless, finished P13. I think we can say in one way we are happy we finished – not a lot of people did. We had the pace for points and we just got unlucky.
"We touched once and we had a battle. When the battle was, I knew he was quicker so it was just a matter of time.
"But I think in the first battle we had, it was probably a bit risky. I understand him, he wants to go forwards, but on the other hand we are all racing for points and all racing for our own positions. And I can say in that sense we are all fighting for our race."
Read more: Sergio Perez handed five-second penalty as Singapore GP win is confirmed