The key storylines to emerge from the Abu Dhabi Grand Prix press conferences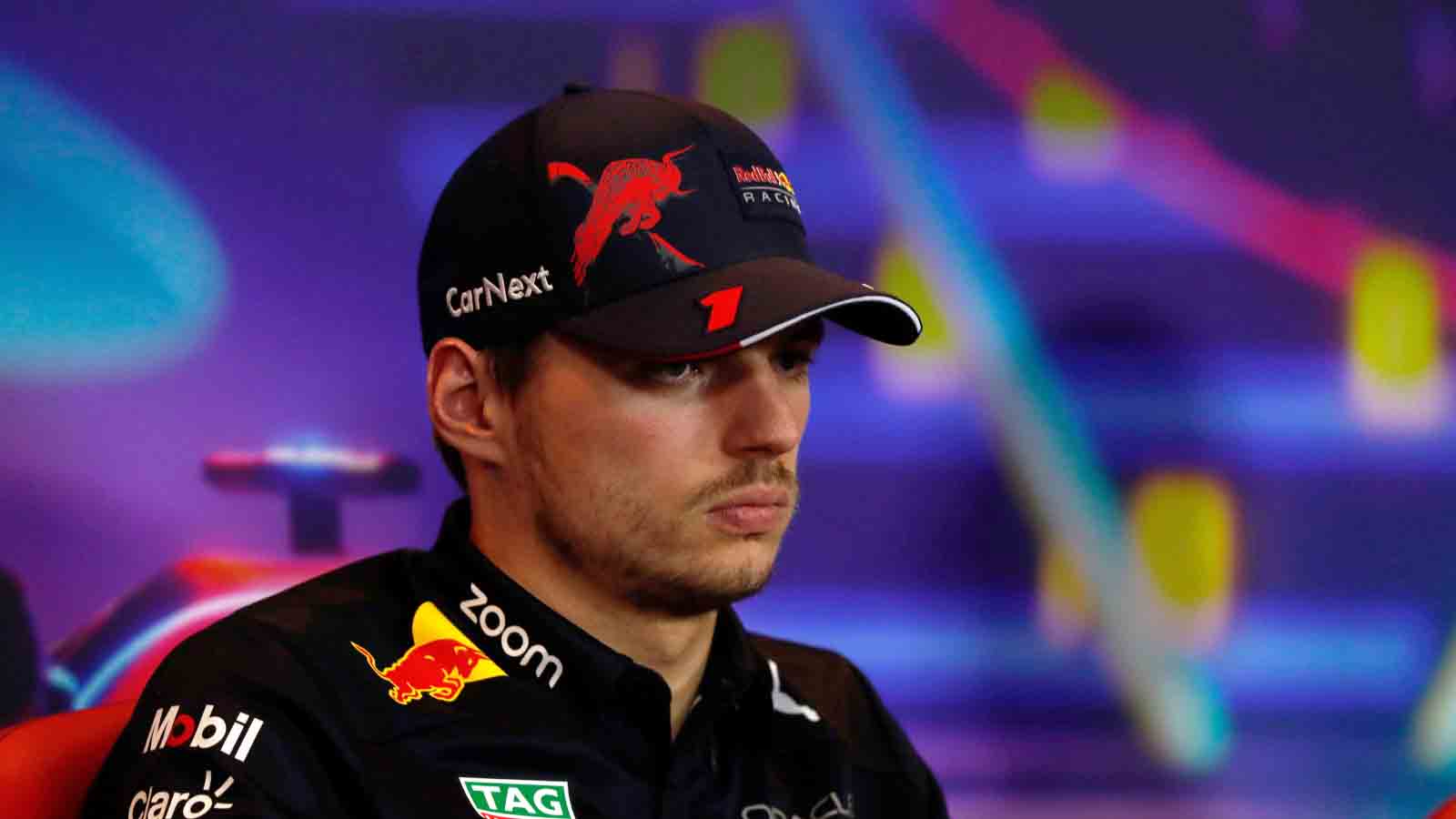 The Abu Dhabi Grand Prix will bring the curtain down on what has been a dramatic season, and while both titles are sewn up, the drivers still had plenty to say for themselves ahead of the weekend.
Battles in the Drivers' and Constructors' standings need wrapping up, and there will be a few sad goodbyes as the year ends at Yas Marina, though it comes with the caveat of neither title being on the line, perhaps after the drama of 2021, the drivers will be grateful for a slightly less pressured season finale this time around.
But despite the fight at the front being over, the drama from the Sao Paulo Grand Prix – particularly at Red Bull – spilled over into Abu Dhabi, with the team releasing a statement on Thursday admitting mistakes were made in how they handled their team orders last time out.
Mercedes will also be looking for a way to overhaul Ferrari in the Constructors' standings, holding an outside chance of doing so with a 19-point gap to make up, and 'Hulkenback' will be a full-time phrase next season as Nico Hulkenberg was confirmed as a Haas driver for next season.
Here's how the Formula 1 paddock reacted to all the key news and more in Abu Dhabi.
Max Verstappen 'fed up' with 'bull****' after post-Interlagos abuse aimed at family
Max Verstappen had pointed words to say for the people on social media who sent abusive messages to him and, more pertinently, his family in the aftermath of the team orders controversy which dogged him and Red Bull at Interlagos last weekend, as well as criticising what he has read in the media surrounding the incident.
He and Sergio Perez have both said the moment is now behind them, and Red Bull called Verstappen an "open and fair team player" in their statement which acknowledges they had left him in a "compromising" situation without much time to allow his team-mate past before the chequered flag in Sao Paulo.
Speaking to media including PlanetF1 in the FIA press conference, the two-time World Champion fought back against those who he believes overstepped the line in their criticism after the race.
"It's just incredibly disappointing as well to read these kind of things because I know how I am, [Perez] knows how I work with them, and I've always been good to the team," he explained.
"When your own sister writes [to] you and it's getting way too much and you have to do something about it, I think that says enough. Yes, it does get to me, because you cannot attack my family.
"You don't even know the real story so you don't need to write a story, but yeah, I'm just a little fed up with all this b******* just going around all the time.
"As soon as something negative [happens] it needs to be highlighted and it's pretty sickening, to be honest, being part of all that.
"Well, at the end of the day I hadn't even done anything wrong, it's just people misunderstood what was actually going on."
Guenther Steiner explains Mick Schumacher's Haas departure
The long wait for Haas to decide Kevin Magnussen's partner for 2023 came to an end in Abu Dhabi, with Nico Hulkenberg set to return to the grid to replace Mick Schumacher.
Schumacher is determined to ensure that this will not be the end of his fledgling Formula 1 career however, hoping to keep himself in the frame for a drive elsewhere in 2024.
Haas team principal Guenther Steiner said earlier in the year that he was "done with rookies" as the team look to take a step forward, and Hulkenberg fitted the bill.
"I think that the experience of multi-years in Formula 1 that never have been with another team than us," Steiner told media, including PlanetF1, when asked what Schumacher was missing.
"So by Nico being seen [as a driver with] three or four teams before, experience [is key] and experience takes time to make, and in the moment, we don't have time, because we want to move forward.
"We don't want to be where we are. Now, we want to get better.
"It is not Mick's fault that we are where we are and we only have ourselves to blame, but we need to come up again and there is a shorter way by taking a guy with a lot of experience, which has done this in multiple teams."
Carlos Sainz hints at deliberate qualifying incidents bringing out red flags
The supposed gripe Verstappen had with Perez going back to his Monaco qualifying run and whether or not his crash in Q3 was deliberate or not was also a conversation topic in the Abu Dhabi press conference, with Carlos Sainz asked about the incident in particular.
The Ferrari driver was not drawn on whether or not Perez deliberately spun his car at Portier earlier in the season, but did hint that this kind of behaviour would go on more than we think – and has called upon the FIA to introduce harder rules surrounding drivers who do go off and cause red flags, particularly ones which – inadvertently or otherwise – are used for their own benefit.
Speaking to media including PlanetF1 in Abu Dhabi, Sainz was open in saying what the drivers want in order to curb this kind of behaviour.
"Without commenting if it was on purpose or not, I think it's for real now that all drivers – we want some kind of a rule," he said.
"If you generate a red flag or a yellow flag, even if it's intentional or not, there should be something done to that driver, because you've compromised the other nine on purpose, or maybe not.
"But you should get a penalty for it. If not, we're all gonna start playing with it."
When asked about specific examples of moments drivers have used to their advantage, the Spaniard let out a laugh and said he would "need to take the media out without microphones and tell a few stories…"
Charles Leclerc tight-lipped on Mattia Binotto rumours at Ferrari
Reports in Italy indicated the future of Mattia Binotto at Ferrari was looking like a short one, but though the team were quick to denounce the rumours surrounding his position as team principal, saying they were "without foundation", Charles Leclerc was asked about what might happen in the future – with Alfa Romeo's Fred Vasseur linked with the job in his place.
"Overall, there are always rumours around Formula 1, and especially around Ferrari," Leclerc said on Thursday.
"And this doesn't change obviously, when we are getting to the end of the season. There's always voices around us, but I think as a team, we really need to focus on our job and on track, try to extract all of the things that is happening around the team.
"People tend to forget how big of a step we've done from last year to this year.
"There's definitely another step that we need to do but I am sure that we'll do it all together.
"And starting with this race, hopefully to finish on a high this season. But apart from that, there's nothing more to say I don't think we should give too much attention to that."
"Obviously this statement was made by the media. But again, they remain rumours. But also for the team itself, it's not great to read these things."
Tributes pour in for retiring Sebastian Vettel in Abu Dhabi
Sebastian Vettel's 299th race start in Formula 1 will be his last, with the four-time World Champion ending one of the all-time great careers in the sport this weekend.
Needless to say, then, that he was a significant topic of conversation around the paddock as the drivers discussed their memories of the Aston Martin driver, as well as the impact he has had on the sport as a whole.
The respect extends to his fellow champions too, with Fernando Alonso – in his final race for Alpine before replacing Vettel at Aston next year – set to run a tribute helmet in Vettel's colours this weekend.
Lewis Hamilton, meanwhile, doubts this is the last we will see of Vettel in Formula 1, because the sport just finds a way to keep you interested…
"I think we always had such great, great battles, honestly," the Mercedes driver said.
"And I was just sitting here thinking most drivers are coming back, like he's come back [pointing atAlonso next to him].
"You're probably going to come back [referring to Vettel]. We're seeing other drivers coming back. So I'm sitting here kind of accepting, yes, it's your last race, but he'll be back.
"Formula 1 has a way of sucking you back in and we've noticed that from so many other drivers."
"We can make a deal," Vettel then joked in immediate response. "We'll speak outside. When you want to get away maybe then I'd want to get back…"
Additional reporting by Thomas Maher
Read more: Where did it all go wrong for Mick Schumacher…and what comes next?