The key storylines to emerge from the Mexican Grand Prix press conferences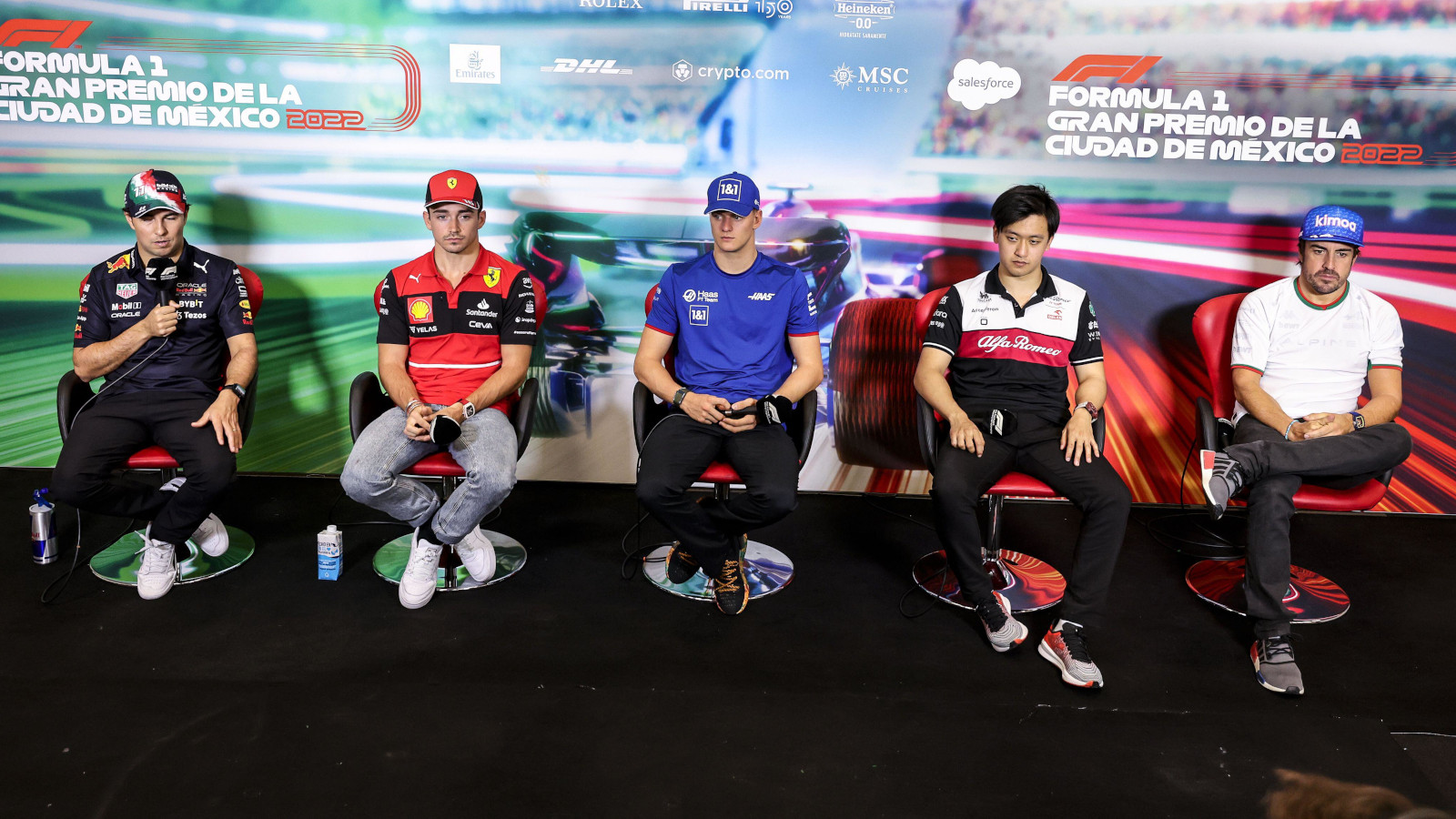 As Fernando Alonso is reinstated P7 at the United States Grand Prix, the Spaniard says he is carrying no physical hangovers from his 42G landing.
Neither is Daniel Ricciardo, although his hit was more of a mental one in a wretched Sunday at the Circuit of The Americas.
Both drivers are back, feeling fresh, and ready to tackle the challenge that is the Mexican Grand Prix.
A hard landing but Fernando Alonso is built tough
We all saw Fernando Alonso take flight at the Circuit of The Americas, the Spaniard clipping the back of Lance Stroll's Aston Martin as the Canadian made a late – and rather unsporting – defensive move to the left.
With his Alpine pointing towards the sky, Alonso came down hard with Alpine recording the impact of his landing at 42 Gs.
Amazingly he was able to continue in the grand prix and finished P7, his six points reinstated late Thursday night after Alpine won a right to review his penalty.
The Spaniard revealed he has no longer aches and pains from his crash.
Told of the 42G landing, he said: "I didn't speak with a team about that, so I didn't know that number. It felt not that hard, when I hit the ground, I was just more concerned if I was going to the left to the fence outside the circuit.
"Obviously the first five minutes when we were running behind the Safety Car, I was concerned that the car was not damaged, you know, somehow because they changed the tyres, the front wing, and apparently there was not damaged when they check on the pit stop.
"The car felt good, more or less, behind the Safety Car. I was amazed, first of all, about that. And then yeah, we were just recovering places up to P7, so it felt very good. It was mentally challenging to go through every lap and make some moves as well.
"But physically, still young, no problem."
But while others such as Jacques Villeneuve have called for Lance Stroll to be handed a race ban, Alonso isn't willing to throw his 2023 team-mate under the bus.
"We talked already after the race in his garage, and then in the stewards' room, because we had to go there and yeah, my view is was the same after the race and the same in the stewards' room, and the same now," he said.
"I think it was an unlucky moment of the race. We move simultaneously, more or less, to the left. We were very close. I took the slipstream until the last moment. There was no DRS on the first laps after the Safety Car goes in, so I have to take the slipstream very aggressively until the very last moment.
"I moved to the left, he moved to the left in the same moment more or less protecting and we touched. So I think it was a very unlucky moment. In a way, I think his penalty is very harsh. But it's the way it is."
Fernando Alonso's United States GP penalty is "rendered null and void"…https://t.co/XLoUFPJylC

— PlanetF1 (@Planet_F1) October 28, 2022
Daniel Ricciardo's 'another chance'
Daniel Ricciardo is a man seeking "another chance", not just at the Mexican Grand Prix but in Formula 1 as a whole.
The McLaren driver had one of his worst Sundays ever last time out, the Honey Badger visibly dejected after crossing the line second from last at a race that he loves.
Declaring that every time he thought his season "can't get worse, it does", there probably weren't many in the paddock who didn't want to give him a hug.
But he's back, he's ready, and he has "spring" in his step.
"Look, it's always… fresh off a race you haven't debriefed, you haven't had much time to really assess anything other than what you were just involved in," he explained.
"Obviously, from my point of view of the race like I knew from early in the race that it was going to be a struggle. I could just feel that the car wasn't underneath me and also battling with others, comparing to the others, I could feel where they were stronger and where I simply couldn't compete with them.
"Of course it's not the race or the competition I want to be involved in, where you feel a little bit, let's say, helpless in battle. Certainly, let's say, it's normal and natural to feel the way I did.
"I think a few days removed after also a little bit of debriefs and all the rest of it… Yeah, like coming to this race, spring in my step, another chance to let's say, get it right and, let's say, fix it. So that's cool."
As for the other "another chance" he's chasing, the Aussie has been linked to a Mercedes reserve driver role for 2023 but based on Lewis Hamilton's comments that he wants to sign a new multi-year deal, that's unlikely to see Ricciardo ever promoted to a Mercedes race seat.
Not beating the allegations. 😆 pic.twitter.com/RjRzNfVFge

— Mercedes-AMG PETRONAS F1 Team (@MercedesAMGF1) October 20, 2022
"The truth is I want him to stay in the sport," Ricciardo said. "He's one of the greatest ever to do it and I think competing with him, going wheel-to-wheel with him is fun, it's awesome, it's normally at the pointy end so I certainly wish to do that more in the future. And that's where it currently lies.
"So I think my future will be, let's say, I don't think it's relative to what others do. I think it's, how do I say it, like opportunities will arise when they do, but I'm not banking on anyone doing something so I can find my way.
"I want to take the time necessary, let's say, keep a little bit of distance to the sport and let's say rebuild myself, but then yeah, if something makes sense in '24, come back with a vengeance and have some fun and hopefully race at the front."
Stories still to be decided this season
The Drivers' Championship title has been decided, well done Max Verstappen, but P2 is still up for grabs.
With three races to go that belongs to Charles Leclerc, who is two points up on Sergio Perez.
The Ferrari driver is confident they won't come to blows as they settle that one.
"No, I don't think it will change," he said. "Obviously, if there's an opportunity, I'll go for it. As Checo will go for it. It's always been the case. Closer we get to the season, less opportunities, you have to make the difference.
"But we also know that we are fighting each other, so we can take maybe a bit more risks when we fight each other. But that's what makes it exciting.
"I'm sure we won't give any margin on track but I'm looking forward to it."
Perez agrees, saying: "I think in general with Charles it has been good, the fighting. It's always, really close, really tight. And you know that Charles will be aggressive, always, but always fair. It's something I don't believe he will change, no matter how we get into Abu Dhabi, what difference will it make because he is like that? And I don't see that changing.
"I also feel like, from my side, I'm also fair. So I don't expect that to change."
Strong selfie game @GeorgeRussell63 👏📸 pic.twitter.com/vhHgbyNCqP

— Mercedes-AMG PETRONAS F1 Team (@MercedesAMGF1) October 27, 2022
P4 is also up for grabs in a three-way fight
Behind Leclerc and Perez sits George Russell, P4 in the standings with 218 points. That means he's 16 up on Carlos Sainz and a further four ahead of Lewis Hamilton.
But while Russell would like fourth in the championship, beats fifth or sixth, right now his focus is on regaining the form that saw him race to nine successive P5s in the opening half of the season.
The Briton has stated he feels his level has dropped of late, and that's something he wants to rectify.
"I think you obviously want to finish every season as high as you want," he said. "I think I'm probably more focused on just getting back into a good groove and rhythm.
"I think at the start of this year we had such a consistent run of results and every single time we hit the track we were putting in good performances whether it was on a Saturday or Sunday, and everything seemed to be running quite smoothly.
"But these last three races, for various reasons, have been very scrappy, most of which on my behalf. So I need to… I'm probably just more focused on trying to have a clean last three weekends and the championship should hopefully sort itself out."
What's next for Nicholas Latifi?
Out of Williams and out of Formula 1 at the end of this season, Nicholas Latifi has once again called reports he's signed for an IndyCar team nothing more than "rumours".
He did, however, concede the American series is on his list.
"Like I said in Austin last week, it's all just rumours," he said. "I haven't decided yet from my future. Of course, I've been exploring options and IndyCar is a series I'm considering, for sure but I've not decided on anything yet."
Right now, though, the Canadian can't even say if he'll be racing at all next year.
"I think if the right opportunity in the right series which again, at this point of time, I can't say what the right series is because I haven't made up my mind yet, then it's definitely still on the table," he explained.
"But at the same time, if there's not an option on the table that I feel is the right one for next year then I'm not necessarily ruling out taking a year to then put something better together for the following one."
Read more: George Russell tried to play to the stewards with 'he cut across me' message