The key storylines to emerge from the Monaco Grand Prix media day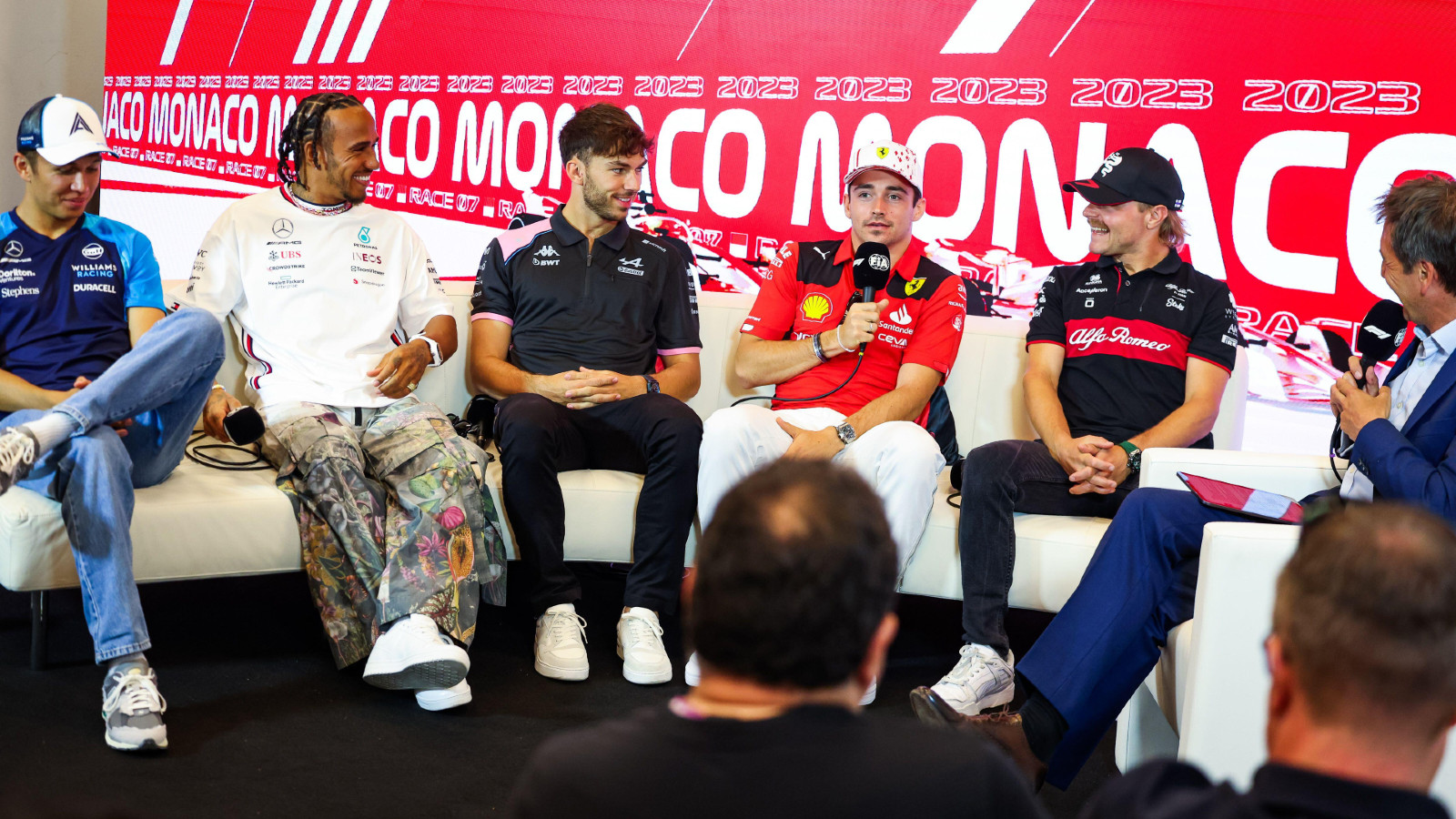 After an unexpected pause in proceedings due to the cancellation of Imola, here are the key stories to emerge from the Monaco Grand Prix media day.
With an unexpected three-week gap since the most recent race, Formula 1 resumes this weekend with another street race – the fabled streets of Monte Carlo playing host to the Monaco Grand Prix for one of the highlights of the F1 calendar.
With plenty of off-track intrigue and rumour going into overdrive in the weeks since the Miami Grand Prix, the drivers had to face the press to address every topic imaginable – even dental choices came up during the drivers' press conference!
Let's go through some of the key findings and storylines ahead of the 2023 Monaco Grand Prix.
Lewis Hamilton isn't trading in Mercedes for Ferrari
Since Miami, both Charles Leclerc and Lewis Hamilton have been linked with each other's seat, in what would be a sensational driver swap between two of F1's biggest teams. It would also bring to an end the amazingly successful Mercedes/Lewis Hamilton partnership, with a whole new challenge awaiting the British driver as he chases his elusive eighth world title.
But both poured cold water on the rumours as they were questioned on their respective futures during Thursday's press sessions at the Monaco Grand Prix.
"Naturally with contract negotiations, there's always going to be speculation," Hamilton said. "Ultimately, unless you hear it from me, that's what it is."
As for where the speculation might be coming from, Hamilton said it's a "certain individual in this room" and said the cancellation of the Imola race has fuelled a need for headlines.
"I think maybe with the weekend, last weekend, with the race being cancelled, maybe they're just bored," he said.
"My team's working closely behind the scenes with Toto [Wolff]. We're almost at the end of having a contract ready.
"Having the team focus on that so I can just do my job is a much better position than I was in before, because I remember I used to do negotiations on my own and it was very stressful, so I don't do that anymore."
Ferrari team boss Fred Vasseur also clarified recent reports that the Scuderia have offered Hamilton a large sum to join them, denying that any such approach was made to the Mercedes driver.
"You know perfectly that at this stage of the season each week, you will have a different story and we are not sending an offer to Lewis Hamilton, we didn't do it," he said.
"We didn't have discussions. I think every single team on the grid would like to have Hamilton at one stage, it would be bull**** to not say something like this."
Charles Leclerc also said he has no concerns his team are on the verge of signing the seven-time World Champion, a move which would threaten his position within the Scuderia.
"If there was anything, Fred [Vasseur] would have told me about it," Leclerc affirmed.
"I have absolutely no doubt that if there was anything, Fred would have told me. So on that, I'm absolutely not worried."
All eyes on new Mercedes updates
The much-vaunted Mercedes upgrade package has finally arrived and, having teased a change to the sidepods after persevering with the zero-pod concept since the start of 2022 and the new regulation cycle, the W14 now looks set to have a more traditional design more akin to Ferrari's sidepod setup.
There's a huge amount of change under the skin of the W14 aside from the sidepods, including a new floor design, and Hamilton says he's eager to see how they work out on track.
"The upgrade, it will be difficult to see how it works at this kind of track but I'm hopeful that it puts us a little bit closer to these guys," he commented.
"I don't think we will be fighting for a win necessarily, but hopefully we will be more in the fight.
"There are a lot of people on the team that have had all the success that we've had in the past, and there's a lot of people that haven't had that success yet and are super hungry.
PlanetF1.com recommends
George Russell plays down Mercedes upgrades: 'We're not expecting wonders'
Max Verstappen brands Honda's switch to Aston Martin a 'shame' for Red Bull
"I'm really encouraged when I do go back to the factory and see just how hard everyone is working. Last year we were a little bit lost in terms of how to fix the issue that we had. I feel like the team now has the north star, they know exactly where we need to go and how to get there. The amount of work that has gone in is incredible and I'm very, very grateful.
"I've been so excited to get in the car and feel these changes. I feel that hopefully puts us on the right path to progress forward and try and catch the guys ahead."
Max Verstappen also agrees with Mercedes putting their updates on the car for the Monaco Grand Prix, a decision Ferrari opted against as they've held off on introducing their updates until next weekend's race in Barcelona.
"I would always put it on the car as soon as possible," Verstappen said. "Because you always learn always more than leaving it in the garage and not using it."
Fernando Alonso and Honda already patching things up
While it appeared like Honda and Fernando Alonso could never work together again following the bitter end to Alonso's time at McLaren-Honda and the failed Indy 500 attempt, both sides have publicly said they have no issue working together again following the announcement that Honda will power Aston Martin from 2026 onward.
"Racing again with Honda is going to be no problem at all from my side. It didn't work out last time [in] 2015, 2016, 2017," said Alonso on Thursday at the Monaco Grand Prix.
"I think they have proved that they now have a competitive package, they won the championship in 2021, they won the championship in 2022, and most likely will the championship in 2023. They have now a very strong package, it's a new set of regulations, but I think it will be a very exciting project."
But Alonso, who turns 45 in the first year of the new deal, isn't sure he'll still be around on the F1 grid by then.
"I don't know what I will do in 2026, I would lie if I told you that I know right now for sure. I feel fresh, I feel motivated now, I feel sharp, I'm still fast," he added.
"If I keep enjoying, I would love to keep racing, but I know that one day I will wake up and I will not feel motivated or happy to keep travelling or this kind of thing. Or maybe I don't feel fast, and I would be the first one to raise my hand and say maybe it's time, so let's see, I think it's a long way until 2026."
Aston Martin team boss Mike Krack also hasn't ruled out the possibility of Alonso racing a Honda-powered F1 car again.
"There's no reason to think he won't be with us in 2026. I cannot see one reason why that would not be [the case]," he said, as per Sky Sports F1.
"Fernando was not involved in the discussions [with Honda] but he was always kept in the loop. We wanted to have his thoughts and opinions, just like we do with every topic, because he's a key member of the team."
Honda also say that having Alonso in a car powered by one of their engines is not an issue.
"The selection of drivers is up to the team to decide. So, if the team decides we'll have Alonso as a driver again, we will have no objections whatsoever on him driving," Honda Racing Corporation president Koji Watanabe insisted.
"We respect him [Alonso] highly. With respect to the driver selection, I will not say we're not going to be involved in team management whatsoever but the decision of the drivers is up to the team."
Pierre Gasly in the clear for the Monaco Grand Prix
After six months of not being able to put a wheel wrong for fear of a race ban after landing on 10 penalty points, Pierre Gasly now has a little breathing room as he lost two points from his FIA superlicence in the days leading up to the Monaco Grand Prix.
With Imola being cancelled last weekend, the last opportunity for Gasly to make an error of judgement and trigger an incident which could have resulted in a race ban has now passed.
Having caused a collision on the restart in Australia, Gasly was fortunate the driver he collided with was his own team-mate as eliminating Esteban Ocon from the race resulted in the stewards leaving it for Alpine to sort it out internally. Had it been another driver, Gasly would likely have been hit with a race ban already…
"Personally, I don't think this had any impact on my performance or my approach to racing," he said.
"Obviously, it wasn't an ideal situation to be in. It was sort of like always in the back of my mind, but I'm a respectful driver. I always find the limit, but it's not like I will purposely go over the limit so I wasn't really concerned about it.
"But it's obviously great to know that I got these two extra points after last weekend, and I won't have to think about it as much."