F1 reveals emotional moments from Kimi's farewell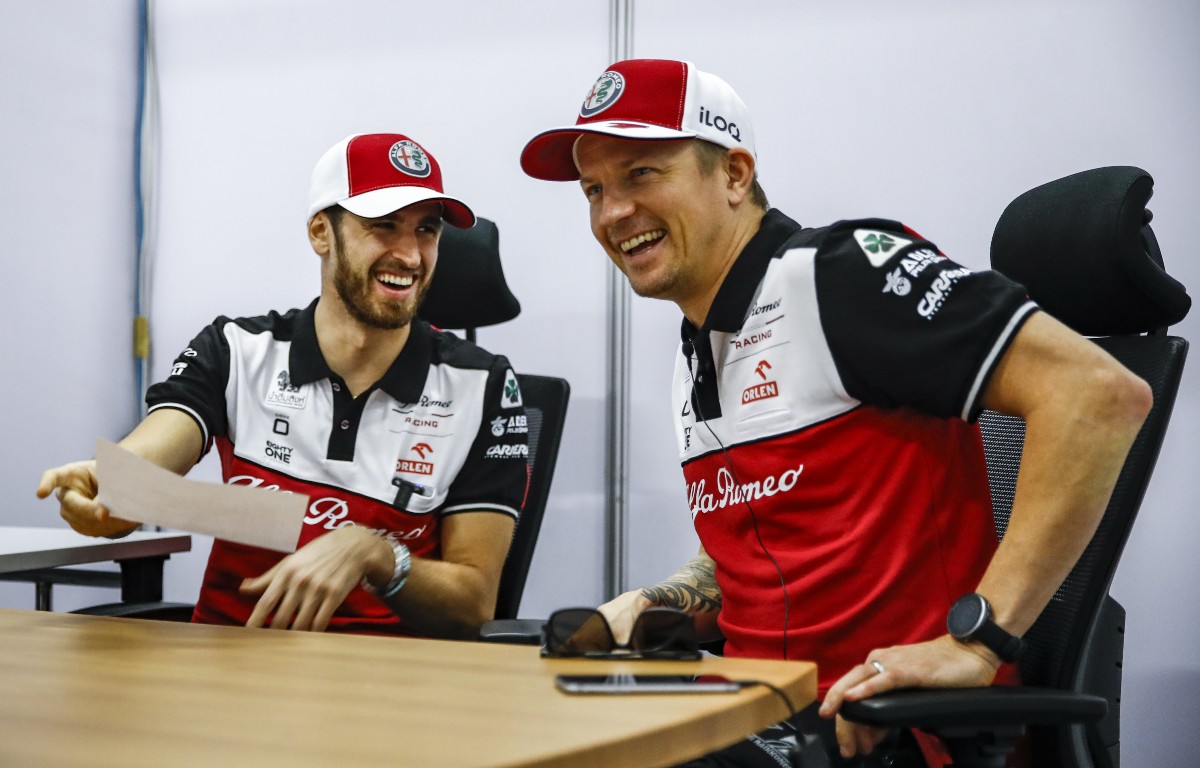 Formula 1 provided behind-the-scenes footage of Kimi Raikkonen at his final race in the series…get the tissues ready!
Raikkonen called time on his illustrious Formula 1 career following the conclusion of the 2021 Abu Dhabi Grand Prix, his 349th and final grand prix start.
And across that last race weekend, to the point where he said goodbye to Formula 1 life with a World Championship, 21 wins and 18 poles to his name, the cameras were following.
Now, Kimi as we know is not a fan of said cameras, creating his legendary 'Iceman' persona, but that was without doubt melted away in this footage.
Starting with a range of driver tributes, including from fellow Finn Valtteri Bottas and former title rival Fernando Alonso, we were also reminded of Raikkonen's famous yells for his gloves and steering wheel on the way to the grid in Baku while driving to Ferrari.
Then it was on to the dreaded media work, and of course, Kimi was late to his press conference in Abu Dhabi where he was to speak to reporters alongside George Russell.
He blanked Russell's 'hello' once he did reach the interview room and took his seat, expressing that he was feeling "good" that this was his final race, while having the drink. That was the extent of his reply.
After that it was a virtual autograph session with Alfa Romeo fans, where Kimi was rather distracted by a pen at first, before requesting that then Alfa Romeo team-mate Antonio Giovinazzi fixed him up with a coffee – all smiles.
Onto a broadcast interview next, where to Channel 4 reporter Lee McKenzie's pre-recording statement of "at least you won't need to do another interview Thursday after this", Kimi bluntly replied "there's too many already".
He was then asked to read out the prediction which he had made for the 2021 season, one of them being "my favourite race will be Abu Dhabi because it's my last F1 race". Another one was "goodbye", so his hasty exit from the media area followed.
That classic dry humour. Can't help but feeling he is dropping a few hints here that he was glad to be at his last race.
As Alfa Romeo set off on their track walk, Giovinazzi was solo on the driver front, unable to convince Kimi to take part, so he was hoping for better luck with his special race helmet, inspired by that of Raikkonen's as a tribute to the Finn. He did predict though that Kimi would react with "no emotion".
Indeed, albeit drawing a broad smile, Kimi was not too impressed with the resemblance.
After Kimi's race engineer Julien Simon-Chautemps relived some of their finest exchanges over the radio, making it clear that he never took Kimi's harsh words and tones personally, it was onto the on-track stuff.
Friday was far from ideal, with a spin in FP1 and a heavy FP2 shunt, but the following day we saw Kimi in the environment where he is clearly at his happiest, as his wife and two children joined him in the paddock, while Giovinazzi expressed his hope to remain friends with Raikkonen after his F1 days, and continue to meet up.
Onto the grid for race day, where we saw a wholesome moment between Lewis Hamilton and Raikkonen, Hamilton breaking off from his preparations for his all-important title decider to thank the Finn for "everything you've done for the sport".
Raikkonen's race sadly ended prematurely as the brakes on his Alfa Romeo failed, but he declared himself "happy" with how his career went and also that it had now come to an end, explaining that he always tried to be himself in the world of Formula 1, rather than pretend to be someone he was not.
If that wasn't enough to lure out a tear, the scenes in the paddock after sure were.
After Kimi had signed his helmet for Giovinazzi, saying "remember don't use my helmet" in a nod to Giovinazzi's tribute, the Raikkonen family and Giovinazzi said their goodbyes for now, Giovinazzi telling Kimi's children Robin and Rianna that they will be coming to visit him in Italy over the summer.
Kimi tells them they can have "a lot of pizza" to sweeten the deal!
After a "bye bye" and hug from Rianna for Giovinazzi…sorry just grabbing another tissue, Kimi wishes Giovinazzi a safe trip home, while the Italian wishes Kimi a happy holiday in the Maldives.
As the curtain fell then on Kimi's time in Formula 1, we were reminded that for all of the 'Iceman' stuff in front of the cameras, behind the scenes was a genuinely kind and caring person. Happy retirement Kimi!
You can watch the video in full here.
Kimi Raikkonen hailed as the 'complete package'
Antonio Giovinazzi believes that Kimi Räikkönen is the whole package in terms of race management.