A classic Kimi Raikkonen tale including blue dye and an electric razor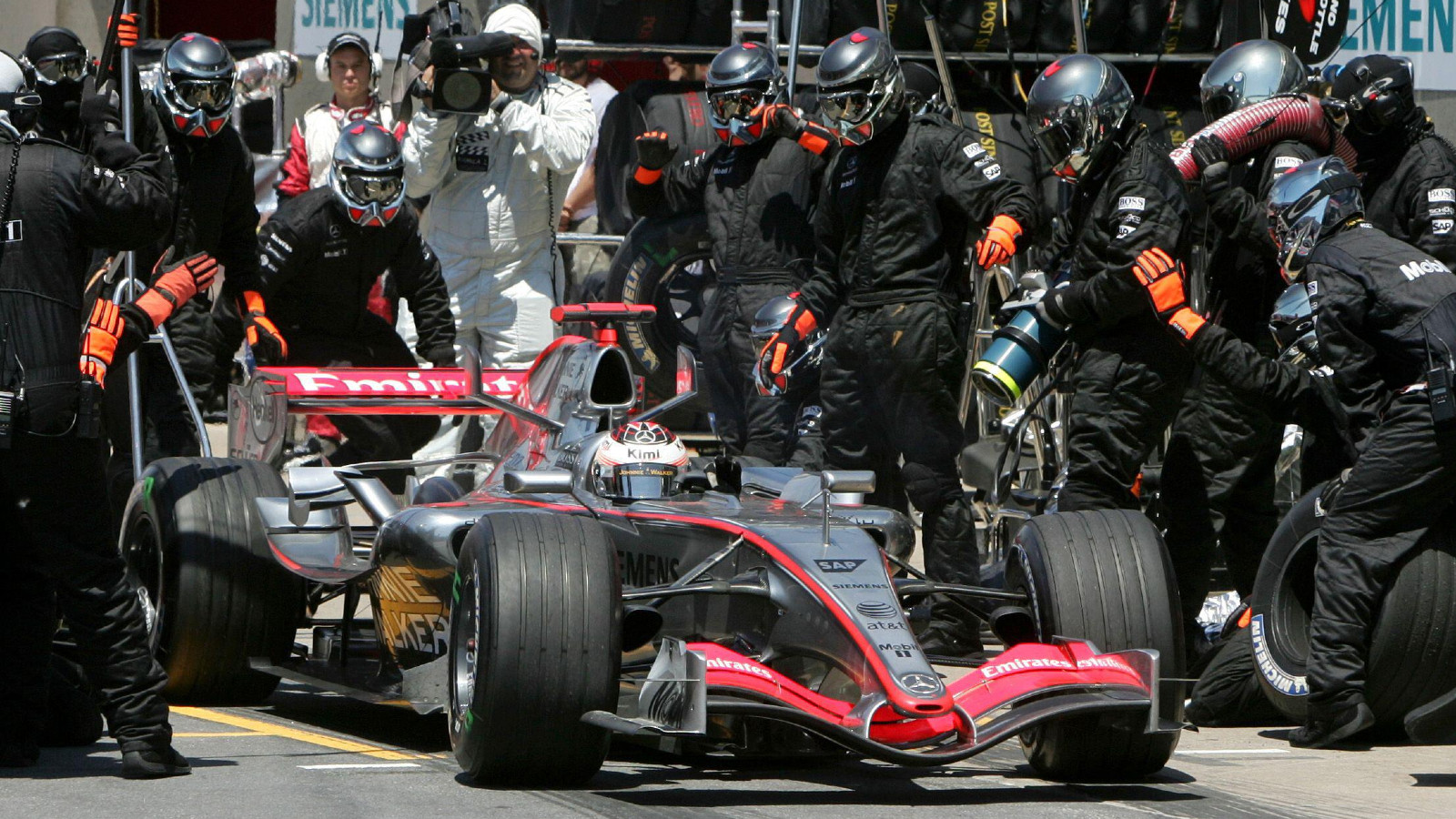 Kimi Raikkonen's former mechanic Marc Priestley has recounted some of the pranks that went on during the Finn's time at McLaren…
Raikkonen may be better known for being a cool and calm family man these days but, 20 years ago, the now-retired Finn was well known for his off-track antics just as much as his on-track exploits.
Racing for McLaren between 2002 and 2006, Raikkonen became close friends with lead mechanic Marc Priestley – now a veteran broadcaster and F1 pundit.
Appearing on the Pit Stop podcast, Priestley spoke at length about his time working with Raikkonen and said the Finn ranked amongst the very best he'd seen racing in the sport.
"We worked hard, but we partied even harder," Priestley recalled.
"It was amazing, and the drivers were the same. I spent a long time working with Kimi, who was just the most incredible guy to work with, because he was very fast on the race track. He partied so hard off it and we went along with him, we became good friends and we had this incredible life together.
"Midway through the 2000s, things started to switch up, and it got more professional. McLaren really kind of led that and this understanding of human performance and we took it on and we were the first team to pioneer looking at human performance, not just from the drivers but from the pitstop crew and the team.
"I worked with Kimi for the longest spell at McLaren in terms of the drivers that I worked with. I say around 2004, 2005, he was the fastest driver I've ever worked with – hands down. I've worked with quite a few of the greats, but Kimi was the fastest over a lap. He could drag a lap time out of a car in his prime that the car just shouldn't have ever done.
"We had some amazing times on track with him, he delivered stuff that was incredible. We never quite managed to win a championship. On two occasions, I think we were runner-up on two occasions (2003 and 2005), we went down to like the final days, or the final weeks of a championship with us still in the hunt, but never quite managed it with Kimi.
"But off track, he was a party animal. He was living the dream. He was a kid who had millions of dollars, and the freedom to do whatever he wanted. And he did it, and he took us along with it!"
Marc Priestley gets one over on Kimi Raikkonen
During 2006, Raikkonen decided to leave McLaren in order to take up a seat at Ferrari and replace the retiring Michael Schumacher. Heading into his final days with the Woking-based team, Priestley knew a fitting goodbye prank was needed…
"In 2006, he announced he was going to Ferrari, and we'd become really close as friends as well as colleagues," Priestley said.
"I'd been out to his house loads of times at the end of each season, we'd go on a week-long piss-up, we'd take the mechanics out, and we'd become close friends with his close friends back home.
"We had a thing at McLaren where, whenever anyone left – whether you're a mechanic or a trucker whatever – on your last day, we would grab them, tie them up in the pit lane, cover them in crap from the week. Leftover food slops or whatever, you'd just destroy them in front of the rest of the pit lane.
"But one of the things that McLaren did, a little McLaren tradition, was we had this blue dye which is like an intense food colouring that we put in the water system of the car. So, if you've got a leak, you could see it because it was bright blue. A thimble full would dye a swimming pool deep blue, it is really high power intense stuff!
"Because it's powder, what you do is you sprinkle it on them, throw a bit of water on and all of a sudden they look like a Smurf!
"So, on his last race weekend in Brazil, because we had become good mates, I kept winding him up saying 'mate, you know when anyone leaves McLaren you get dyed blue!'"
Priestley began laying the groundwork for the prank, revealing to Raikkonen what lay in wait for him…
"Before he left, I was winding him up all week going 'we don't care who you are, everyone gets dyed blue with this stuff'," he said.
"Kimi kept brushing it off, but I could tell he was getting nervous. He was brushing it off saying 'Ah, you won't get me, I'll get a helicopter straight after the race!'
"I just kept going 'yeah, wait and see', and all week, I just kept sort of winking at him across the garage and he knew exactly what I meant and he just kept being like 'you f**king bastard…'
"We got to race day and I'm thinking 'I've taken this so far now, I can't back out. I've got to do something!'
"So one of my jobs at that time was I used to strap him into the car. On the grid in Brazil, there was quite a famous moment in Brazil where Pele was giving a presentation on the grid, and all the drivers were there for this Pele presentation. Kimi was missing from the presentation. Martin Brundle was there with his mic on his grid walk and he comes along, gets Kimi, and says 'you were the only one that wasn't at the presentation with Pele!'
"Kimi just went 'yeah, I was taking a s**t!' That's quite a famous interview. But, whilst that moment was happening, I was behind him filling his gloves up with this blue powder – sprinkling this blue food colouring into his gloves! I then strapped him into the car, and give him his gloves. He then puts them on and off he goes to the race!
"It's 30 degrees heat, he is sweating like a b*****d inside! So I'm now in the garbage s***ting myself that I've just done something stupid. This could go horribly wrong. But he's in the race now and he's running third and I'm thinking, 'My God, he's gonna be on the podium. He's gonna take his gloves off, having sweated for two hours, waving to the crowd with smurf hands!'
"He ends up finishing fourth and, when you're fourth, you don't have any of the media commitments, he comes straight back to the garage, pulls his gloves off, and he's got bright blue hands! He just came into the garage, looked across, and went 'you f***ing b*****d!'
"But, because he was leaving and it was his last race, he then shakes (then team boss and CEO) Ron Dennis' hand, he gets blue all over his hands! Then Ron Dennis' wife, then the head of Mercedes and his wife, and, all of a sudden, all of these big wigs around the back of the garage have all got blue hands! I thought I was gonna get sacked! Kimi spent ages scrubbing his hands, he was really angry and he said 'I'm going to get you back, you b*****d!'"
Kimi Raikkonen gets his revenge
Of course, having had to deal with that embarrassment, Raikkonen was always likely to find a way to retaliate – and he managed it just days later!
"The week after the last race, we go out to his house up in Lapland," Priestley said.
"As we did every year, out to Finland for a piss-up. So we go there the first night, it's all of his mates, all of our mates. We all get together, start drinking and it gets to two in the morning. I'm so tired. I figured I couldn't go to bed first because I know he's gonna try something and get me back.
"But, in the end, there's no way I can stay awake. So I go up to my room in his house and I thought 'I'll put a chair under the door handle, just in case!'
"Within 20 minutes, I was asleep. 20 minutes later, the door comes off its hinges! Literally bursts, the door gets smashed to pieces! It was Kimi and his mate, and they burst in and we have this full-on fight in bed. I'm wrestling him and he's pinning me down, his mates got me pinned down…
"I had long shoulder-length hair at the time and he gets a set of clippers and buzzes like a reverse mohican down the middle of my long shoulder-length hair! And then, worse than that, he cuts the plug off the end of the clippers and throws it out a window into like a five-foot snowdrift! They're gone, the clippers were gone.
"That was day one of a week, so there was nothing I could do apart from a massive combover to hide it for the rest of the week!"
For more stories about life in the F1 pitlane, as well as further stories about his time working with Kimi Raikkonen and McLaren, Marc Priestley's book 'The Mechanic' is available for purchase.
Read more: Five key takeaways from the announcement of the F1 2023 calendar