Kimi Raikkonen anticipating 'easier' NASCAR outing after Virginia test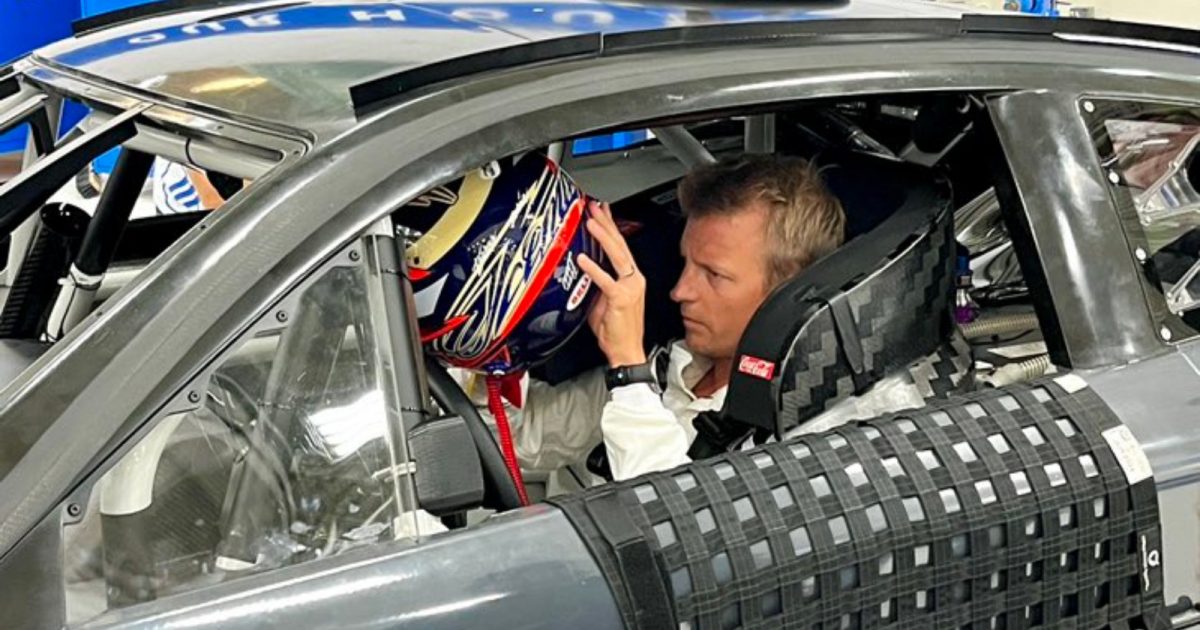 Kimi Raikkonen headed Stateside for his first laps in a current generation NASCAR ahead of his Cup Series debut.
The 2007 Formula 1 World Champion has had a quiet 2022 so far, having decided to leave Formula 1 behind after 20 years at the end of last season.
But Raikkonen hasn't been able to resist the call of a cockpit for very long, with Trackhouse Racing tempting the Finn out of retirement to take part in the Cup Series race at Watkins Glen on August 21.
The race is part of a new initiative being rolled out by Trackhouse, which is called 'Project 91' – the intent being to give international racing drivers the chance to participate at the highest level in NASCAR.
Watkins Glen is the first, and only planned, outing for 2022, with Raikkonen being specifically sought out by Trackhouse boss Justin Marks for the inaugural chance.
Also joining Raikkonen in making his Cup Series debut is DTM Audi racer Mike Rockenfeller, who will participate with Spire Motorsports.
Kimi Raikkonen concludes driver orientation
Raikkonen flew to the United States this week, taking part in a driver orientation test at the Virginia International Raceway road course on Thursday. Trackhouse posted plenty of photos and videos to their social media accounts, showing a focused Raikkonen on track, practicing pit stops, and talking to engineers.
Raikkonen was at the wheel of a Chevrolet Camaro ZL1 test car, but will have to wait until the Watkins Glen weekend to get his first shot in the race-spec NASCAR he'll actually be racing.
"I don't have anything to compare but I think it was nice to get some laps, even if it's not exactly the same car that we're going to race," Raikkonen said afterward.
"It was very beneficial just to put laps [in] and have some fun, and know what the car is somewhat doing, do longer runs to find out so I'm sure it'll be easier to go into practice come the race [weekend]."
Raikkonen has dabbled with NASCAR in the past, having taken part in the Truck series during his F1 hiatus in 2011, but said that experience was largely irrelevant at this point over 10 years later.
"Obviously, I have a little experience with the Cup car from 2011," he explained.
This car is a new generation car, it's a lot nicer. I guess more or less what I expected. I tried the simulator so I had some idea – it's OK. Obviously, the same things happen to it as a normal car, so when the tyres get hot you're sliding more.
"So far it's been good."
Raikkonen returns to NASCAR
With the Finn sitting out the 2010 and 2011 F1 seasons, part of his motorsport dabbling at the time was participating in a race weekend at Charlotte Motor Speedway in the NASCAR Nationwide Series and the Camping World Truck Series.
Neither went particularly well, with Raikkonen finishing 27th in the Nationwide race and coming home 15th in the Camping race. Racing with Kyle Busch Motorsports, and sponsored by 'Perky Jerky', that weekend is perhaps best remembered for Raikkonen's angry, and constant, radio messages about wanting a water bottle and complaining about how small the bottles were!
With F1 now firmly behind him and Raikkonen yet to figure out his next career move, the Finn said he feels much more prepared heading to Watkins Glen after taking part in the orientation and using the simulator – he hasn't driven a racing car in anger since Abu Dhabi last season.
"Maybe we did 50 laps or something," he said.
"Without those and the simulator, for sure I'd be going straight into 20 minutes practice, and then qualifying, and that would be much harder.
"At least we prepared as well as we could, so thanks to NASCAR letting us have those laps, we did the best that we could and most that we can, so we'll see what we get. Obviously, it's a new track for me, so I need to learn it, so we'll see what we have."
Some thoughts from Kimi after yesterday's test.

Plus a peek at some exclusive gear that will be available soon 👀 pic.twitter.com/nPTV3OKWvS

— PROJECT91 (@THProject91) August 12, 2022