Lance Stroll reveals full extent of injuries after cycling crash, including broken toe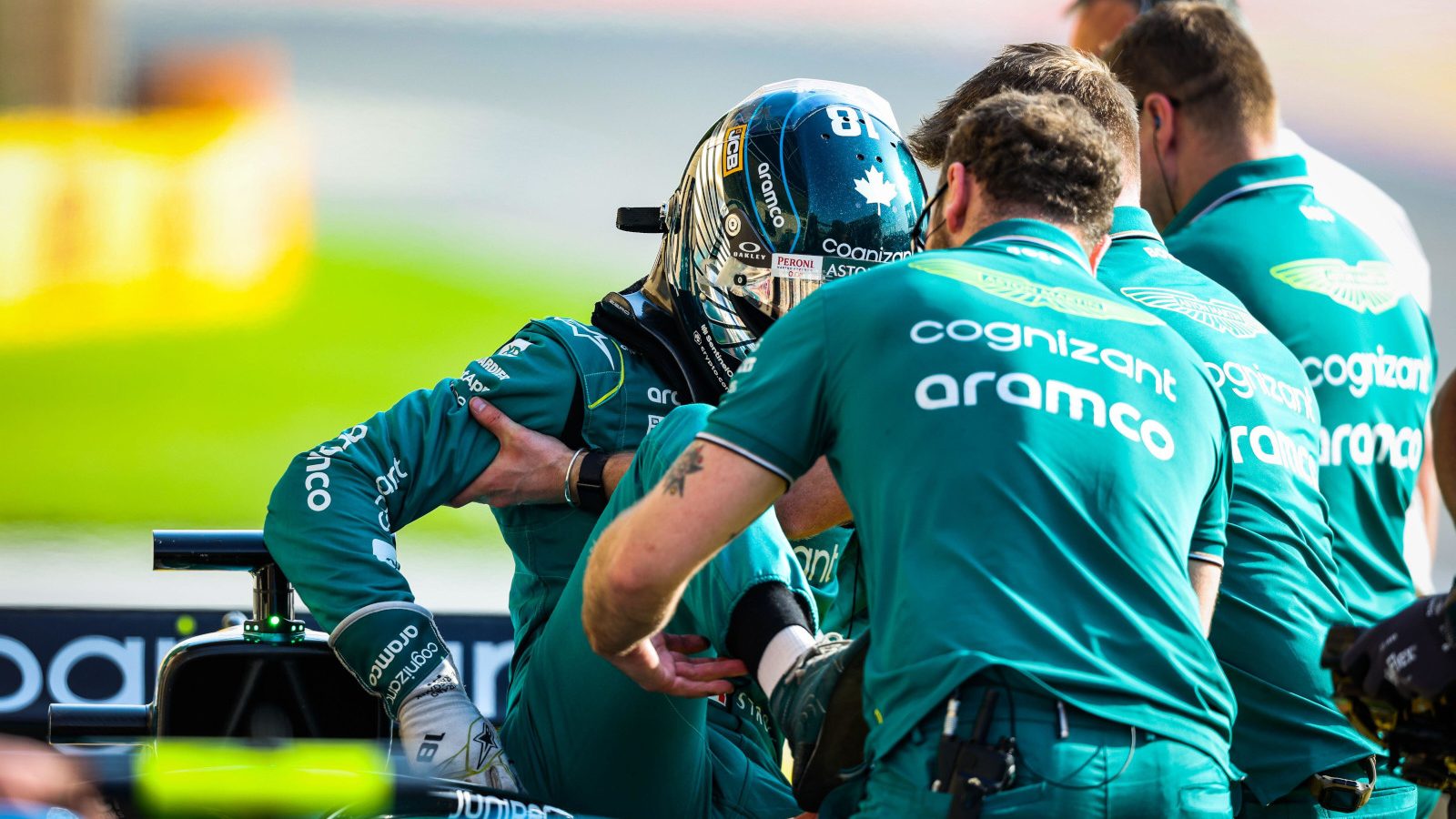 Lance Stroll qualified P8 for the Bahrain Grand Prix, the Aston Martin putting in a strong qualifying performance just two weeks after injuring his wrists and breaking a toe in a cycling crash.
Stroll was forced to miss pre-season testing after undergoing a minor operation on his injured left wrist, one that left him in doubt for the season-opening Bahrain Grand Prix.
However, on the eve of the Sakhir race Aston Martin announced he would be in the car, Stroll declaring he would push through any pain if necessary.
Almost from the get-go he was on the pace with the Canadian inside the top seven in all three practice sessions.
He continued that form in Saturday's qualifying, crossing the line 1.1s down on pole-sitter Max Verstappen, and doing so despite having only been released from hospital one week ago.
"It's exactly two weeks today since my bike crash, 12 days since surgery," he told Sky Sports F1. "I came out of the hospital a week ago.
"I couldn't move my hands, I couldn't walk, broke my toe and Bahrain looked like it was very far away at the time. I thought the light at the end of the tunnel was very far at the time.
"So really just grateful to to be here and back in the car and it's thanks to everyone, my physio, the doctor in Spain that did the procedure, everyone just helped me massively to be here."
Pointing to his injuries, he said "wrist surgery here, broken bones here" before adding with a laugh that the "bike was fine".
But at a time when silver linings were few and far between there was one for the Canadian as the broken toe was on the right foot.
"Today is actually the first day my toe is good enough to walk on it but it doesn't hurt in the car ," he said. "Unless I hit a few bumps, but it's okay.
"I'm feeling better every day. Still just doing a lot of physio, icing my wrists. Every day is a 10 percent improvement kind of thing. So tomorrow should be good."
The driver is confident he won't have any issues come Sunday's race despite concerns about his wrists after Friday's second practice.
The driver was seen removing his left hand from the steering wheel in order to make the Turn 1 hairpin but there was no sign of that on Saturday, Stroll's range of motion seemingly improving.
"I'm feeling better every lap," he told the media including PlanetF1.com. "I mean I'm starting to just get more and more trust in my body and what my hands can do and also in the the car.
"I mean missing the three days of testing and getting into a rhythm and feeling different setup items and all that kind of stuff, it's just like time in the the car. But at the end I feel like I was getting in a better rhythm."
He added: "I think every day is getting easier and I'm not as worried as I was a week ago."
PlanetF1 recommends
Qualy: Max Verstappen starts his title defence with pole, Ferrari make tactical tyre call
Charles Leclerc explains tactical reason for early exit from Q3 in Bahrain
F1 fans should pay attention to Fernando Alonso cooling Aston Martin expectations
It's a rhythm Stroll hopes could see him take the fight to Mercedes drivers in Bahrain, the driver saying all the data hints at strong race-pace for the AMR23.
"I haven't really done much longer on pace," he said. "I had a few laps yesterday in P2 where I think we did like eight, nine laps but looking at testing we were really strong in the long run pace.
"Looking at yesterday I think we're strong as well so I hope we can definitely fight with them and you know a few things happened in front and maybe we're in a really good position so we'll see."
Additional reporting by Thomas Maher