Lance Stroll update given after Aston Martin driver misses Singapore GP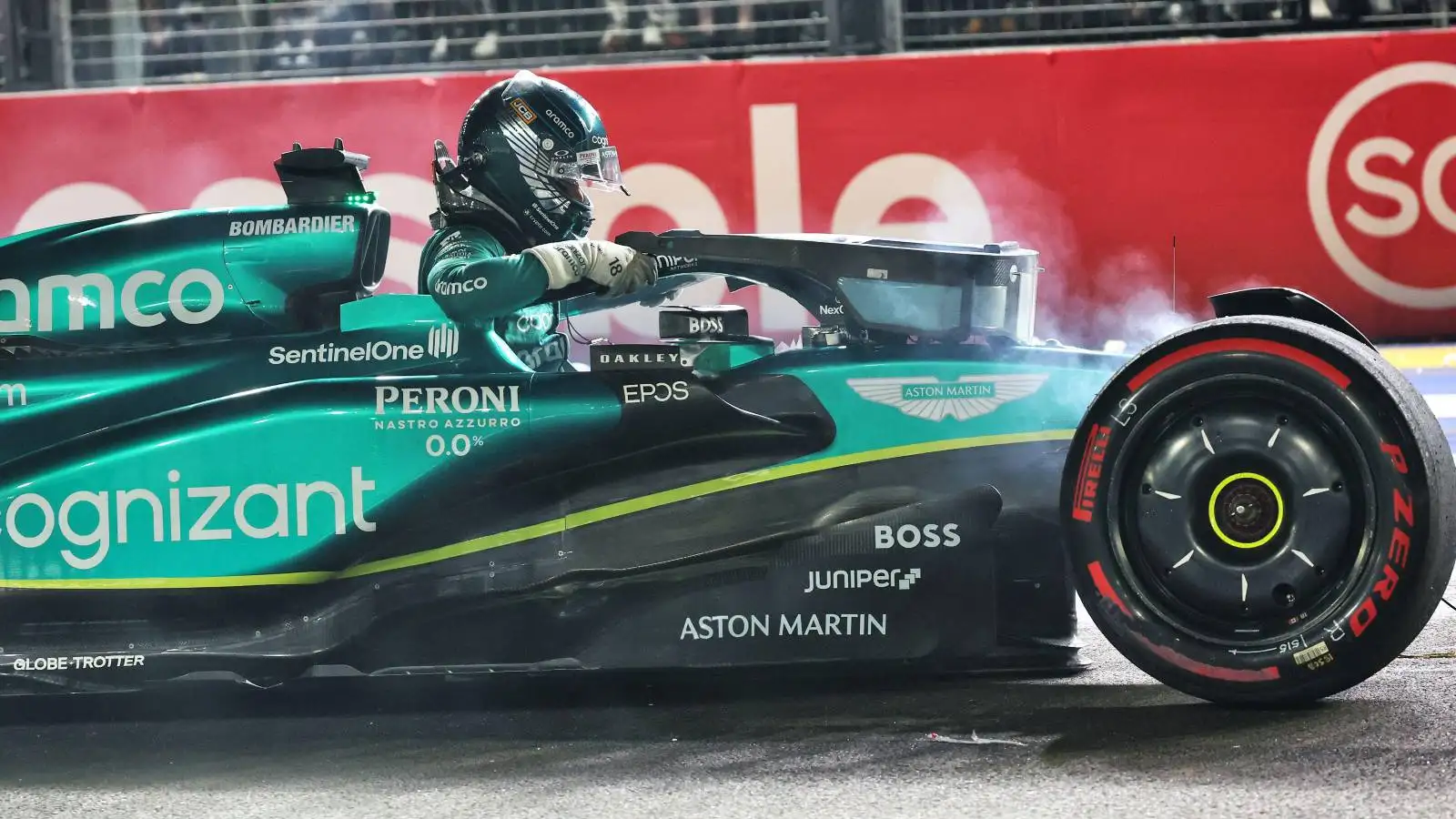 Aston Martin team boss Mike Krack says there is "zero" chance of Lance Stroll missing the upcoming Japanese Grand Prix despite still being "generally sore".
Stroll suffered a heavy hit in Saturday night's qualifying for the Singapore Grand Prix when he lost the rear of his AMR23 after touching the kerb in the final corner at the Marina Bay circuit.
Spearing into the wall at speed, his Aston Martin was up on two wheels such was the force of the impact that destroyed the front left of the car and tore off the wheel.
'Zero' chance Lance Stroll won't race in Japan
Stroll was able to get out of the car unaided and went to the medical centre for checks where he was given the all-clear from serious injury.
However, battered from the crash, the Canadian and Aston Martin "jointly agreed that he will not participate in the Singapore Grand Prix" with the team revealing the driver was "understandably still sore".
Stroll will be back in the car come Friday for the start of the Japanese Grand Prix weekend says Krack.
"He's generally sore," the team boss told media in Singapore.
"If you have an incident like that, you stress your muscles anyway. The analogy is like if you spend a very hard day in the gym, then also you feel not great, so this is where we're at.
"I think it's the right decision to be ready for Japan because it's already in a couple of days' time.
"The important thing is that he is fine and everything else is secondary."
Asked if there was any risk of Stroll not taking part in the Suzuka race, the German simply replied: "Zero."
PlanetF1.com recommends
The updated Drivers' and Constructors' standings after the Singapore GP
F1 2023: Head-to-head qualifying and race stats between team-mates
Crash proves Stroll's F1 commitment insists team boss
Stroll's crash came amidst speculation that perhaps the driver isn't joining racing in Formula 1 these days given his growing deficit to his teammate Fernando Alonso.
Rumoured to be taking up tennis or even joining Nyck de Vries in the study halls, Krack believes Stroll's accident – the result of the driver pushing hard – proves he's fully committed to Formula 1.
"It's proof that he's full in, to all the guys that are thinking he's not," he said.
"To go into this corner at that speed, you have to have some commitment. This is another (piece of) proof that he fully has it.
"Lance is very strong. He's much stronger than you think. You saw him in the TV pen after this. So I'm not concerned at all there will be anything. He will go in the car (at Suzuka) and he will be fast."
Read next: Fernando Alonso laments 'race to forget' after Singapore horror show