Norris plans talks with 'aggressive' Ricciardo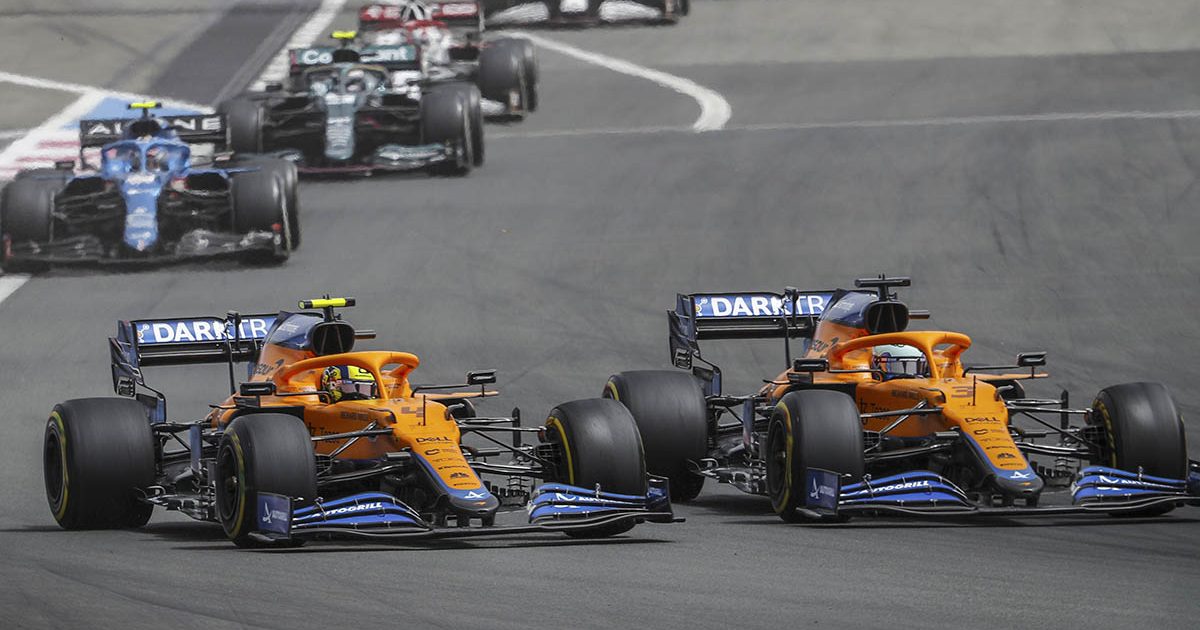 Lando Norris has said he would speak to Daniel Ricciardo following their early ding-dong battle at the French Grand Prix.
The McLaren duo combined for a P5/P6 finish at the Paul Ricard circuit to take them 16 points clear of nearest rivals Ferrari in their fascinating battle for P3 in the Constructors' Championship.
But, it wasn't a completely straightforward race for both despite their lofty finishes, with Norris already not best pleased with AlphaTauri's Pierre Gasly after two almost collided at Turn 1.
The British driver did not get off to the best of starts off the line in France and lost positions, including one to Ricciardo who fully committed to the outside of Turn 1 to find a way through.
Norris was then forced to take evasive action off the track in his battle get back past Ricciardo, and Norris thinks his team-mate was "aggressive" in his defending.
— Lando Norris (@LandoNorris) June 21, 2021
Get the Lando Norris look with the official Formula 1 store
"It was [an aggressive defence]," Norris said, as quoted by Motorsport.com.
"I have nothing against Daniel but I think he shouldn't have done that.
"But that's racing, I probably would have done the same thing with him – but I was on the edge of the kerb.
"If there had been tarmac or something on my right, then I wouldn't be complaining. But because there were all these vibrations and bumps, I couldn't take my corner and I had to go straight because he squeezed me out.
"I'm not looking to complain about it but for sure we'll discuss it."
The McLaren duo played more nicely later on in the race, with Ricciardo letting Norris through due to the fact they were on alternate strategies.
It was that strategy for Norris that propelled him up into yet another top five finish in the final classification.
"I think our strategy played a big part," commented Norris.
"I was struggling with my tyres at the end of the first stint, it was really bad.
"But when I came out [of the pits] I was still very close to the drivers in front of me, because I had a clear run at the end of the first stint.
"They had already used up a lot of tyre wear, so I was able to attack and pass them quite easily. The team did a very good job and I think I did too. And that's why everything worked out well."
Follow us on Twitter @Planet_F1, like our Facebook page and join us on Instagram!