Norris chose not to pass Max for Imola race lead
Lando Norris decided not to attempt an overtake on Max Verstappen for the lead in Imola, fearing it would have "killed" his tyres.
The Briton enjoyed a stellar Emilia Romagna Grand Prix, displaying excellent and consistent pace throughout a race which was run in very testing conditions.
After Valtteri Bottas and George Russell caused the race to be red flagged following a high-speed collision, Norris was in a position to be able to switch to soft tyres and, at the race restart, was quickly able to pass Charles Leclerc for P2.
He felt he then had the pace to make a move on Verstappen for the race lead, but chose not to in order to preserve his tyres.
"There was a big decision I had to make here," Norris said on Twitch when watching the Imola race highlights back.
"I'm on the soft tyres, because my only chance of overtaking Leclerc I knew would be at the very start, and on the soft tyre. Compared to a medium they were a bit quicker.
"So we made the decision to go on to the softs, and I think I could have overtaken Max, especially on Lap 2. I could have at least tried, but I wouldn't have finished on the podium I think if I had have tried.
"I would have killed my tyres and I think Leclerc would have got me."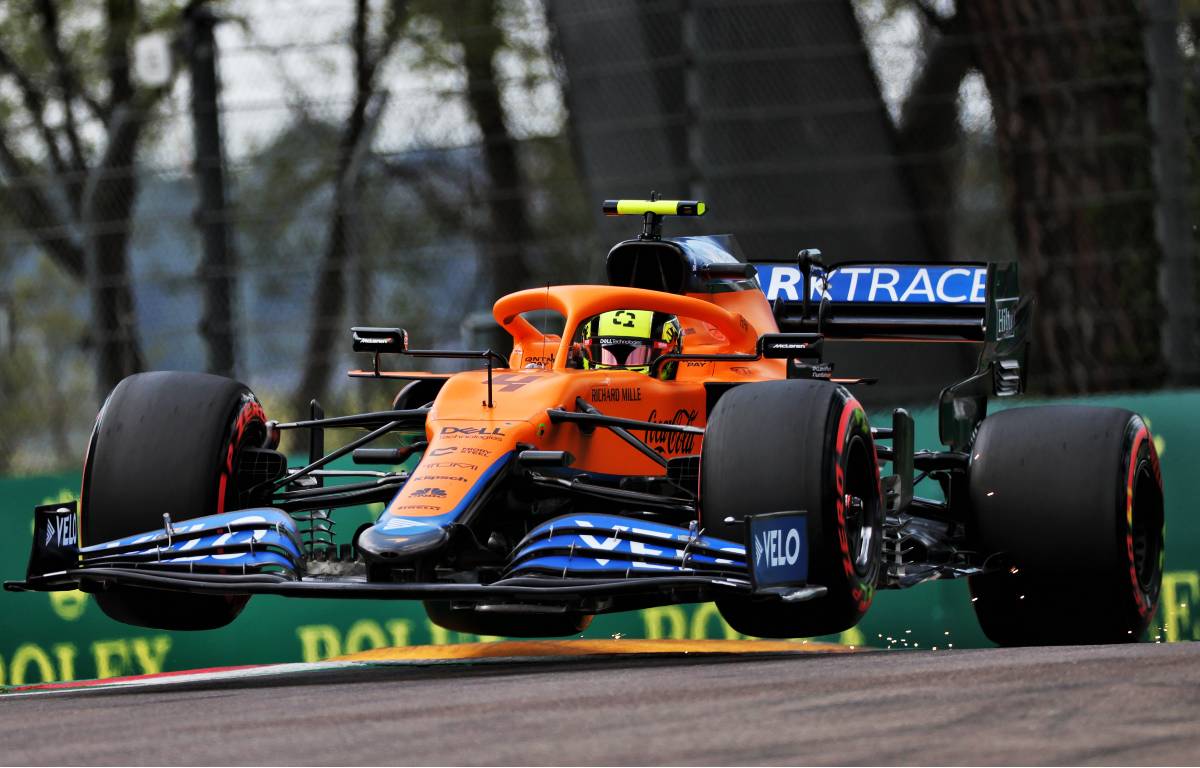 Get the Lando Norris look with the official Formula 1 store
The Imola race weekend also nearly brought a place on the front row of the grid for Norris after going purple in the first two sectors – but falling less than a tenth short of Sir Lewis Hamilton's pole time.
Sadly that time would be deleted after exceeding track limits at Turn 9, and Norris revealed on that lap he was two tenths up on Hamilton until the last two corners, at which point McLaren did not have an answer for the pace of Mercedes.
"Disappointing, it makes me want to cry," Norris reflected.
"What makes it even worse, I was two tenths quicker than Hamilton to the second-to-last corner. Two tenths quicker than the pole guy to the second-to-last corner!
"The Mercedes was so much better than us in the last two corners, I lost all of it. Two corners to go, I'm on for pole! Well I wasn't because I went out [of track limits] at Turn 9, but that makes it even worse. It still annoys me."
Ultimately Norris would cross the line P3 for a second podium of his career, defending P2 valiantly but eventually losing out to Hamilton.
Follow us on Twitter @Planet_F1, like our Facebook page and join us on Instagram!