Norris criticises stewards after Baku grid drop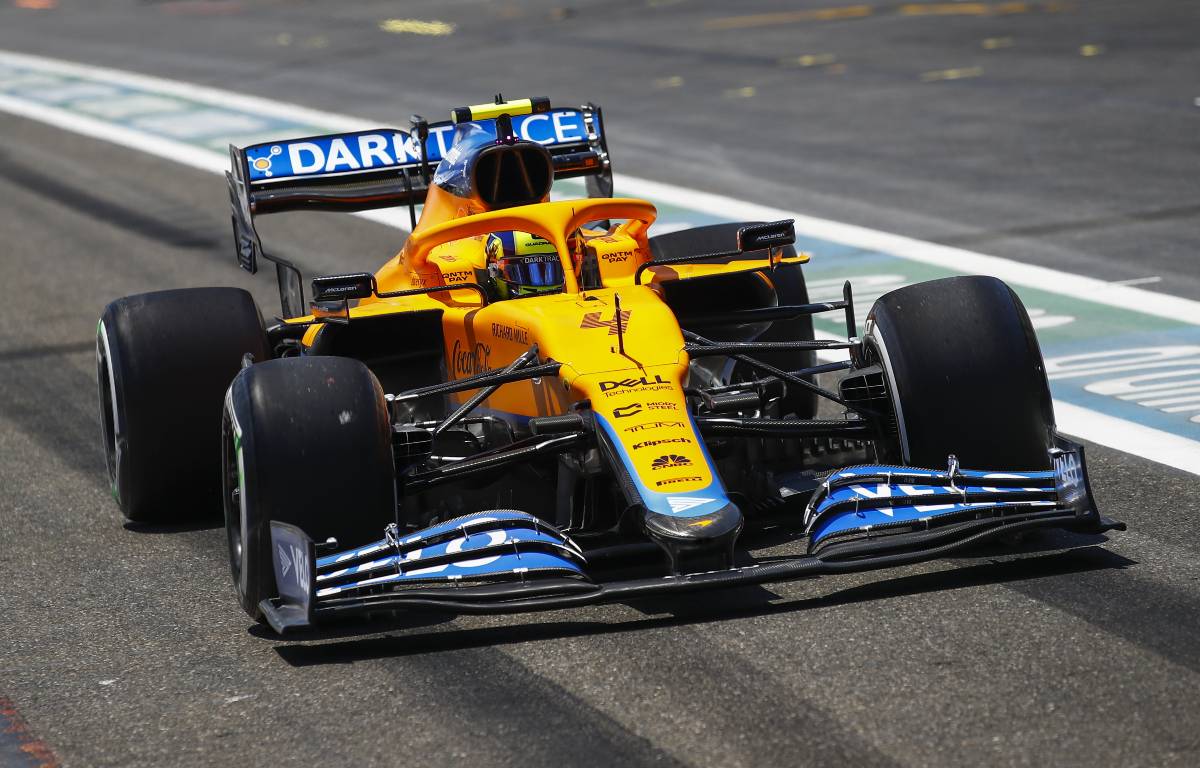 Lando Norris has hit out at the decision to issue him with a three-place grid drop for the Azerbaijan Grand Prix for a red-flag infringement.
The McLaren driver has been demoted from sixth to ninth on the grid by the stewards following an offence he committed as one of four red-flag stoppages during qualifying began.
Approaching the pit lane as the red light was displayed at trackside, Norris initially looked to be heading towards his garage but then decided to stay out and complete another lap after a conversation with his race engineer over the team radio.
The Briton's punishment would have been more severe but for the short amount of time between the red lights going on and Norris having to decide what to do.
F1 TV are offering PlanetF1 readers 10% off their Access and Pro subscriptions! Click here and use the code PLANETF10 at checkout*
*offer expires midnight on Sunday, June 6
Lando unfortunately receives a three-place grid drop.

He will start from ninth on the grid tomorrow. #AzerbaijanGP 🇦🇿

— McLaren (@McLarenF1) June 5, 2021
The stewards' statement explained: "Norris was just on the long start-finish straight when red flags were displayed.
"Consequently, red lights were flashing on a panel on the left guardrail and on the car's dashboard.
"During the hearing, the driver admitted he lifted the throttle, braked and was committed to and able to enter the pitlane.
"At that moment, he was not sure what to do and asked his team over the radio. Although the team ordered him immediately to enter the pits, it was too late and Norris crossed the finish line one more time.
"The stewards assume that if a red flag is not respected during qualifying, a drop of five grid positions is appropriate. However, if you consider the driver only had a very short time to react due to his position on the track, a drop of three grid positions is sufficient as an exception."
The 21-year-old also received three penalty points on his licence to take his total up to eight in a 12-month period, four short of the threshold that would trigger a one-race ban.
Norris defended his actions, telling Sky F1: "I was in the middle and continuing my lap and I didn't know at what point I could really go left [into the pit lane] or right.
"I slowed down straight away, I didn't feel like I did anything wrong, and I was going at quite a high speed going into the pits at that time. I don't think I've done anything wrong."
After the verdict was announced, Norris told reporters: "It sucks because I guess there's a rule [but] also sometimes there's some more leniency to certain situations when the driver's still done the best thing that's possible to do in that situation.
"So [I'm] a bit gutted because it's three places back. It will make a life a lot more difficult tomorrow. I don't feel like it's a fair decision, but it is what it is.
"I think, obviously, a reprimand or something is the right thing to do, to have a bit more understanding in some areas. I didn't put anyone in harm's way. If anything, I took the safer option out of boxing and not boxing and that makes it even worse. So I don't deserve three points on my licence for this, I didn't do anything dangerous.
"I didn't do anything because I didn't know and was clueless or anything, there was nothing to do with that. I know what the rules are and so on. So it's not like I have a lack of understanding or anything like that, but for some situations they should actually rethink what's going on."
Follow all the action from the Azerbaijan Grand Prix with the PlanetF1 live centre