Lando Norris believes he would beat Lewis Hamilton if they were team-mates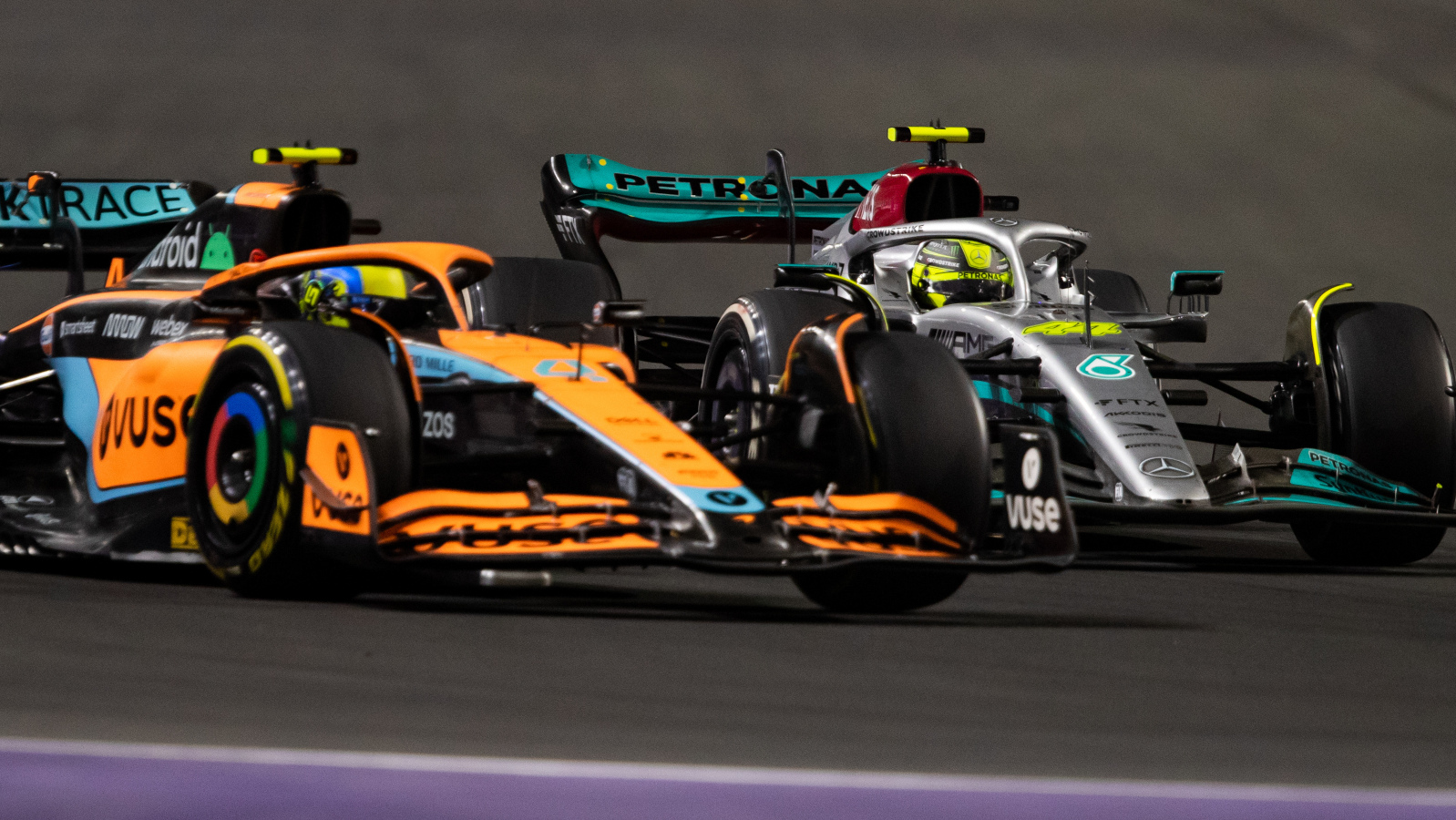 Put on the spot about whether he would beat Lewis Hamilton if they were team-mates, Lando Norris has answered with a "yes".
That scenario looks highly unlikely to ever be put to the test though with Hamilton having another young Briton, George Russell, as his Mercedes colleague.
It would be a major surprise if that line-up changed at any time before Hamilton, 37, decided to retire from Formula 1.
Norris, who this year signed a long-term contract to extend his stay with McLaren, was asking questions from the public on a variety of social media channels in a video for British GQ.
One of those questions, which made the editor's cut for the 5min 40sec video, concerned whether Norris thought he could beat the seven-time former World Champion if they were in the same team together.
"There's a tough question," said the 22-year-old. "I've got to say yes.
"By no means would it be easy. Lewis is one of the greatest ever but if you want to do well, you've got to believe you're better than the rest."
How confident was Lando Norris in saying he could beat Lewis Hamilton?
This needs to be put into context.
There was no arrogance in Norris' answer to what was a very direct question.
He simply replied in the way any driver would who has confidence in their own ability – a self-belief that is necessary if you are to thrive in the shark pool of Formula 1.
As he said himself, "you've got to believe you're better than the rest".
It is, therefore, not a slight upon Hamilton, with whom Norris has enjoyed a cordial relationship during his time in F1 – as he appears to do with most rivals, sharing friendships with Max Verstappen, Carlos Sainz and Russell among others.
Hamilton, of course, was heard over team radio saying "such a great driver, Lando" when he was chasing the McLaren in Austria last year.
Would Lando Norris genuinely have a chance of beating Lewis Hamilton?
If Norris had been selected instead of Russell to partner Hamilton at Mercedes this season, you have to think he would have stood a chance.
The big caveat there, of course, is that Norris has only ever driven for McLaren in F1 – as his current team-mate Daniel Ricciardo said recently, that can be a major advantage compared to someone joining a team from elsewhere.
Russell, of course, was familiar with the Mercedes set-up before his three-year 'loan' at Williams. So the fact he has enjoyed such a solid season with 207 points to Hamilton's 180 does not necessarily mean Norris could have scored as heavily, even though the young British duo look to have a similar level of talent.
And, of course, Hamilton appeared to struggle with the foibles of the recalcitrant W13 more than Russell in the early part of this campaign. Over the last 10 races, Hamilton has outscored his colleague by 10 points.
In conclusion, it is not an outlandish claim by Norris, but also not one he could make with any degree of certainty.
Until McLaren can provide him with a car that can challenge for wins regularly, or he runs out of patience and moves elsewhere, we will never truly know just how good he could be.
Read more: Lewis Hamilton reveals the one thing he changed in F1 and 'should have copyrighted'