Norris: Hamilton compliment odd but cool
Lando Norris concedes his 2021 results have upped expectations ahead of his home race, the British Grand Prix.
Norris has been one of the star drivers in this year's championship, bagging three podiums on his way to fourth place in the Drivers' Championship.
His most recent P3, which came at the Austrian Grand Prix, was just two weeks before Formula 1 headed to Silverstone for his home race.
Expectations, he says, are high but he warns that "podium high" may be a bit too much.
"People are now expecting a lot," he told The Express. "More so because of Austria and finishing third.
"Now people are thinking we're going to finish on the podium and fight Mercedes again – which I have my doubts about.
"I think we can do well. We don't have to play it down too much. But while we're closer than we have ever been, we are still a way away from it.
"There are examples from last season when Pierre [Gasly] won and you can get a bit lucky. You can suddenly be in that position because others have crashed or had failures.
"That needs to happen for us to win a race, we can't win it outright. But those things can happen. It's understandable that expectations are high – they can be high – but not podium high."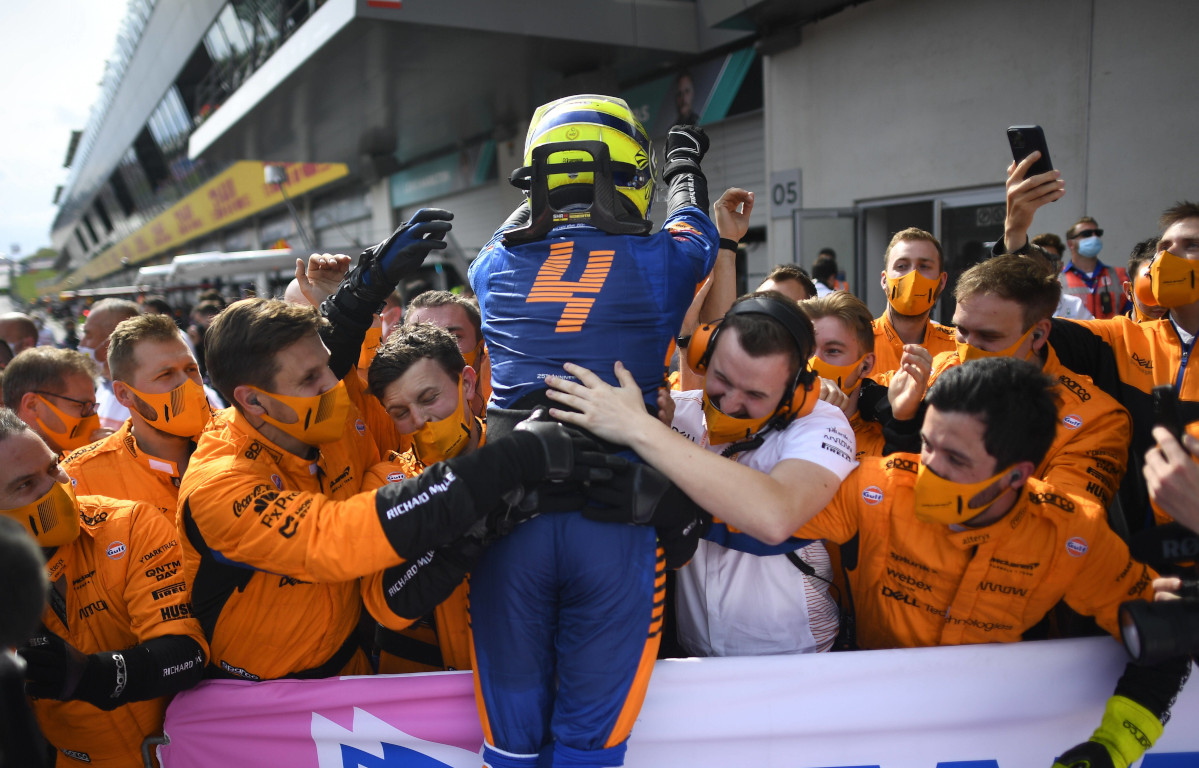 Get the Lando Norris look with the official Formula 1 store
Norris' performances this season haven't just caught the eye of Formula 1 fans, but also his rival drivers.
Lewis Hamilton called him a "great driver" during the Austrian GP as Norris took on both the Mercedes driver and the Red Bull of Sergio Perez.
While delighted by the reigning World Champion's comment, Norris also feels it was a "bit odd" given that it came mid-race.
"It was cool hearing it from Lewis," he said. "More so than from any other driver in F1.
"It was in the middle of the race which I wouldn't ever do. And it was a bit odd because you don't expect to hear it.
"But it means even more that he said it after he had gone past and I was racing against him, rather than him dropping back because of any problems.
"So it was weird – but cool at the same time because it was the first time I'd ever raced against Lewis for more than one corner.
"It's a different feeling because you know he's the best. And he's the best for a reason. He's good at attacking and defending but I feel like I was capable of holding him off for 20 laps last week."
That battle with Hamilton, he hopes, has been locked in his memory bank for the next time he has to fight the seven-time World Champion.
"Now I know that if I'm in the same position next time, I'm able to do it," the McLaren driver added.
"In the past it's been the case where, after lap five, I'm thinking: 'Oh no.' But if the speed difference is the same, I'm more confident knowing I can keep him behind me.
"It's like when you are in Formula Two. You look at the drivers in F1 and you think: 'They're incredible, where am I? Am I going to be good enough?'
"We hadn't really raced Mercedes and Red Bull. But I was in that position last weekend. I can do a good job. I feel like I'm capable of racing them.
"They are just like any other drivers on the grid."
Follow us on Twitter @Planet_F1 and like our Facebook page.