Lando Norris firm on Charles Leclerc collision: 'I'm not here to let everyone pass'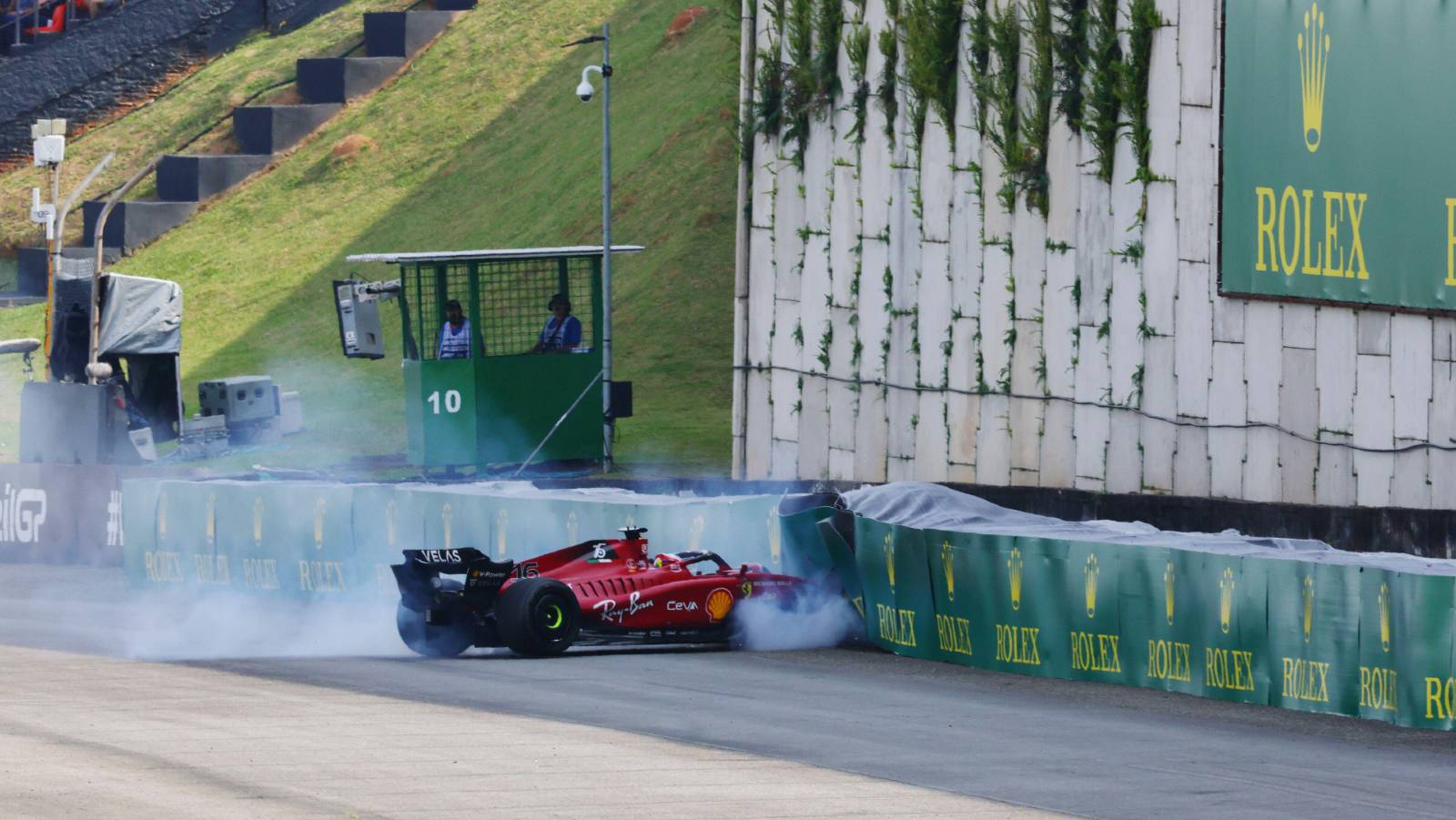 Birthday boy Lando Norris defended himself after an early Sao Paulo Grand Prix collision with Charles Leclerc that earned him a five-second penalty.
The McLaren and the Ferrari touched after the restart following the Safety Car period triggered by an incident that had caused the retirement of Norris' team-mate Daniel Ricciardo and Kevin Magnussen.
Leclerc flew into the barriers but his race was not over, getting back to the pits for a new front wing and going on to finish a highly creditable fourth, whereas Norris later exited with a suspected electrical problem.
On the day he turned 23 there were no gifts from the stewards at Interlagos for Norris, who was given a five-second penalty and two points on his licence for a collision he thought was nothing more than a "racing incident".
"He tried to go around the outside, there was a bit of contact," explained Norris during his post-race interview with Sky F1.
"Obviously I didn't want any contact, I need a clean race, but I'm not just going to let everyone pass. I'm not here to let everyone pass.
"I tried to hold my line and I held my line as much as possible. Maybe I could have given five centimetres more and he could have given five centimetres more.
"Maybe he should expect a little bit more, me not being able to hold the inside line the whole way through, but I did my best.
"I feel it was a bit of a racing incident – I know he came off worse and that's a shame. Obviously I didn't want that to happen but that wasn't the problem, that was just life and the rest of it was we were just way too slow.
"The car wasn't performing well today, that's all, and we didn't even finish the race, so disappointing."
Asked if he had sustained damage to his car in the collision, Norris said: "I want to believe there was a bit of damage. Maybe I'm completely wrong and making it up.
"I'm sure there was something small, more in the steering which just went a little bit off-centre after the incident, but it didn't cause us any pace drop, I don't think – maybe a tenth a lap or something."
Norris has been affected throughout the Brazilian weekend by a stomach virus which meant he missed his media commitments on Thursday – and even meant Nyck de Vries had a seat fitting in case he was needed to deputise.
"I'm feeling okay," said the Briton. "My race ended early, so I've had some time already to relax and I feel a bit better.
"I started to struggle a bit. I don't know how many laps we were in – 40, 45 laps – I started to struggle a little bit by then but since then, I've been able to relax already.
"But I'm okay, I'll be fine for next week."
Read more: Lewis Hamilton after latest Verstappen incident: 'What can I say, you know how it is with Max'