Norris says he is lacking confidence in Bahrain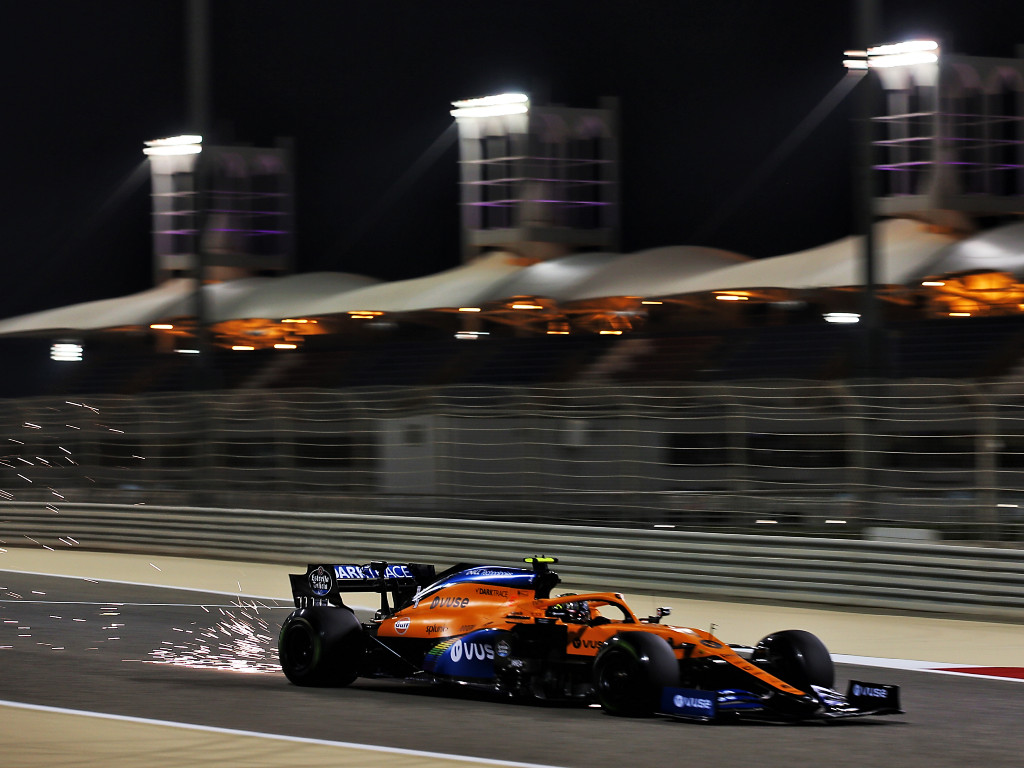 Lando Norris says he still isn't feeling as confident as he wants to in his McLaren after Friday practice ahead of the Bahrain GP.
The Briton was the highest-finishing McLaren in the afternoon session all the way up in P7 but with work to do if he is to catch rivals Pierre Gasly, Daniel Ricciardo and Sergio Perez who were comfortably up the road.
But it seems the key to eliminating the four-tenth gap to Perez who finished FP2 in P4 could be a case of confidence.
"I didn't feel the most confident throughout today, I just didn't have the best of feelings in the car," Norris told reporters back in the paddock.
"Just because it's quite tricky with the wind, even though it's not very windy. Comparing it to last year there were quite a few differences with how the car is handling.
"We have a bit of work to do with understanding what the differences are, why they are happening and so on, because some feel positive and some feel like they're not filling me with quite as much confidence.
"On the whole I think we feel good, we have a good understanding of everything, low-fuel, high-fuel and so on, but we've got a bit of work to do I think to be on the pace of AlphaTauri and Racing Point.
"I'm confident we can do it tomorrow."
Red flag: Dog on the track. Think it's Helmutt Barko inspecting the area where Alex Albon crashed. #F1

— Planet F1 (@Planet_F1) November 27, 2020
Get your hands on the official McLaren 2020 collection via the Formula 1 store 
Alex Albon's crash in FP2 followed by the appearance of a dog, which by this stage has a catalogue of Formula 1 parody names, meant that the session was very interrupted with two red flags, the only one which takes place at night to replicate the conditions of the race.
However, Norris doesn't expect the interruptions to have too greater of an effect.
"It wasn't too bad, I think we still got the running we wanted on the high-fuel and on the softs and on the low-fuel, so it just changed things round a bit with when we wanted to use the 2021 tyre," he explained.
"We just wanted to use that before the end but we prioritised our proper running which was for this weekend.
"So it wasn't too bad, just disrupts and we had to change the plan a little bit but it wasn't too bad."
Norris' team-mate Carlos Sainz, who finished FP2 in P13, believes the midfield battle in Bahrain is "crazy close".
"It was crazy close yet again and we expect a tight battle again this weekend," he confirmed.
"But the thing is at the moment there are five teams, there's McLaren, Ferrari, AlphaTauri, Renault, Racing Point and there's two tenths between those five teams.
"Let's see who comes out on top, but at the moment it's difficult to predict."
The high degradation often seen around the Bahrain International Circuit means it's likely that a one-stop strategy, which is now common in Formula 1, won't be an option.
And Sainz is delighted that finally there will be an element of unpredictability again.
"Yeah finally, a bit of a special weekend in that sense because I don't think anyone is going to be capable of doing a one-stop on Sunday which is the norm in these new Formula 1 races," he said.
"It means there are going to be a lot of strategical options, all three compounds are working well, all three have a lot of deg, but they work.
"They are all tyres that you would use in the race so it's going to be interesting to see how it works out."
Follow us on Twitter @Planet_F1, like our Facebook page and join us on Instagram!