Norris gained confidence battling F1's front-runners
Lando Norris proved problematic for Formula 1's title contenders many times in 2021, which for himself was a confidence booster.
Heading into the season there was plenty of attention on Norris, who after two seasons alongside Carlos Sainz at McLaren now found himself with multiple race winner Daniel Ricciardo on the other side of the garage.
Some expected Ricciardo to be too big a challenge for Norris to handle, even less expected him to dominate the experienced Australian, but in the first half of the season that is what he did.
Even when improvement came for Ricciardo after the summer break Norris still held his own, finishing 45 points ahead in the final Drivers' Championship standings.
Much of McLaren's season was spent fighting Ferrari for P3 in the Constructors' standings, but Norris also had his fair share of battles against the likes of Lewis Hamilton and Max Verstappen at the front.
Norris made himself a contender for pole position several times, achieving that goal at the Russian Grand Prix.
On that race weekend he enjoyed a fierce battle with Hamilton, but that was not the only time the duo's paths crossed, the Emilia Romagna Grand Prix being another thrilling example, the scene of one of four podium finishes for Norris in 2021.
Norris also successfully kept Hamilton at bay in a sprint qualifying battle at Monza.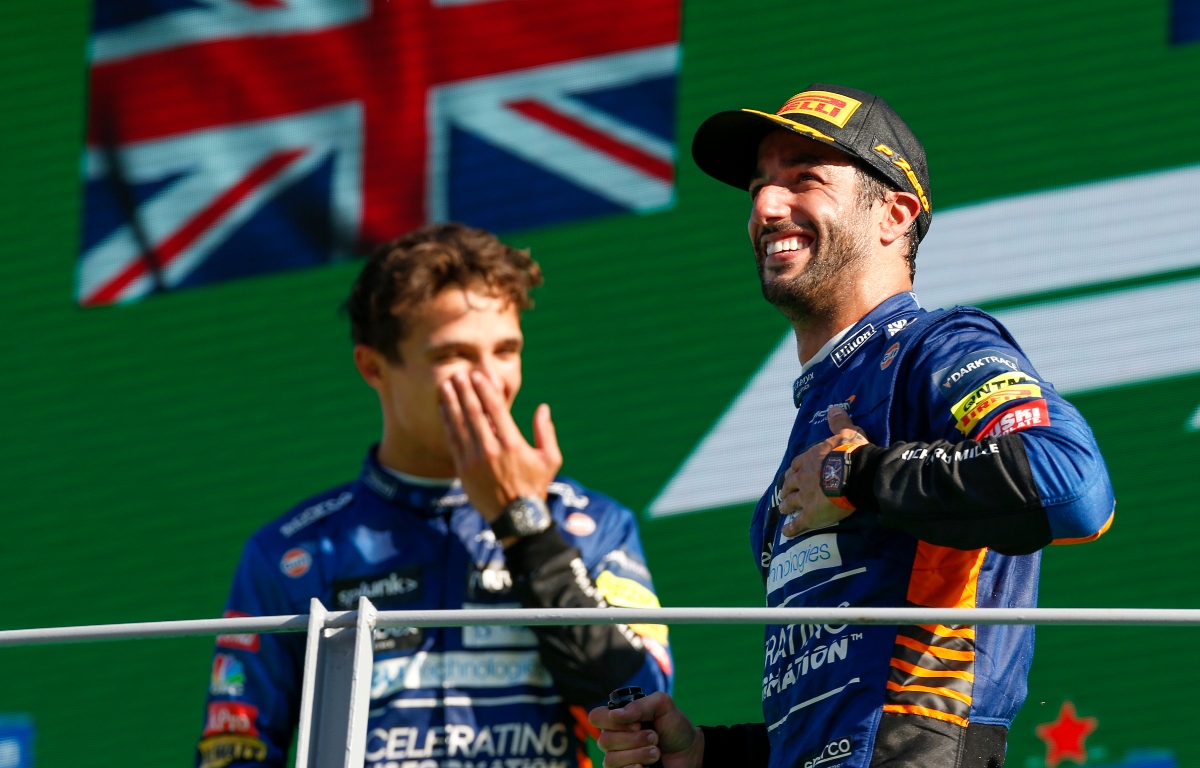 Under the new 2022 regulations there is hope McLaren can return to fighting consistently at the front but either way, Norris' experiences of being in that position so far have helped to provide assurance he can compete with the top drivers.
"I think it gives you confidence if you are up front more often, or the more often you have a better car at your disposal," he said, quoted by RacingNews365.com.
"In the same car, whether it's against Lewis, (Valtteri) Bottas, Max (Verstappen) or (Sergio) Perez, I think it gives you more confidence if you can drive in that position more often."
To that point, Norris said these scraps also forced him to adapt his driving style somewhat, knowing these front-runners often had the better car and more experience and so were always calculating overtaking opportunities.
"A little bit, because they are not just in a better car," said Norris on the subject of altering his driving style.
"Normally, the drivers who are in a better car are also the experienced or better drivers. That gives a bit more pressure.
"You know they are thinking of every possible strategy to attack you. You know they are thinking of every possibility to overtake you."
PlanetF1 Verdict
Should Mercedes have picked Norris?
Jolyon Palmer and Jack Nicholls believe Mercedes should have picked Lando Norris over George Russell for 2022.