Lando Norris jokes he may look 'stupid' after criticising rivals for not using mirrors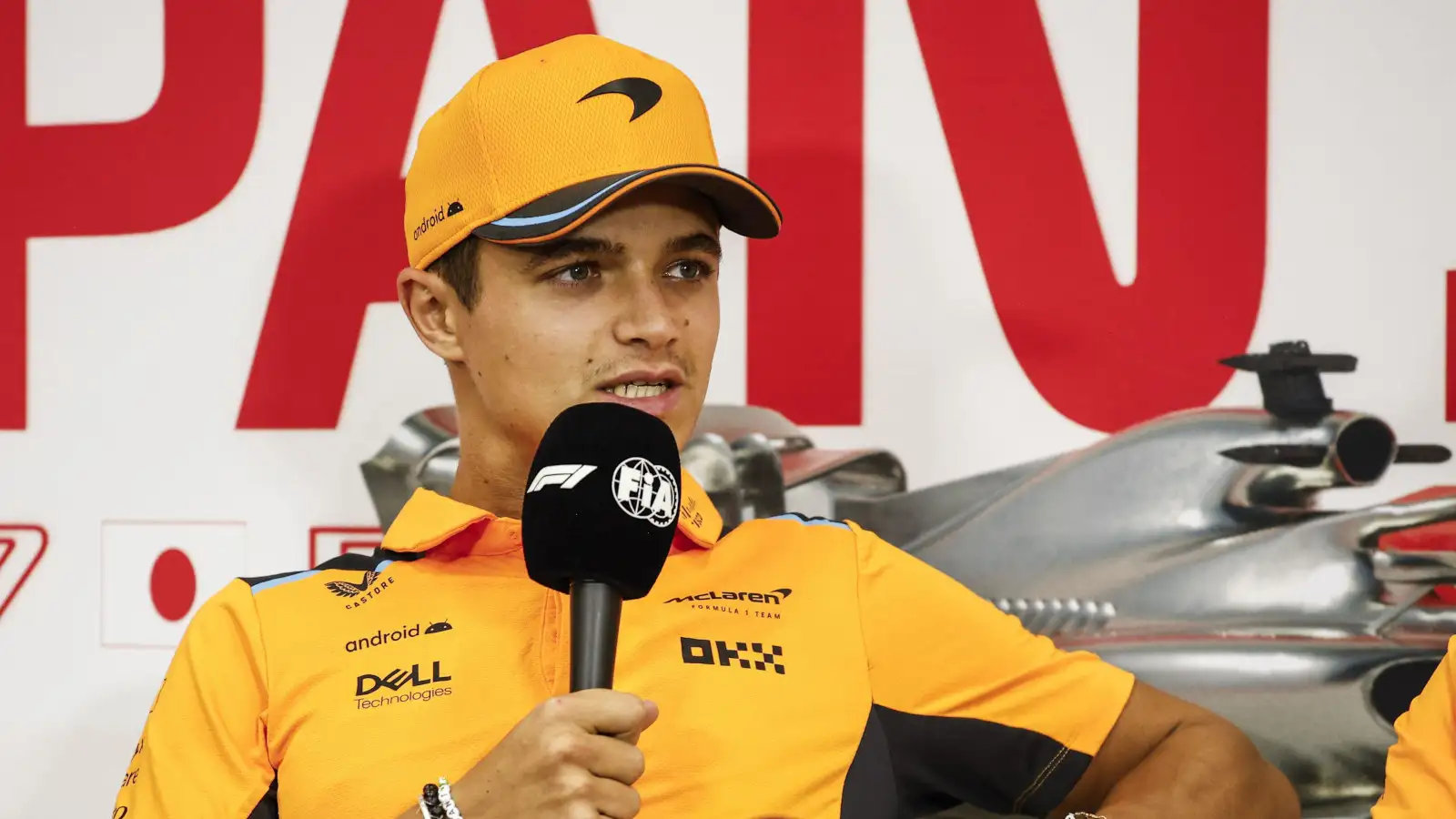 Lando Norris has criticised rival drivers for not using their mirrors in qualifying, before joking he'll probably block someone in Japan and "make myself look stupid".
Impeding during qualifying was one of the big topics up for discussion in the build-up to the Japanese Grand Prix as rivals weighed in on Max Verstappen's reprimand in Singapore for what was deemed by many to be a slam dunk case of blocking.
Putting in the laps in Q2, Verstappen was in the middle of the track, and not on a push lap, when Yuki Tsunoda came screaming up behind him on a flying lap.
Lando Norris calls for harsher penalties for impeding
The positioning of Verstappen's car meant Tsunoda, who had been quickest in Q1, couldn't take the ideal line and he aborted his lap without a time on the board. He finished qualifying down in 15th place.
But while it was thought Verstappen would face a grid penalty for blocking, the Singapore stewards even agreeing he had "clearly impeded" the AlphaTauri, the driver was instead given a reprimand.
The stewards cited mitigating factors in that "the team made no radio communication to warn him of the approach of Car 18" and therefore fined Red Bull €5000.
They added: "It is essential, especially in Qualification, drivers be given sufficient and accurate warning of the approach of another vehicle."
Norris disagrees, the McLaren driver saying the onus has to be on the drivers to look in their mirrors.
"I don't want to say too much because I'll just create controversy," he said in the press conference when asked about last Saturday's rulings.
"I think the blocking one on track was the one I think should have been a penalty. If you block someone, it's not just down to the team.
"I know the team got the fine at the end of the day, but it should be down to the driver as well to look in his mirrors and see if someone is coming. You've nothing else to do the whole lap but look in your mirrors and it seems like a lot of people struggle to do that.
"I think it should just be harsher penalties for blocking people because so many people do it. It ruins your lap, ruins your qualifying, it put Yuki out of qualifying when he was P1 in Q1, probably would've been fast all the way.
"No one seems to care enough, and it's happened a lot this season, happened to me quite a few times, especially with certain teams.
"But it's totally up to the driver to look in the mirrors, like they've got nothing else to do but hit the recharge button and look in the mirror and people seem to struggle to be able to do that in Formula One which is a surprise."
"But," he added with a smile, "I'll probably block someone now this weekend and make myself look stupid."
PlanetF1.com recommends
F1 fastest lap: Which drivers have won the most fastest lap points in F1 2023?
F1 penalty points: One driver punished in Singapore
Verstappen also received a second reprimand for holding up the field in the pits with the Red Bull driver deliberately slow to get out as he wanted to build up a gap to the car ahead.
"I think it's a fine line there, and I think he was probably pushing the envelope of what you can do," said Nico Hulkenberg. "But I mean they looked into it."
As for Tsunoda, the Japanese driver revealed he spoke with the FIA at the Italian Grand Prix weekend in order to get a better understanding of their thinking when it comes to what should be penalised and what's acceptable.
"In general to be honest, I'm the one who probably feels like I'm quite getting consistent penalties to be honest. So yeah it is what it is," he said. "I spoke with the FIA actually at Monza so I understand what they were thinking."
Read next: Twist in Lando Norris to Red Bull talk as team face 'luxury problem'