Norris' wave to Ricciardo nothing more than a 'cheers'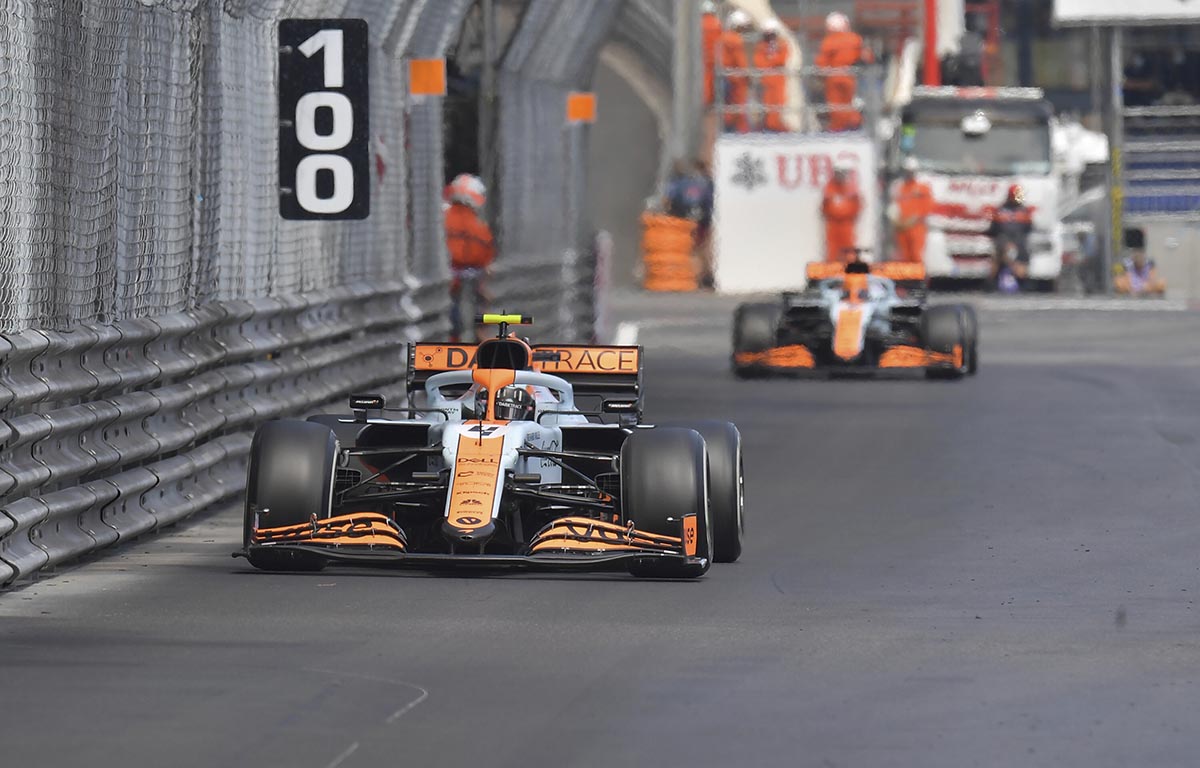 Lando Norris has played down any suggestion that his wave to Daniel Ricciardo when lapping him in Monaco was anything more than just a 'thank you'.
Seeing Norris wave to other drivers as he passes them is a common occurrence in Formula 1 and while most do not read too much into any potential deeper meaning to it, some want to see it as an act of cheekiness bordering on arrogance.
Norris was seen waving to Ricciardo, who has already showed a willingness to play the team game in Imola, as he lapped his new McLaren team-mate, but the British driver is not giving the headlines some sections of the media are looking for.
Respect 👊@LandoNorris @danielricciardo #L4NDO #LN4 #F1 #MonacoGP 🇲🇨 pic.twitter.com/rph8w6cxd0

— Lando Norris Updates (@LandoUpdates) May 23, 2021
Stand out from the crowd with McLaren merchandise via the official Formula 1 store
Asked if his wave to Ricciardo meant a "bye, bye sucker" by Channel 4 presenter Steve Jones, Norris said: "That was a 'cheers'.
"I don't think it really matters. In Monaco you just get stuck behind everyone and gaps get created so I don't think anyone needs to talk about that.
"Daniel doesn't need any shame or anything [being lapped]. It was just a blue flag and it's easy to get here in Monaco because you just get stuck behind cars.
"So it doesn't matter.
"I think Daniel had good pace in the race. When I got ahead of him I didn't really pull away."
Norris also offered his thoughts on Ricciardo's struggles with the MCL35M whilst he continues to thrive in the car.
He continued: "He's just been struggling with the confidence with the car, which I felt good with this weekend. But when you just don't have that, with these types of cars, you lack speed and lack confidence to really push on the car.
"It's tricky but like we saw in Barcelona, when the car is good [for him] he's there.
"But when it's not, he struggles. It's up to him."
Norris' second podium of the season has ensured he is back up to P3 in the Drivers' Championship behind title rivals Max Verstappen and Lewis Hamilton.
Ricciardo, meanwhile, is down in P8 and 32 points behind his team-mate.
Follow us on Twitter @Planet_F1, like our Facebook page and join us on Instagram!