Norris jokes he might 'brake test' Ferrari rival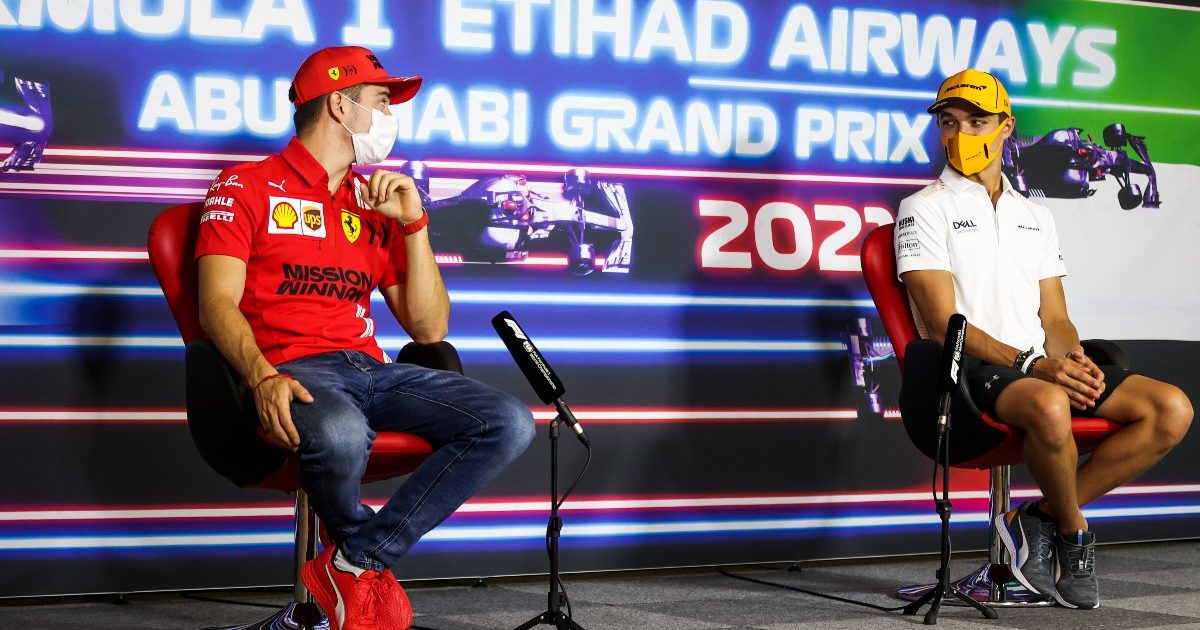 Lando Norris has jumped on the 'brake test' bandwagon to crack a joke about his rivalry with Charles Leclerc in the World Championship.
The term 'brake test' came to the fore during the Saudi Arabian Grand Prix when Lewis Hamilton accused title rival Max Verstappen over the team radio of forcing him to apply the anchors along the straight.
It happened while they were duelling for the lead and Hamilton ran into the back of Verstappen's Red Bull, unaware the Dutchman was merely trying to let him go past under instructions from his team to try and avoid a penalty.
The seven-time World Champion later softened his stance about the matter when he had learned more about the scenario.
— Lando Norris (@LandoNorris) December 9, 2021
Norris is now facing the prospect of his McLaren team relinquishing the third position in the Constructors' Championship they secured last season, with Ferrari having been stronger than them in the final quarter of the season to move 38.5 points clear.
A more realistic prospect for the 22-year-old is to win the individual battle between the four drivers within those teams, Leclerc being four points ahead of Norris with another 4.5 back to Ferrari's Carlos Sainz and Daniel Ricciardo trailing a further 34.5 adrift.
The Briton, sitting alongside Leclerc in his press conference for the season-ending Abu Dhabi Grand Prix, joked that because Verstappen had received "only" a 10-second penalty for "erratic" driving when Hamilton hit him from behind, it could be a tactic worth trying.
Asked what he could do to try and overturn his deficit to Leclerc, Norris, who finished runner-up to Ricciardo at the Italian Grand Prix, said: "Erm…try brake-testing him? It's only a 10-second penalty!
"I want to be ahead of Ferrari as a driver. If we can still finish ahead of them as a team, even better. But that's a very long shot. We kind of need another Monza weekend."
Norris, talking to Formula1.com, then reflected on a season of two halves which began superbly for him but has tailed off, he believes, due to a spate of bad luck in recent races.
"We are in the fight with Ferrari now because of how strong we were at the beginning of the season and I think personally how strong I was as well," said Norris.
"I feel I was very confident at the beginning and always there for the taking of those opportunities.
"I think we just started more prepared and more on it than a lot of the other teams, which is why for so long I was third [in the championship] as a driver, somehow.
"I think I've done a good job even in the second half of the season, just things haven't gone my way as well as they did at the beginning.
"A side of two halves but altogether very happy with my improvements, my season – just want to make sure I end it well."