Norris felt fight for top position could've been possible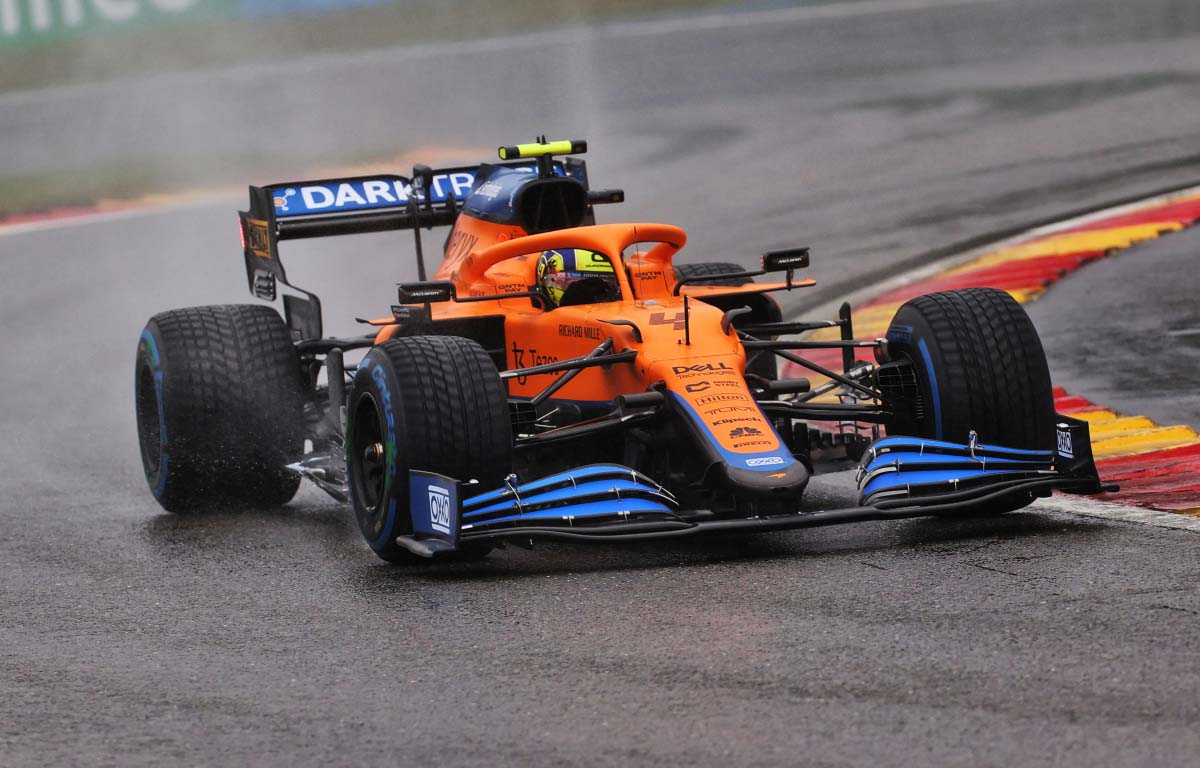 Lando Norris said he would have loved to race in the rain at Spa, as he felt he could have competed at the sharp end of the field.
Due to the inclement weather at Spa, he was unable to fight his way through for what he felt could have been a strong result at a wet Belgian Grand Prix – which was limited to becoming the shortest race in Formula 1 history in terms of distance covered.
The McLaren driver was in flying form in qualifying on Saturday, before having an enormous accident at high speed at the start of Q3. He subsequently took a five-place grid penalty for his troubles and ended up well outside the points – much to his dismay.
"I would have loved to [race], especially in the rain because we were so quick," Norris told the official Formula 1 website. "We could still have had a good chance to score some points at least, or even fight for a top position.
"But it was a shame for me and for everyone who came to watch the race, because they didn't get to see much."
Sums up today. Race cancelled and not how I wanted this weekend to end. Sorry to everyone who stood out in the rain waiting for us, you're all legends, we'll be back next year 👊 pic.twitter.com/M1Jjp6MI0g

— Lando Norris (@LandoNorris) August 29, 2021
Get the Lando Norris look with the official Formula 1 store
"I can't describe how bad [visibility] is. It was like, 'oh, it doesn't look that bad' from the outside, sometimes it doesn't actually look bad.
"But in the car, if there was a car facing the wrong way on the straight, if it had stopped or something, you wouldn't see it until you're five metres out. You can't even see these flashing lights or anything.
"It's so difficult to describe just how bad it is. We're racing drivers, we want to go out and race but it's not like we just want to take the day off today – especially me – I wanted to try and make up for yesterday.
"I really wanted to come out and have some fun, do some overtaking and put on a good show, but we also know when it's just too dangerous.
"It's not safe for us to go out and drive. Of course, it's not the nicest decision, but it's the way it is."
As for Daniel Ricciardo, he explained how the drivers would not have been able to keep control of their cars in the tricky conditions, and added that he'd never driven a race with that level of spray before.
He took a P4 finish to match his qualifying position after the field's positions were effectively frozen behind the Safety Car, but he knew that racing in anger was probably not possible.
"There was nothing else today," he said. "It's no-one's fault that we didn't get a race, I kind of commend them [the FIA] for letting us go out and try to make it happen, but this rain's just relentless.
"It makes me happier about yesterday's qualifying, of course. That gave us the result today, [but] today we didn't earn anything. It was all earned yesterday.
"That's the worst [visibility] I've ever experienced, and that was behind the Safety Car, so it was only going to get worse as we get up to speed and the spray is bigger.
"It's a memory at least, probably not a fond one, but it's still a memory."