Lando Norris said he was able to work out pretty quickly where Lewis Hamilton was strong and weak during the Monza sprint race.
Both drivers saw a fair bit of each other across the Italian Grand Prix race weekend, starting from the 18-lap Sprint Qualifying race.
After a poor getaway Hamilton saw himself sinking down the order, dropping behind both McLarens of Daniel Ricciardo and Norris.
And his progress from there was minimal, with Norris keeping the seven-time World Champion at bay until the chequered flag.
It proved to be a similar story in Sunday's Italian Grand Prix, as Hamilton once more struggled for a way past Norris, only doing so towards the end of their first stints.
It would be a sluggish stop in the Mercedes garage though for Hamilton, allowing McLaren to overcut him and get Norris back out ahead.
Norris does have prior experience this season of defending against Hamilton, most notably having done so at the Emilia Romagna Grand Prix, but his Monza efforts surpassed those of Imola.
And as it turned out, Sprint Qualifying had played a major part in Norris' ability to put up such a stern fight against his compatriot.
"I think I had a good warm-up for that on Saturday with 18 laps trying to defend from him [Hamilton]," Norris is quoted by GPFans.
"I could figure him out quite quickly, where he was going to be strong and weak and so on, and he was on the hard tyre, so for the majority of it, I could hold him off reasonably easily.
"But the last two or three laps of the stint, the hard tyre started to come back to him quite a bit – or the mediums started to drop away – so he actually got past me. He then boxed and we overcut him straight away."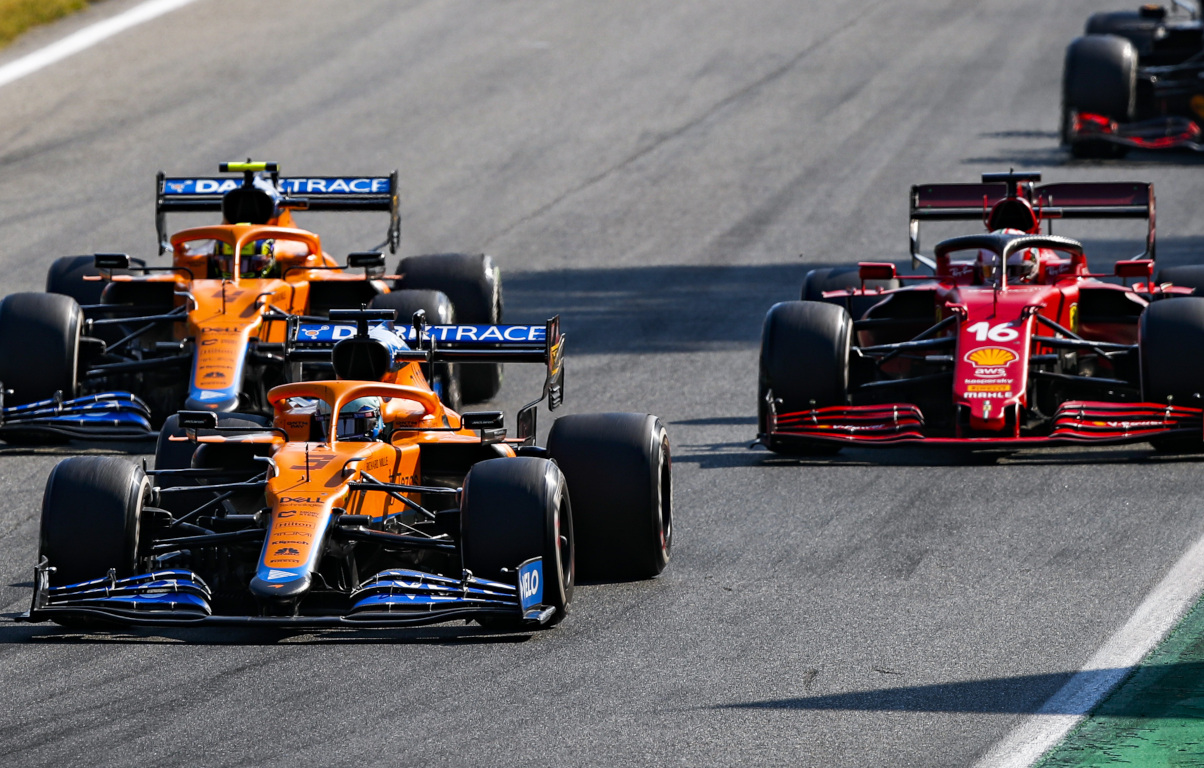 Get the Lando Norris look with the official Formula 1 store
Hamilton would not receive another opportunity to hunt down Norris after his stop, since his race came to an abrupt end after colliding with Max Verstappen at the opening chicane.
From there, Norris went on to execute a stunning overtake on Ferrari's Charles Leclerc, ultimately crossing the line P2 behind team-mate Ricciardo, securing McLaren's first one-two finish since Canada 2010.
"Just the whole race was stressful, I'm not going to lie, there was not one moment where I thought I could relax and just chill out a little bit," Norris admitted.
"But that definitely makes it a bit more special, more worthwhile to kind of have to really work for it, and end up in this position to get past Charles [Leclerc] as well on the restart, and so on.
"Yeah, definitely makes it more worthwhile, so a tough race, maybe made a little bit easier in the middle after the pitstops with what happened.
"But it still wasn't easy with what happened and it still wasn't easy from that point on. We still had to work quite hard for it."