Norris: Final lap shoot-out was made 'for the TV'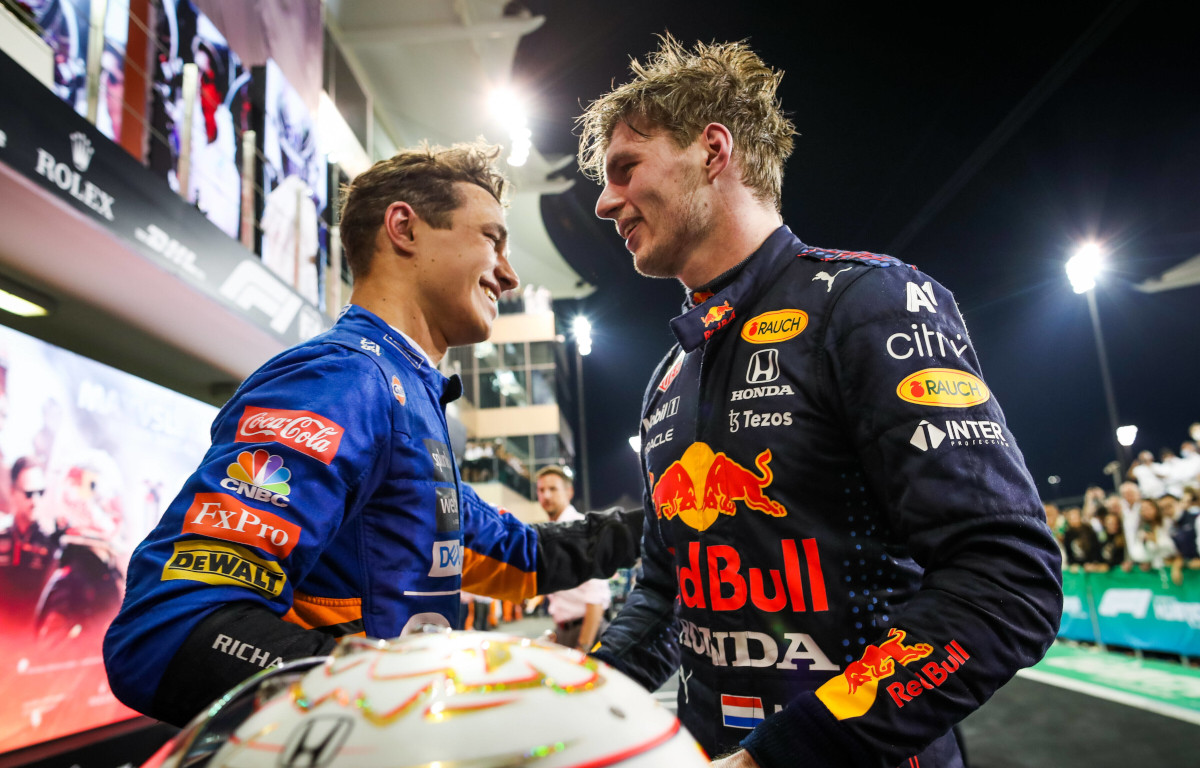 Lando Norris feels Formula 1's final lap shoot-out for the World title was "for the TV" but stopped short of calling it unfair.
Max Verstappen clinched the Abu Dhabi Grand Prix win and the Drivers' Championship title after a controversial finish to Sunday's season-ending race.
The Red Bull driver, through no fault of his own, was given a shot at the win late in the race when FIA race director Michael Masi gave the five cars between race leader Lewis Hamilton and second-placed Verstappen the go-ahead to unlap themselves behind the Safety Car.
They, however, were the only five allowed to even though there were eight lapped cars in total.
Norris, one of those who were permitted to unlap himself, says it was staged to make for good television viewing.
Asked by The Race if he was surprised that only some cars were allowed to unlap themselves, he replied: "Yes.
"I didn't actually know it was only the first few, up to Max.
"So it was obviously made to be a fight, it was for the TV of course, it was for the result.
"Whether or not it was fair, it was not up to me to decide. I just have to say congrats to both drivers."
He added that "to suddenly do it just for the final lap and for a one-lap shootout, I'm a bit surprised by."
LAP 58/58

Safety Car is in – one lap to decide the championship!#AbuDhabiGP 🇦🇪 #F1 pic.twitter.com/LSJdZulMTt

— Formula 1 (@F1) December 12, 2021
His team-mate Daniel Ricciardo was also confused by the decision, the Aussie one of the drivers who didn't get the opportunity to unlap himself and finished P12, a lap down.
"I'm honestly a bit speechless," he said. "I don't know what to make of all that.
"Just when you think the season could not get any more dramatic, it does.
"I don't even know if this is good because I think people's TVs are just going to explode, I don't think it can handle that much drama, I don't think the watts on a TV can handle it. It was a lot."
Race Control's decision meant Verstappen clinched the World title, Ricciardo happy for his former team.
He does, however, feel for Hamilton.
"Obviously on one side I want to congratulate Max, first-time World Champ, and obviously Red Bull, a team I know very well, I am of course happy for them," he said.
"But I can't say that in the same sentence and not say I feel for Lewis because he had the race under control and sometimes it doesn't swing in your favour, the Safety Car – I mean it didn't not only swing in his favour, it obviously cost him the title.
"I obviously do feel for him, so yeah, it's a crazy end to the year."