Norris hopes first 'shoey' was also his last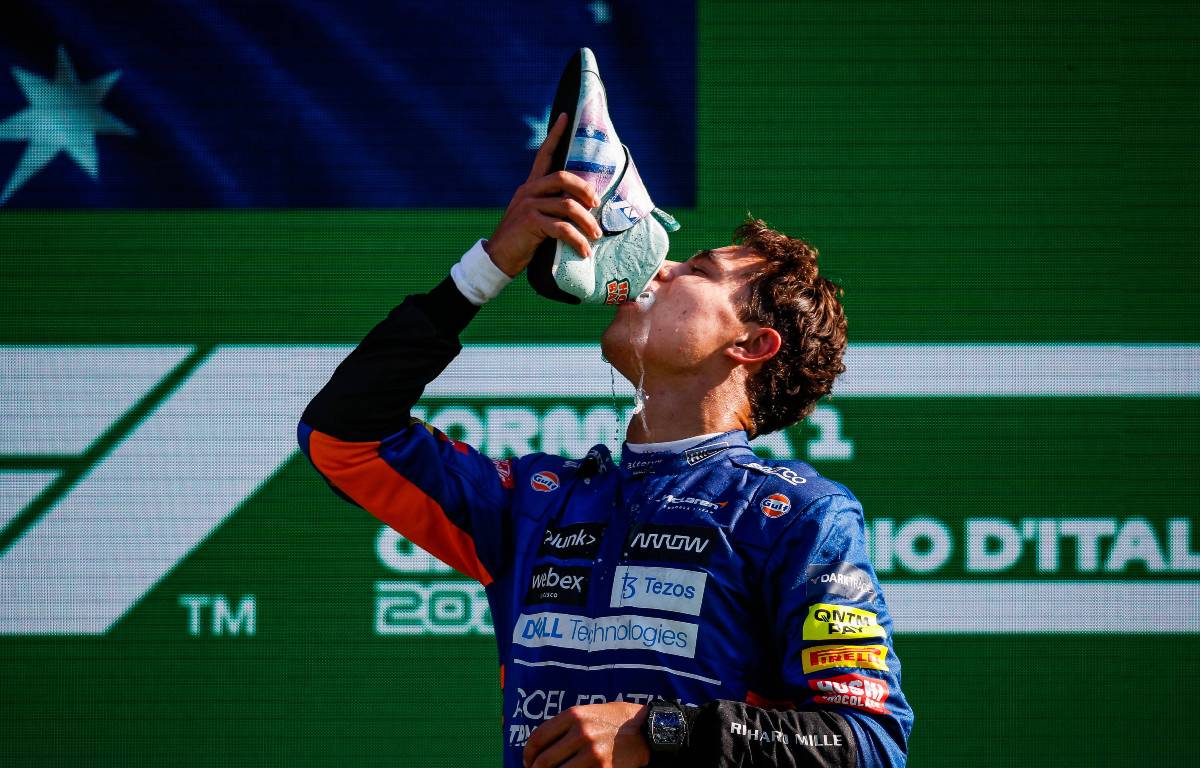 Lando Norris hopes his first 'shoey' will also be his last after being dragged into his McLaren team-mate Daniel Ricciardo's victory celebrations at Monza.
Ricciardo is famous for performing a 'shoey' on the podium – drinking champagne, or sparkling wine as it is now, from his hot, sweaty race boot, and roping in other top-three finishers to do the same.
After his surprise win in the Italian Grand Prix, the Australian was eager to keep up the tradition and also got runner-up Norris and the team's CEO, Zak Brown, involved too.
Mercedes driver Valtteri Bottas, who finished third, was spared the ritual and merely looked on with what appeared to be mild amusement.
"It tasted alright," said Norris, quoted by Crash.net, when asked how he found his first ever 'shoey'.
"Not a big fan of that kind of drink anyway, so when you have the addition of it coming out of a shoe, from Daniel, where his sweaty foot's been for the last two hours…
"That's really not something I advise for other people to try ever, and I hope I never have to do it again. But I did say – I think we said – at the beginning of the year or some time that if we were on the podium together, I would do it.
"So I stood by it and was happy to do it. Zak did it as well. I think he really did love it. It was cool, a cool experience. It's a good memory for everyone. As much as I hated it, I did enjoy it."
Happy doesn't cover it! @danielricciardo was brilliant today 👏#ItalianGP 🇮🇹 #F1 pic.twitter.com/zwj9TeMCa6

— Formula 1 (@F1) September 12, 2021
F1 TV are offering PlanetF1 readers 10% off both monthly and annual subscriptions! In order to claim this fantastic discount, click the following link and use the promo code PLANETF10 at checkout!*
*The offer ends at midnight on September 26 and excludes Netherlands
It was perhaps unsurprising that Bottas, an understated personality, managed to avoid being included in the 'shoey' celebrations and despite being a frequent visitor to the podium, it is something he has yet to experience.
But now that Ricciardo is aware of that, it could change in the future.
"No, never done it," said the Finn. "Always managed to dodge it."
To which Ricciardo responded: "No way! I thought you'd done it! That's why I didn't give it to you."
However, among those who have been subjected to a 'shoey' are Lewis Hamilton, Mark Webber, Christian Horner, Max Verstappen, Nico Rosberg, Lance Stroll and Martin Brundle.
Planet F1 verdict
McLaren v Ferrari - who will come out on top?
The battle for P3 in championship could come down to Ferrari's new engine upgrade and its reliability.