'Lando may be playing mind games, but Mercedes aren't'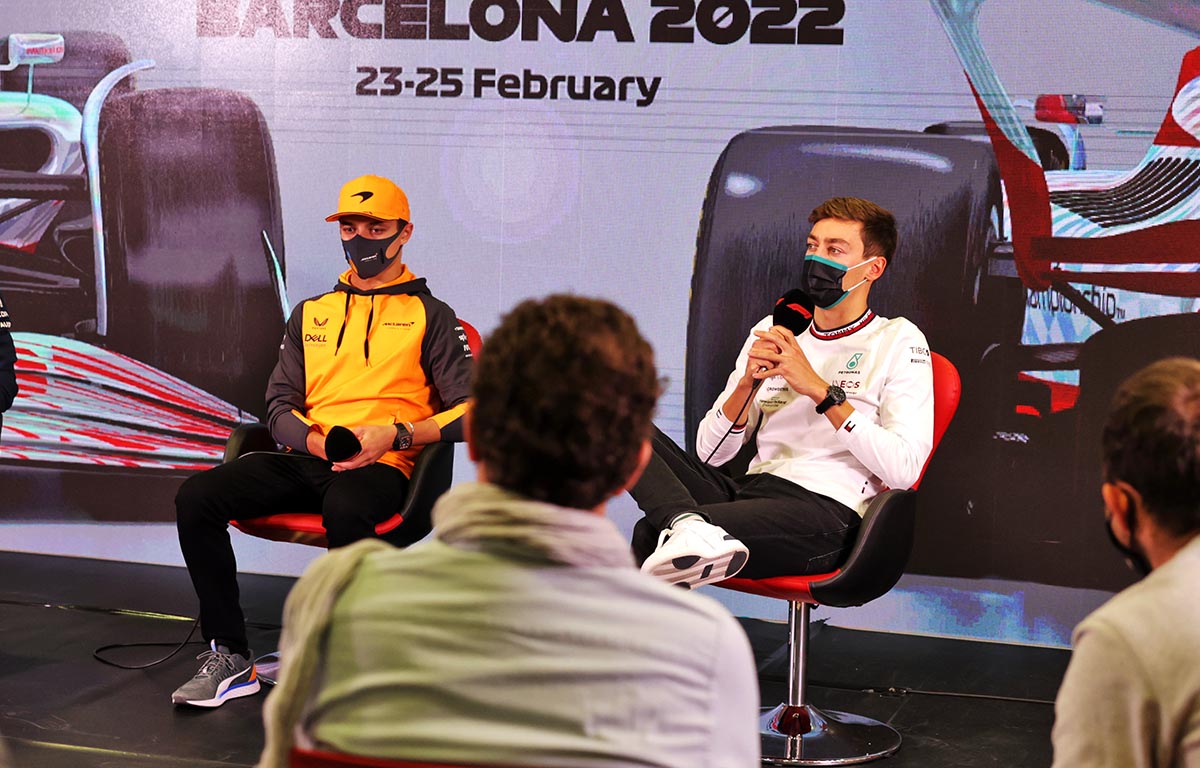 It appears good friends George Russell and Lando Norris are engaging in some classic pre-season mind games between each other.
The new Mercedes driver claimed during the first three days of unofficial testing in Barcelona that "a red team and an orange team in particular" were ahead of Mercedes – the detectives among you may have worked out that Russell more specifically means Ferrari and McLaren.
Meanwhile, Norris, who expressed his annoyance at finishing P1 on the opening day at the Circuit de Catalunya due to the raised expectations that will bring, has said McLaren are simply in a "good" position and not a "great" one.
With Russell and Norris both trying to deflect attention away from their own respective teams and onto their rivals, it will only be in Bahrain when we start to figure out the truth.
But, in Russell's case, he said he has no interest in playing games. It is unclear whether his nose grew as he was saying this.
"I can't be bothered with mind games, it's too much effort. No, there are no mind games," Russell told reporters in Barcelona.
"We're just working on our own programme and, to be honest, it is absolutely unrepresentative what we've seen during testing.
"You know who is probably in the top half, and you know who's in the bottom half, but when it comes to qualifying you've got tenths of a second splits between [teams], which is the equivalent of five kilos worth of fuel.
"So yeah, [it's] totally unrepresentative.
"Things will probably look very different with the development by the time we get to Bahrain. Maybe Lando [Norris] is playing mind games, but we're not!"
Back to McLaren and Ferrari, Russell added: "They seem to have things well under control and they're on top of everything. They look very strong on low fuel, high fuel, and with the tyre management.
"Who knows? We all know that we're on different programmes, but we definitely know from the average of all of the different runs that we're behind them at the moment.
"Let's wait and see. The championship isn't won in Barcelona winter testing."
Russell is correct to say the World Championship isn't won in Barcelona winter testing, but if it was, then Mercedes would have won it.
Hamilton and Russell both finished 1-2 respectively on the overall timesheet with old foes Red Bull their next nearest rival.
It will come as no surprise if these two teams are ones battling it out for silverware again this year.
PlanetF1 Verdict
Mind games from Mercedes and McLaren?
George Russell states that he won't be playing any mind games but suggests that Lando Norris is.