Norris to do 'homework' after improved rival pace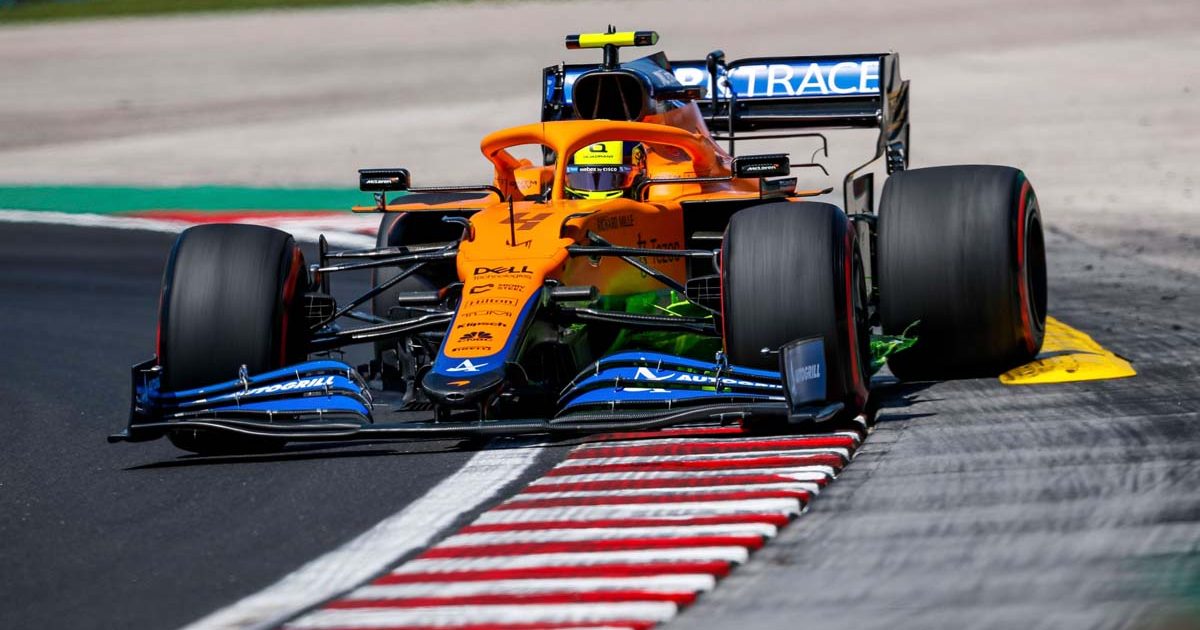 Lando Norris said that he will be giving his all to make it into Q3 on Saturday, with the closeness of the midfield meaning McLaren are not guaranteed to make it into the top 10 automatically.
Having finished every race in the points so far this season, Norris managed to rank ninth in both practice sessions on Friday, with team-mate Daniel Ricciardo coming P13 and P14 respectively – with McLaren seemingly looking less competitive than in recent races.
The third-placed man in the Drivers' Championship has become increasingly wary of the pace of those around him, with Alpine and AlphaTauri in particular enjoying productive Friday running.
The track and cockpit temperatures exceeded 60°C around the Hungaroring on Friday and, although Norris is aware of the privilege of driving a Formula 1 car, he admitted that it's not easy to do in that heat.
"It's not very nice," Norris said, quoted on Formula1.com.
"I think it's not bad – I'm still lucky I'm driving a Formula 1 car – but when you're into that you want to feel comfortable, you want to really push on the car and in these kind of conditions you can't really do that too much.
"So it doesn't feel too good, but we're still there or thereabouts comparing to the competitors – it's not like we're a long way off the pace. We have some things to work on, some things to focus on, and we'll try again tomorrow.
"I reckon it's been one of our tougher FP2s. We're not amazing normally in FP2 but we never struggle quite as much as this, the gap to Alpine was pretty big.
"So I think getting into Q3 is the main one, particularly as it's a very qualifying-dominated track. Tomorrow's the big day, so we'll put all of our eggs into it right now.
If you're gonna go wide, do it in slow motion 😎#HungarianGP 🇭🇺 #F1 @LandoNorris pic.twitter.com/1eZDsekCe2

— Formula 1 (@F1) July 30, 2021
Get the Lando Norris look with the official Formula 1 store
"Alpine were very fast today, AlphaTauri were very fast today. Ferrari were maybe a little bit slower than we were expecting – I thought they'd be very fast here – so I don't know. Even we were expecting to be a bit better.
"The conditions are very different to what they were last year, it was much colder last year, the tarmac was still a bit fresher and newer. It changes, it's never the same, and we'll sit down tonight and try to understand why and try to make some improvements because of that."
Potential thunderstorms are forecast for qualifying on Saturday, but even if the weather stays dry, it is due to be cooler than Friday – which may throw up differences in how the cars perform – and the McLaren driver said he will be doing his "homework" to make sure his team can cover their bases heading into Saturday.
"I mean we'll see what the weather does," he said. "Honestly the weather could play a little bit of a part on Saturday and Sunday as well, whether it's going to rain or just be cloudier because that can change quite a few things.
"It's not simple. The car's on the limit both front and rear, so it's like 'which one do you really want to focus on?'. So I'll sit down with my guys and girls and we'll go through our homework and see where we can find that last bit of lap time. Like I said, we're there or thereabouts, we've just got a little bit of homework."