Soft tyre call crucial in landing Norris podium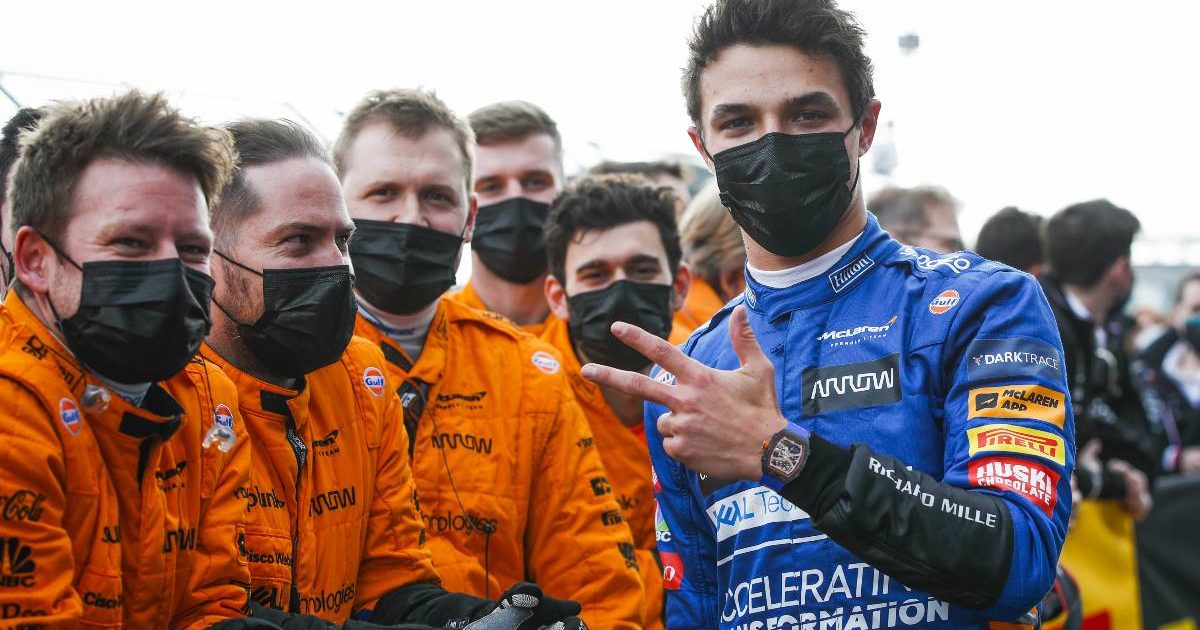 Lando Norris said it was a race of "right decisions" from himself and McLaren as he crossed the line P3 in Imola.
In an Emilia Romagna Grand Prix of twist and turns, Norris was able to claim a second podium finish of his career with an impressive drive to P3, also putting up a valiant fight against Sir Lewis Hamilton who eventually snatched P2 from his fellow Brit.
For Norris it was a race where he and McLaren made the "right decisions", especially using the soft tyres for the final stint which helped him pass Charles Leclerc at the race restart for P2 at the time.
"28 laps on the softs is a big challenge, but I knew track position was more advantageous than having slightly better tyres in the end," he told Sky F1.
"But against Lewis in a Mercedes, who was obviously a lot quicker than us, it wasn't possible to hold him behind. But I tried, I gave it a good shot.
"I think there were a lot of points in the race where it was risk/reward, was it worth doing this overtake or pushing a little bit more for some better pace? And today I think I just made a lot of the right decisions, not myself but us as a team.
"It paid off, like using the softs. I wouldn't have got past Charles [Leclerc], or a lot less likely to have got past if we didn't go on the soft in the final stint."
The Briton was a standout performer in qualifying for the Emilia Romagna Grand Prix, getting himself very much in the battle for pole. Sadly though his fastest time was deleted for breaching track limits.
That left Norris a very dejected figure, but he said the ability to reflect on a Saturday, and then see Sunday as a "new challenge" is a skill he is really starting to master.
"I think days like today are always the ones we look forward to because anything can happen," he explained.
"It can go terribly wrong for you, like it did for a lot of other people, but it can also go very right like it has for me today.
"So I think one of the things that I've got better at from the last year and over the years is reflecting on Saturday, learning from the mistakes or things I didn't do right, and then seeing Sunday as a new day and a new challenge to try and get a podium and some better results."
👏👏👏 @LandoNorris #ImolaGP 🇮🇹 pic.twitter.com/QFRETpBDNC

— McLaren (@McLarenF1) April 18, 2021
Stand out from the crowd with McLaren merchandise via the official Formula 1 store
After the Emilia Romagna GP McLaren team boss Andreas Seidl said Norris had stepped up to the next level as a driver.
Norris explained that he has taken on more of a leadership role within the team, feeling the need to do so now that Carlos Sainz has departed and Daniel Ricciardo has joined McLaren.
"I would like to say yes…I would say I have a slightly bigger role, I'm still a driver in the team, but I have a slightly bigger role leading the team in different areas and making more decisions from my own regard," he said.
"Not just always agreeing with the team, and that's something I did better from 2019 into 2020, but again from last year into this year.
"A little bit different with Daniel coming into the team, I feel like I have to have a bigger impact and lead the team a little bit more than the past two years where we [Norris and Sainz] both had two years with McLaren.
"Definitely a bit more of a role that I felt like I could take on, I feel like I'm having to think about myself more and make my own decisions, not just relying on the team all the time."
Follow us on Twitter @Planet_F1, like our Facebook page and join us on Instagram!