Lando Norris feels it would be detrimental to his own Sao Paulo Grand Prix if he tries to slow down Lewis Hamilton's expected rise through the pack.
Sent to the back of the grid for sprint qualifying after his DRS failed to satisfy FIA tests, Hamilton was on a mission at Interlagos as he went from P20 to P5 across the line.
He will, though, drop to P10 on the grid due to a five-place penalty, incurred for taking a new Internal Combustion Engine.
Norris, who was passed by Hamilton during the sprint, inherits that P5 grid slot for the race.
Shown a replay by Sky F1 of Hamilton's overtake on him in the sprint, Norris said: "Looks pretty easy for him, doesn't it? He's not even had to work.
"It wasn't that good of an overtake. I just didn't need to take any stupid risks trying to defend – he's in a different league compared to us."
Norris fully expects to see Hamilton in his mirrors again on Sunday and once he does, Norris does not plan to fight back against his compatriot.
"No point wasting any of my own tyres trying to keep this car behind me," he suggested.
"If he has gone from last to fifth in 24 laps then he should have three wheels on his car or something to make it a little bit harder for him."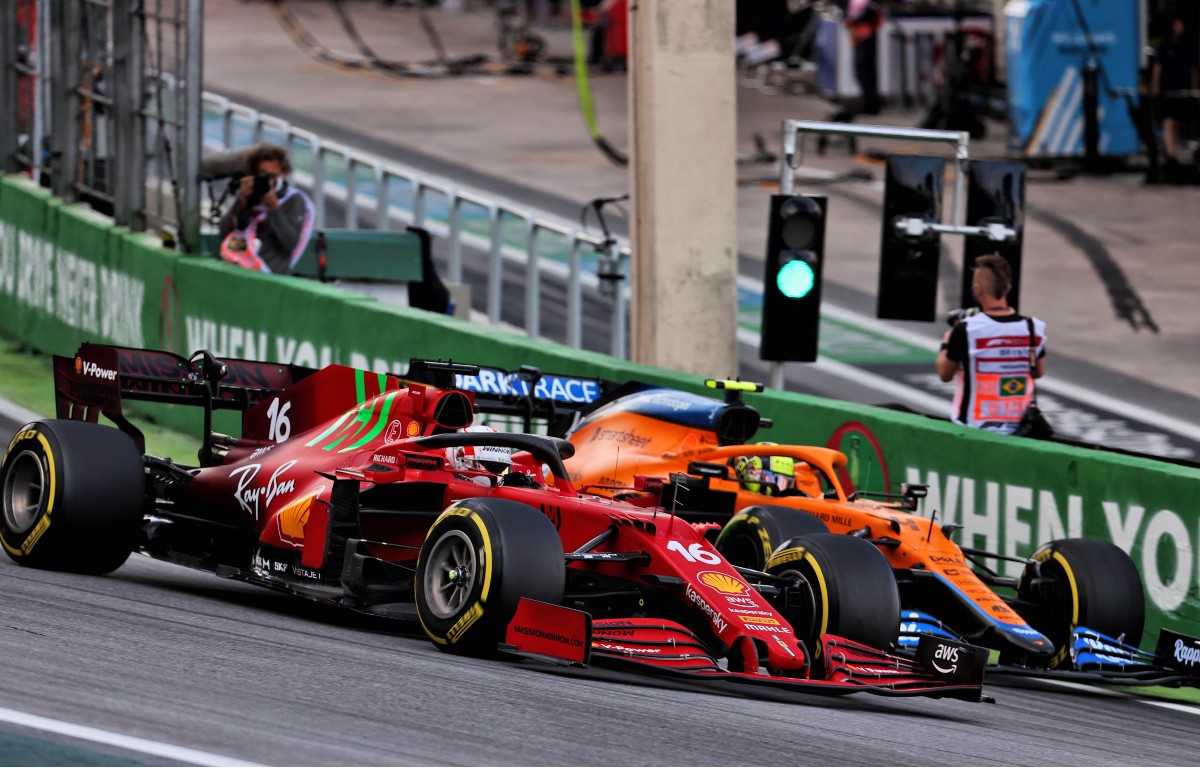 Norris' real fight is with Ferrari and he beat Charles Leclerc to the line, aided by a neat passing move on the Monegasque driver.
Carlos Sainz was out of reach in the other red car, set to line up P3 after keeping Red Bull's Sergio Perez at bay.
So while Norris would love to be starting ahead of both Ferraris, getting the better of one of them means sprint qualifying was a successful outing.
"I think it was a good race for me. I was happy with today, ahead of the Ferrari which was one of our jobs, another one would have been lovely, but he [Sainz] was too far ahead," Norris stated.
"I was pretty shocking in FP2 earlier and just not driving very well, but with my driving I made some improvements for the race and it definitely paid off in terms of the pace against Charles, so I'm happy, I'm smiling at least.
"The pace in the first half of the race for some reason was surprisingly strong and I could keep a good pace with Charles, keep good position.
"He was a bit all over the place making a lot of mistakes, so I capitalised on it and managed to get past him. So from a rivalry point of view it was a good overtake, but as soon as I got past him I just stopped, I hit a bit of a brick wall and thought I'd have some pace to get to the guys ahead but I didn't."
Starting on the soft rubber proved an inspired choice for many, with Sainz one of the biggest gainers as he ran in P2 in the early stages before Max Verstappen overtook.
And while Norris did not directly respond to the question of whether using the softs rather than the mediums would have been a better choice, he did claim Ferrari also had a pace advantage in the car to work with.
"Carlos did a good job. I still think honestly I was ahead of Charles, but I think the Ferraris were still a little bit quicker – they have been all weekend," he admitted.
"But Carlos did a good job. He obviously had a good start. I didn't see exactly what happened to them because my start compared to Charles on the mediums I wanted to be better.
"So, surprised he [Sainz] could keep them in for so long because obviously you expect the softs to deg away a bit. But he didn't look like he did that much, so I think these cooler temperatures helped the softs quite a bit today.
"And if you can look after them well with the car, that makes a big difference."
With warmer weather forecast for Sunday, Norris fears that will work against McLaren but his goal remains to score "good points".
"It will be quite a bit warmer, which I would say is maybe not quite so good for us," Norris stated.
"But I think we learned some things from today. With the tyres and looking after them it will be a lot more important for tomorrow, but we are also in a good position to score some decent points.
"They [Ferrari] are looking strong. Just try to focus on ourselves, try to get some good points tomorrow."