Norris: Max verdict shows Austria penalty was unfair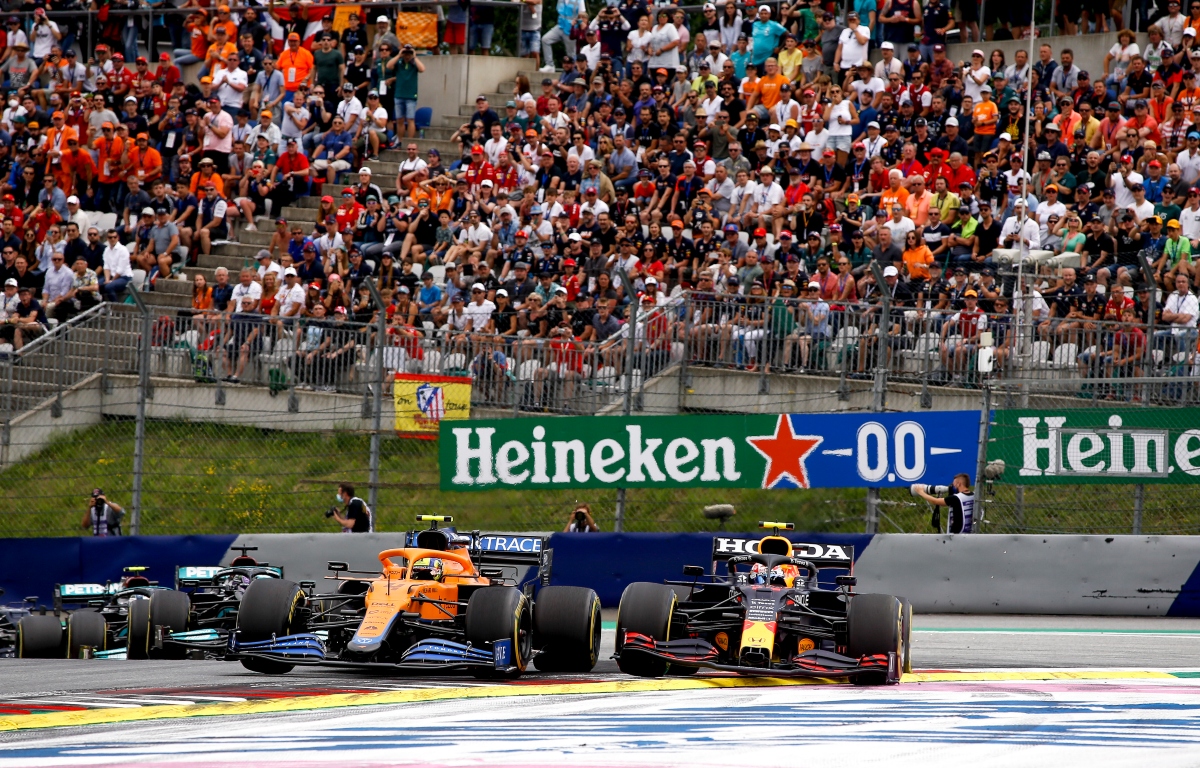 Lando Norris feels the fact that Max Verstappen wasn't penalised in Brazil shows that he shouldn't have been in Austria. 
At Interlagos, Lewis Hamilton tried to pass Verstappen around the outside at Turn 4 and was pushed wide by the Dutchman, being forced to go well off the track.
A similar thing happened earlier in the year at the Red Bull Ring, where Sergio Perez tried to pull off a move around the outside of Norris and also ended up off the circuit.
The McLaren man was given a five-second time penalty for that and feels the fact that Verstappen was let off shows that penalty was undeserved, with the only difference being Hamilton had a run-off area to onto while Checo ended up in the gravel.
"Some of the things that we now understand means that I shouldn't have got a penalty," he said as per Motorsport.com.
"But then also, what types of surfaces are on the outside of the circuit, whether that's gravel or tarmac or whatever, can also have an effect. Which I don't think is maybe fair.
"I think if you know there is gravel on the outside, and you know if you're not completely alongside, which Perez wasn't, then he's put himself in that very risky position."
Max Verstappen 🆚 Lewis Hamilton: Wheel to wheel ⚔️

Watch the on-board footage from Verstappen's car as he defends from Hamilton at the #BrazilGP #SkyF1 | #F1 pic.twitter.com/LliaSNt2of

— Sky Sports F1 (@SkySportsF1) November 16, 2021
The FIA have claimed a number of times this year that when looking at an incident, they only judge the actions and don't consider the consequences that follow the incidents.
Norris believes they did in his case though, as Perez was hurt a lot more by their incident than Hamilton was in Brazil due to the gravel, and says that's unfair.
"I gave still a bit of space for him to back out, and it wasn't like I shoved him off. There was no contact made, so from that perspective there's no reason I should have got the penalty," he added.
"The only reason I now believe is that there was gravel and not tarmac. And I feel like that's a bit of a difficult one to give a penalty on, in that there was gravel and not tarmac.
"That's not my fault: it's the guy on the outside's risk. He's taking to put himself on the outside on the corner and it's up to him. I still feel like it's an unfair penalty I got."
Verstappen hits out at Mercedes
Max Verstappen hit out at Mercedes stating their 'true nature' has been seen.