Norris: 'I could give Verstappen a run for his money'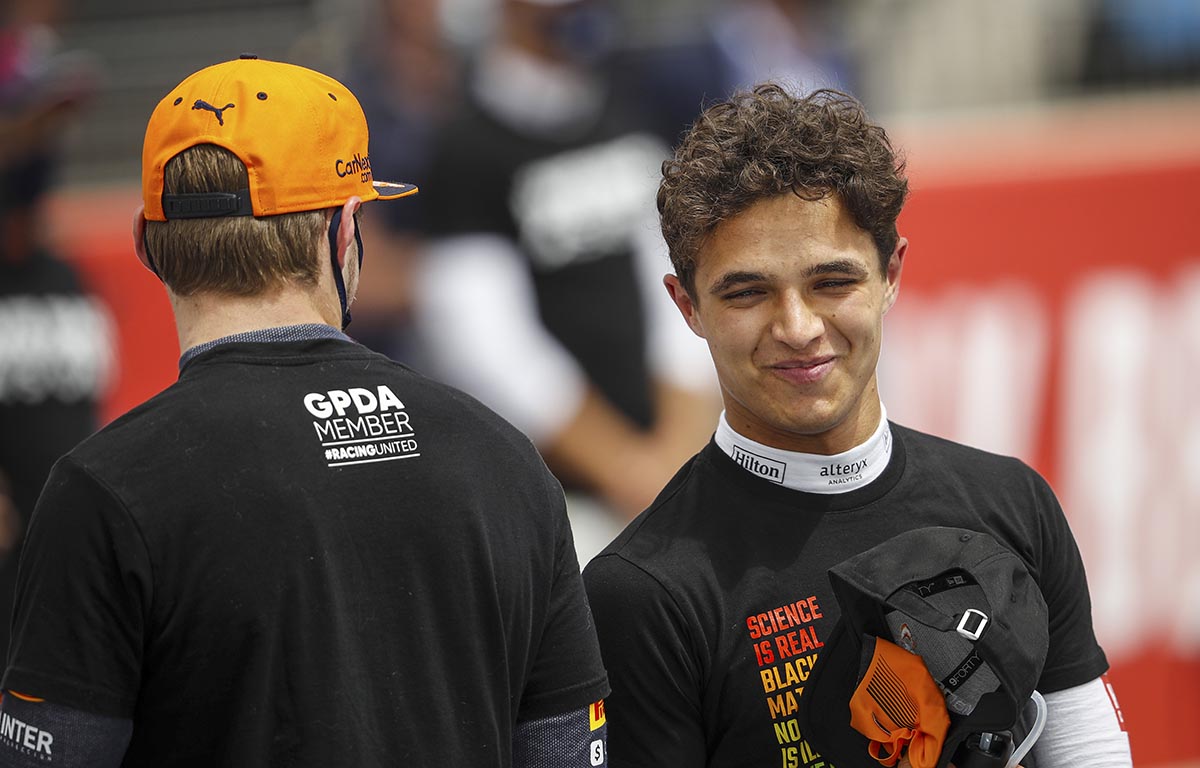 Lando Norris is confident he could give Max Verstappen "a run for his money" if they had the same F1 car at their disposal.
Both drivers are having stellar 2021 seasons with Verstappen leading the World Championship by 18 points and Norris being the only driver remaining to score points at every round so far – a run which has already included two visits to the podium.
While Norris does not have the car to get involved in the title tussle between Verstappen and Hamilton, he strongly believes he could give his friend something to worry about if he did.
Work hard, play hard 😏👟 pic.twitter.com/g7Z0fp04gP

— Lando Norris (@LandoNorris) June 28, 2021
Get the Lando Norris look with the official Formula 1 store
"100%, I believe I could give him [Max] a run for his money," Norris told Sky Sports F1.
"There are just different scenarios and situations where experience comes into play and you think 'maybe he would have the upper hand on me in that scenario' and I believe he [Max] is one of the best drivers ever in Formula 1.
"I think he has proven that since he joined when he was 16 or 17 years old."
Norris also spoke of how he has had to mature now that there are no hiding places left in his third season in Formula 1 and he is very much aware of how highly he can now rank himself against other drivers on the grid.
"There's been a lot of work I've done over the winter and still all the way through this year," Norris said.
"I've put in a lot of time and effort, working a lot with my engineers to get results like we've done this year.
"Coming into your third season, that's the one when people are like 'there are no excuses anymore'.
"The first two you can get away with a couple of things, especially in your first season.
"And I guess with the addition of Danny [Ricciardo] coming into the team, there was a lot more eyes on what I'm going to be like versus Danny rather than the opposite way around.
"Not many people knew how good Carlos [Sainz] is and this year Carlos has proved how good he is against Charles, whom everyone rates as one of the best drivers in Formula 1.
"I think it's good for me to know where I stand compared to other drivers."
Norris went on to say that this McLaren team feels like his now, and helping with that feeling has been a growing confidence in giving feedback to what he wants from the car.
"I think yes [it is my team]," Norris declared. "But also because I've changed, in a way.
"I'm voicing my opinion more, not because I always believe my opinion is correct – a lot of the time it is! – but more because I'm confident in just saying so.
"They rely on me for more things, I would say because throughout the season Daniel has been getting up to speed and getting used to things, so a lot of it has been relying on me because I've been the guy in the better position and trying to lead the team in a better way."
Follow us on Twitter @Planet_F1, like our Facebook page and join us on Instagram!