Norris had 'that desire' to try and beat Ricciardo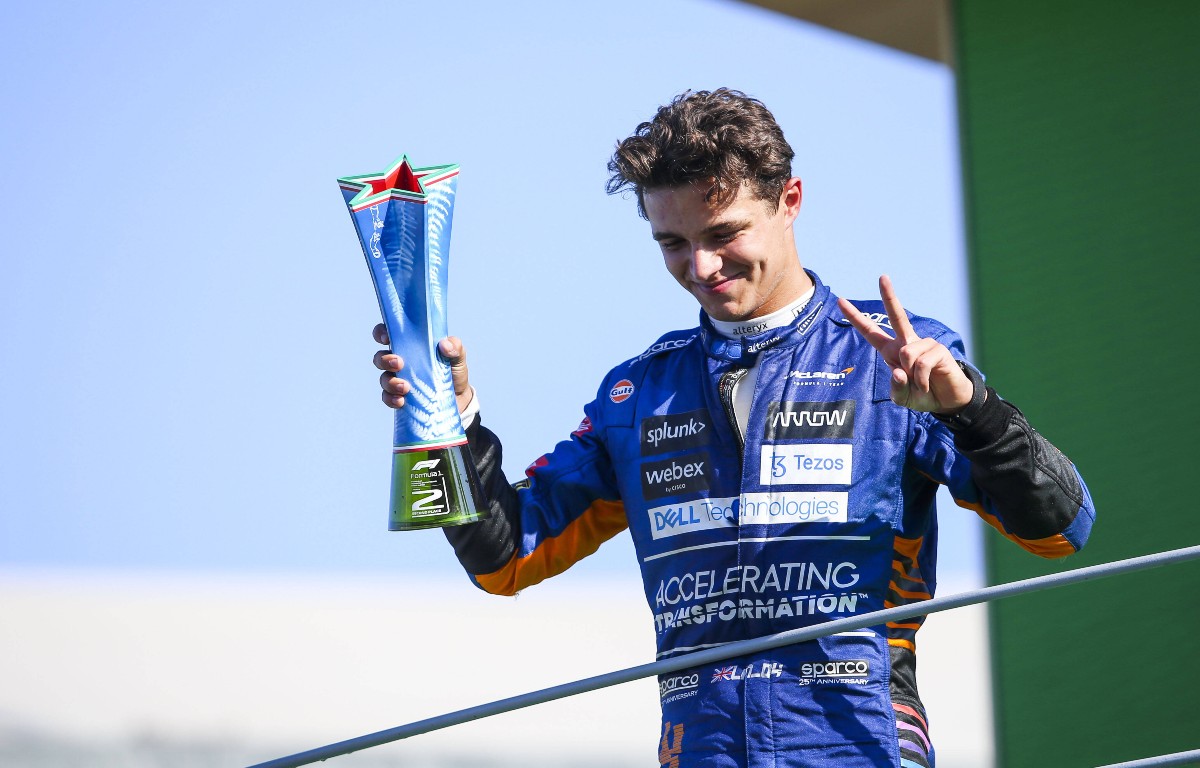 Lando Norris felt he could have challenged his McLaren team-mate Daniel Ricciardo for the Monza win, but happily played the team game.
Ricciardo took the lead from Max Verstappen at the start of the Italian Grand Prix, and from there he kept his former Red Bull team-mate at bay.
And once a slow pit-stop had sent Verstappen down the order, followed by a race-ending collision with title rival Lewis Hamilton, McLaren were sitting pretty as Ricciardo led with Norris in P2.
At that stage, the Briton asked his team if he could challenge Ricciardo, but the order came to hold position – one he gladly followed.
Asked by Sky F1 if he was frustrated with P2, Norris responded: "In a way, not going to lie. My priority is the team, I'm here for the team and hope I'm here for the long term.
"For our future, this is the best result we could have.
"There is always that desire inside to want to go for it. I think I had the pace to at least try. I can't say I would have got Daniel or not, but I could have tried at least.
"But at the same time I just asked the team 'what do you want me to do, can I go for it, can I not?'
"As much as inside I wanted to go for it, I was just as happy to stay in second because I'm a team guy, I love the team, I've grown up with them in a way, so this is the best result I could have hoped for."
Norris initially lost out to Hamilton after a good battle between the pair, though later got him back by completing an overcut, aided by a sluggish stop for Hamilton at the Mercedes garage.
And in hindsight, Norris is happy he regained the position that way, saying it could have been he who ended up in that crash otherwise rather than Verstappen and Hamilton.
"It was a long first stint. He was on the hard tyres and the longer we went, the more of an advantage he had on the hard tyres compared to us," said Norris of his scrap with Hamilton.
"I tried, but I also knew it wasn't worth the risk of trying to do something extra and crash, but fair play to him – he got past me and he did a good job.
"But then we overcut him in the pit-stop, so I managed to get that back with the good strategy and in the end I've actually got us a podium, got me second place.
"Because if I didn't, I would have come out behind Max and Lewis and maybe I would have been in the crash instead of them."
Anyone seen @DanielRicciardo's shoes? 😅 pic.twitter.com/N2s7wJFNzp

— McLaren (@McLarenF1) September 12, 2021
Get the Lando Norris look with the official Formula 1 store
The Italian Grand Prix has been an extremely positive weekend for McLaren, achieving victory on merit with an MCL35M which looked competitive throughout.
And so Norris said the pace had been there to keep Red Bull and Mercedes behind, so when Hamilton came calling he was not about to make a pass easy.
"It's been strong all weekend. We've had the pace, maybe not to overtake a Mercedes or overtake the Red Bull, but we've had the pace to keep them behind," Norris explained.
"And sometimes that's the way you have to work it. We worked out every scenario before the race – if we can keep them behind, what's the game plan? If we drop behind them, what's the game plan?
"I think we were just prepared for every scenario. But it was a race, so I wanted to be ahead of Lewis. I don't care if he's in a Mercedes and he's leading the Championship or second, I still want to beat him at the end of the day."