Lando Norris: McLaren do not expect 'big step' with updated MCL36 in Singapore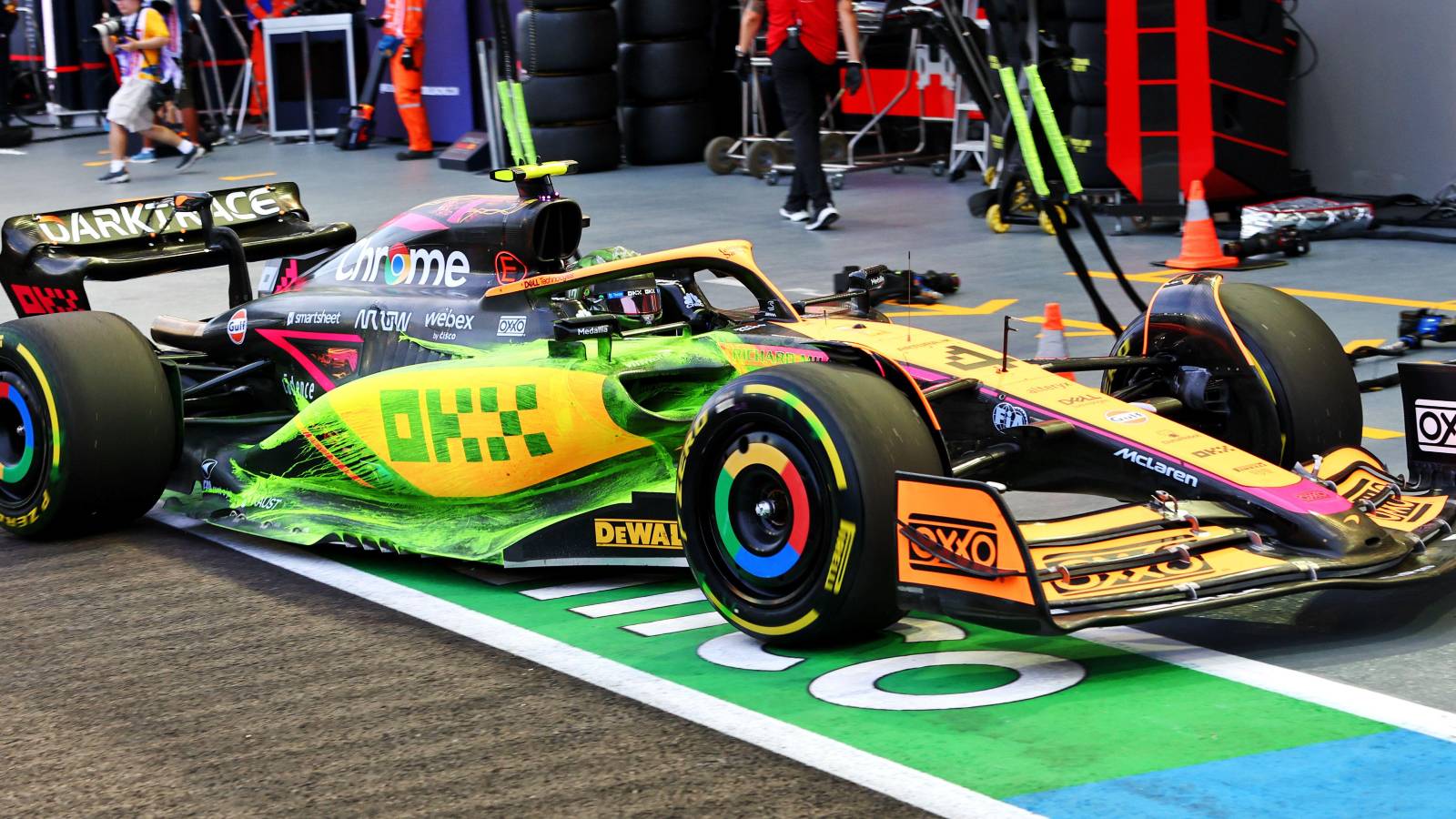 Lando Norris stressed that the MCL36 is "different" in Singapore, rather than upgraded, but expected a similar performance level.
As McLaren rolled out the MCL36 challengers for the Singapore GP, sporting their 'Future Mode' livery, it became apparent that modifications had been made to the sidepods and floor on Norris' car.
Daniel Ricciardo would explain that only Norris got the upgrade for Singapore due to a lack of spare parts, plus they were made with 2023 in mind, by which point Ricciardo will no longer be a McLaren driver.
Norris though does not like these changes being referred to as an "upgrade", confirming that they are modifications made with a long-term view, and ones that were not expected to give McLaren an immediate performance boost.
Speaking to the Formula 1 website about the changes, Norris said: "Nothing surprising, let's say, in any way, so that's a good thing. "But like I said before, yesterday to the media, it's not an upgrade, it's just a different car that performs at a very similar level.
"We weren't expecting like a big step or to go much quicker or look more competitive today… it's a car which will hopefully allow us to unlock more in the future, into next year.
"So, this is again, not a short-term thing; it's more of a long-term thing. It's been working well and as we expect, it's just trying to learn about it and try and unlock some small things for tomorrow."
It is safe to say though that Norris would love to unlock a big chunk of extra pace heading into qualifying day, as Friday's results were cause for concern.
McLaren recovered some ground on Alpine at Monza, now 18 points behind in the battle for P4 in the Constructors', but Norris fears after Friday practice that McLaren are now way adrift of the French manufacturer, and behind Alfa Romeo as well.
Norris ended FP2 in P11, 1.4 seconds off the ultimate pace set by Ferrari's Carlos Sainz, while the lowest-ranked Alpine driver, Fernando Alonso, was half a second up the road.
"It's looking tough, like, we're a long way off Alfa Romeo, a long, long, long way off Alpine, so looking like one of the tougher weekends – which is a shame, but it's the way it is," Norris suggested.
"We'll maximise it and do the best we can with the car we've got and the performance we have this weekend, and we'll keep pushing. It's all we can do for now, so some small things to hopefully find tomorrow and we can still go for it. It's just not looking as easy as normal."
Ricciardo had an even tougher Friday at the Marina Bay Street Circuit, dropping from P12 in the opening practice session to P18 come the end of FP2.
The changes made ahead of FP2 backfired for the Aussie, who admitted to a "difficult day" behind the wheel of the McLaren.
"Well it's definitely a difficult day," said Ricciardo. "Still fresh out of the car, but yeah just very, very tricky, just to obviously extract some speed out of it today, so certainly got a bit of work to do tonight.
"Of course it's only practice but we'll make some changes tonight and try and figure out where it's at, but yeah, certainly a bit of a struggle… We made some changes for FP2 but yeah, clearly it wasn't beneficial."
Read more: Lewis Hamilton says Mercedes still a second behind Red Bull and Ferrari