Norris admits Monza was 'probably' it for McLaren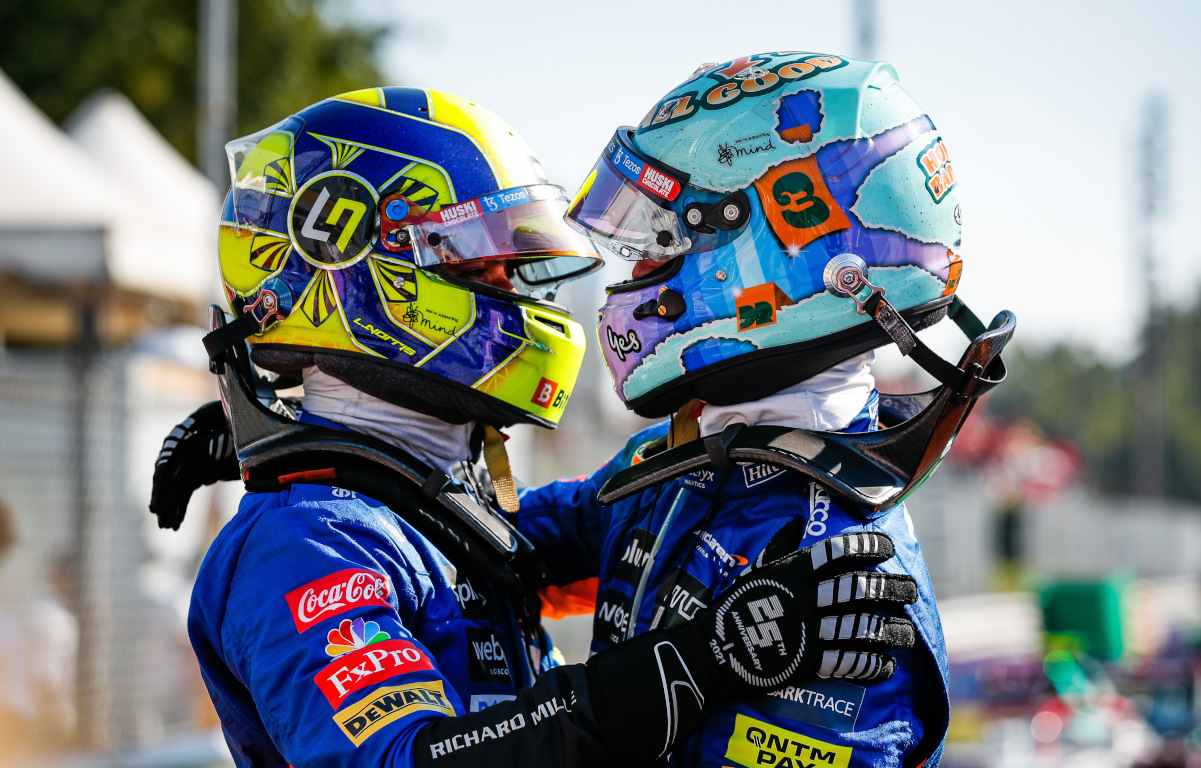 Finishing 1-2 at the Italian Grand Prix, Lando Norris concedes McLaren will "probably not" repeat that result this season.
McLaren brought home their first race win since 2012 at the Monza circuit, Daniel Ricciardo leading home his British team-mate.
It was an unexpected race win with Norris acknowledging that it was a "shock for everyone" with McLaren still lagging behind Mercedes and Red Bull.
But, while he believes it was one achieved on merit – Ricciardo ahead of the Max Verstappen and Lewis Hamilton when they crashed, he thinks that P1 was probably it for McLaren at least for this season.
"Probably not," Norris told the media in Russia, as per crash.net, when asked if more wins could follow.
"We will try our best. We will try to maximize everything.
"There are some tracks that we are definitely better at and some we are worse at, but there are these opportunities that arise for us that we are good at taking advantage of and being in the right position at the right time.
"We had an amazing weekend in Monza. It was a bit of a shock for everyone, but we were there on merit and were very quick all weekend.
"But it does not mean we will be like that every single weekend from now on.
"We did not find anything magical. We had a better weekend and things flowed better for us, and the car suited the track.
Still thinking about Sunday? Yeah us too. 😍 pic.twitter.com/nXdzRx0Dmi

— McLaren (@McLarenF1) September 15, 2021
F1 TV are offering PlanetF1 readers 10% off both monthly and annual subscriptions! In order to claim this fantastic discount, click the following link and use the promo code PLANETF10 at checkout!*
*The offer ends at midnight on September 26 and excludes Netherlands
"That is the way it is going to be for the rest of the season. Some tracks will be better and will be more competitive and some tracks work in a struggle more.
"But how good or bad we will be I am not too sure yet."
The Italian Grand Prix saw McLaren regain third place in the Constructors' Championship, the team bringing in 43 points on the day.
McLaren sit 13.5 points ahead of Ferrari with Norris saying the pendulum could again swing in Ferrari's favour.
But however it pans out in the end, he's expecting a close fight through to the very last lap of the season.
"Good for the moment, but like Charles [Leclerc] said it is tight," he said.
"It has been swinging backwards and forwards. We had a tough weekend in Zandvoort and they pulled away a decent amount. And then we got them back in Monza. I wished we could run away with it but I don' think any of us will.
"It will go backwards and forwards, some races we will be better in some races they will be a little bit better. That's the way it is.
"It keeps us on our toes. It is exciting and challenging. Maybe not a thing we really want but it is a good challenge."
Can McLaren stay at the front after Monza success?
Can McLaren stay at the front after Monza win?
After the highs of the Italian GP, where McLaren will stack up in Russia will be an interesting sub-plot in Sochi.