Norris: 'No reason to make life easy' for Perez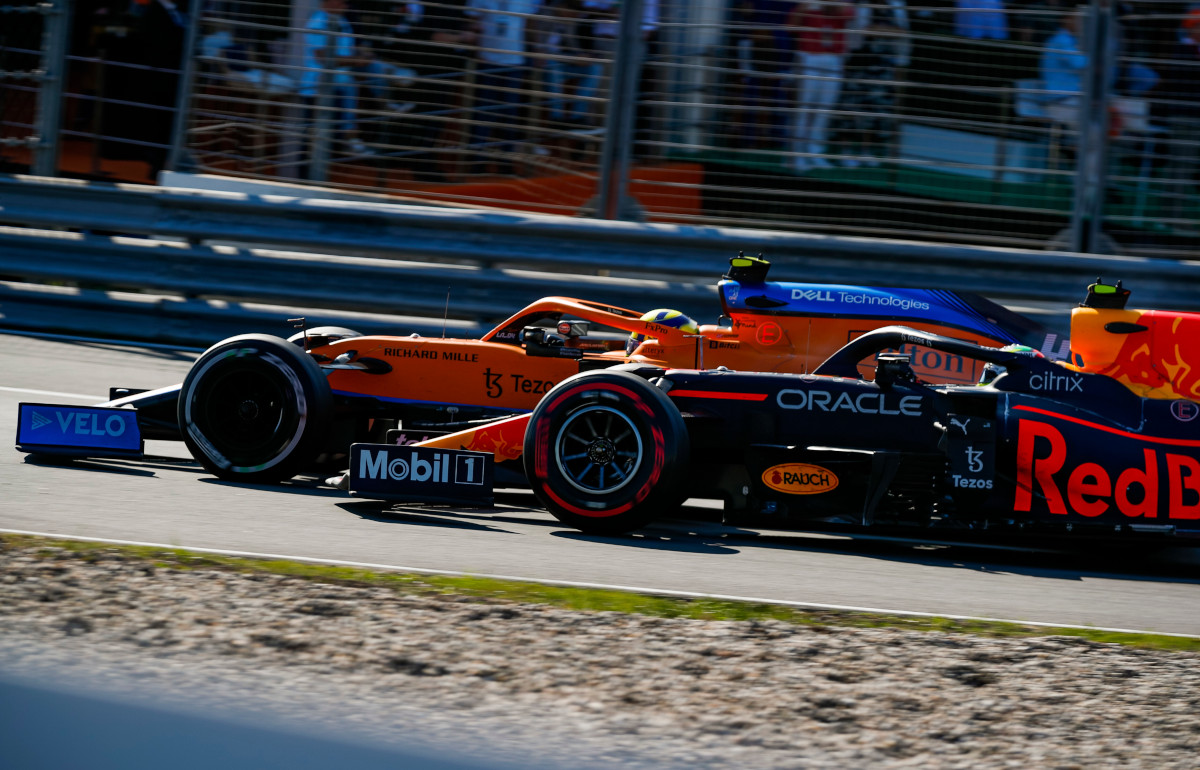 Bouncing off each other not once, but twice, at the Dutch GP, Lando Norris says his job is not to "make life easy" for Sergio Perez.
Norris found himself up against Perez late in Sunday's Dutch Grand Prix as the Red Bull driver, who started the race from the pit lane, worked his way up into the points paying positions.
Perez tried to pass Norris for ninth but the McLaren driver held firm.
Making a move around the outside at Turn 1, the two made contact and twice bounced off one another.
Perez managed to get through, but later called Norris' defending "quite unnecessary", adding that the Brit didn't leave him "enough space and we touched".
Norris has defended his manoeuvre.
"I'm not going to make his life easy, you know," he told Sky F1.
"I think we can just be happy we're racing. He's in the Red Bull, he's in the quickest car on the track.
"But any driver, no matter who it is, no matter if you're just purely racing against Max or Lewis, whoever on track, you're going to treat them all the same, and you're not going to make life easy because I want those points just as much as he does.
"I tried, I squeezed him a little bit, but I didn't force him off the track or anything like that. We both fought each other hard, he cut down quite a bit into Turn 1 and I just didn't want to give him a lot of room. I gave him enough, just not all the world.
"Yeah, he still managed to get past and none of us crashed, and he still went on to overtake another one."
Stand out from the crowd with McLaren merchandise via the official Formula 1 store
LAP 70/72

Contact between Perez and Norris! 💥

It's only minor though and both cars seem ok #DutchGP 🇳🇱 #F1 pic.twitter.com/43Vh48PKJm

— Formula 1 (@F1) September 5, 2021
Perez finished the grand prix P8, also making his way around Esteban Ocon, while Norris was tenth.
"The whole car bounced a lot," the McLaren driver said. "So my foot came off and I thought something happened, I thought I lost drive in the car.
"But then I came on throttle and I went into the corner praying that the suspension wasn't broken or anything.
"It was a bit of a risk. I still tried to get back past him, I stayed alongside, but just the momentum that I lost from my foot coming off-throttle cost me the position."