Lando Norris warns Oscar Piastri fight could've played out differently with points on the line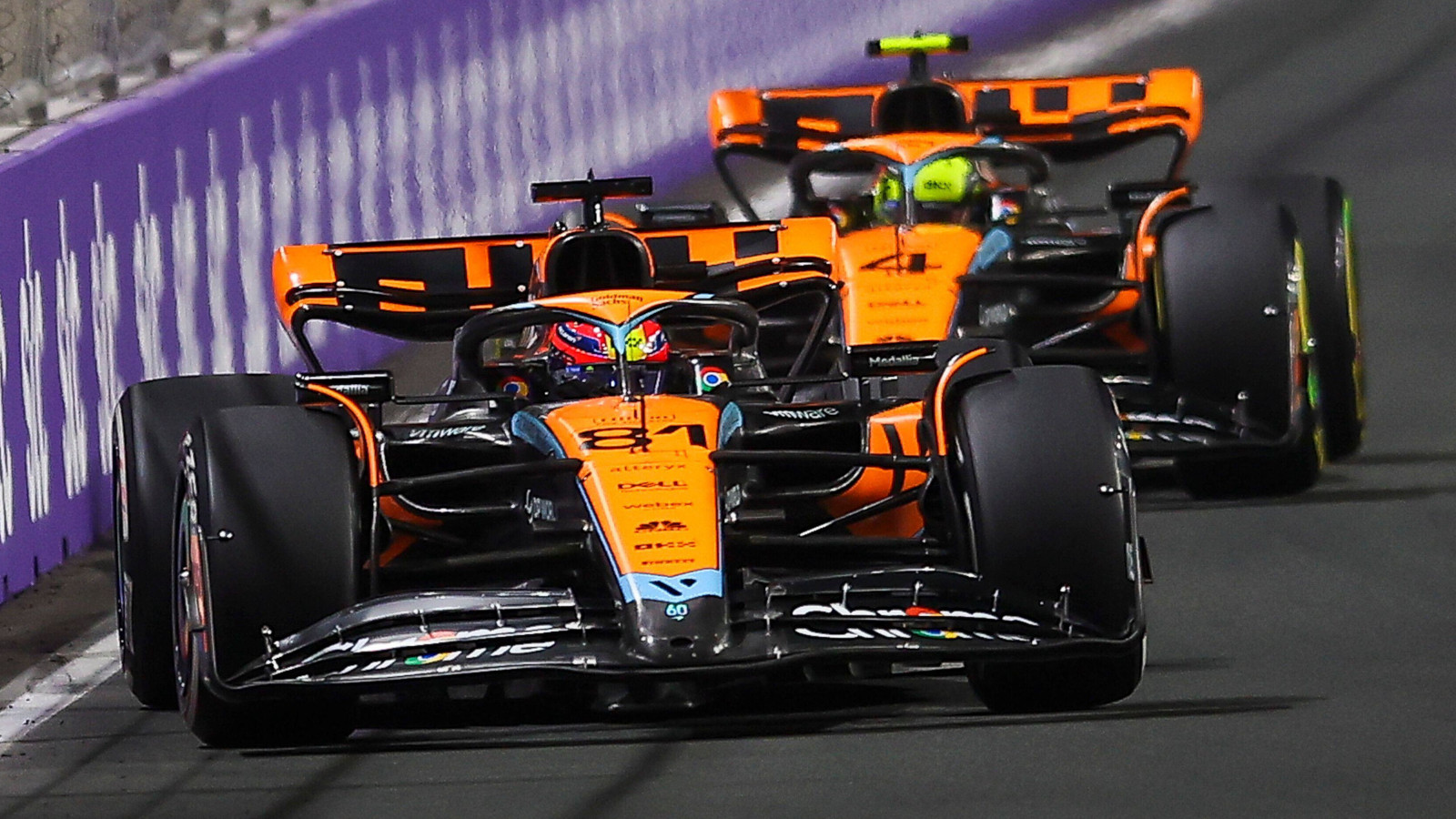 Racing his team-mate late in the Saudi Arabian Grand Prix, Lando Norris admits his tussle with Oscar Piastri would have been "different" if there had been points at stake.
Norris lined up 19th on the Jeddah grid to Piastri's P8 but, in a touch of misfortune, became the innocent victim when his team-mate tangled with Esteban Ocon at the start.
Piastri's front wing broke in the contact, with Norris hitting the debris and breaking his own. The team-mates pitted one after the other for new noses and struggled to recover with Piastri crossing the line in 15th place and Norris a second and a half behind in 17th place.
"It ruined everything really," Norris lamented to Sky Sports. "Just very unlucky.
"I was on a difficult strategy as we tried to manage the mediums until the end and the hards were coming back quite nicely. So yeah tough.
"There wasn't contact, Oscar's front wing broke my front wing and both of our races were ruined quite quickly.
"A piece of his debris completely ruined my front wing."
But while it wasn't the result the drivers nor McLaren wanted, the team-mates were at least involved in a few battles on the night, one of which was against one another.
Piastri overtook Norris on lap 45 only for his team-mate to return the favour at the very next corner.
McLaren then ordered Norris to let Piastri through, telling him to "not make it too difficult for Oscar". He didn't, opening the door for the Aussie to pass.
PlanetF1 recommends
Saudi GP conclusions: Red Bull fast but fragile? Russell's Mercedes blueprint
Updated drivers and teams' standings after the Saudi Arabian Grand Prix
Saudi Arabian GP: Sergio Perez wins race but Max Verstappen keeps championship lead
Asked about the team's radio message, he said: "He didn't make it difficult for me and I mean I quite easily could have probably kept the position at the end as I got past the Williams.
"But yeah I just let him go in the end. It would be different if I was fighting for points, but 16th and 17th…"
Sunday's result has left McLaren one of only two teams yet to get off the mark this season, the other being Alfa Romeo.
Norris says the team is well aware that there's a lot of work that needs to be done as the car's "strengths and weaknesses clearly just aren't in the right places.
"We are good in the corners, but we can't use what we have in the corners on the high-speed straights, I can get close but then we just can't do anything more than that.
"Even the Williams when I got DRS open, I was barely quicker than him.
"We know where we are strong and weak, we know what we have to do, it just takes time and I have to stay patient."
'An interesting call' from McLaren says Karun Chandhok
Former F1 driver turned pundit Karun Chandhok was surprised by McLaren's call to tell Norris to let Piastri through given the former is their "No.1" driver.
"They have been on the team radio to Lando Norris saying don't make it too difficult for Oscar Piastri," he told Sky Sports. F1.
"That's an interesting call, the rookie being given free rein to fight the No. 1 at McLaren."
As for Piastri, the Aussie was just happy to have completed his first grand prix having retired from the season-opening Bahrain race.
"To do 49 laps on that set of tyres was good," he said.
"After the first lap, it was always going to be tough, so the last couple of laps were a bit of entertainment, which is nice.
"I'm glad we finished the race, first and foremost, because on lap 1 I didn't think that was going to happen."