Norris: No 'major' time for McLaren to find at Dutch GP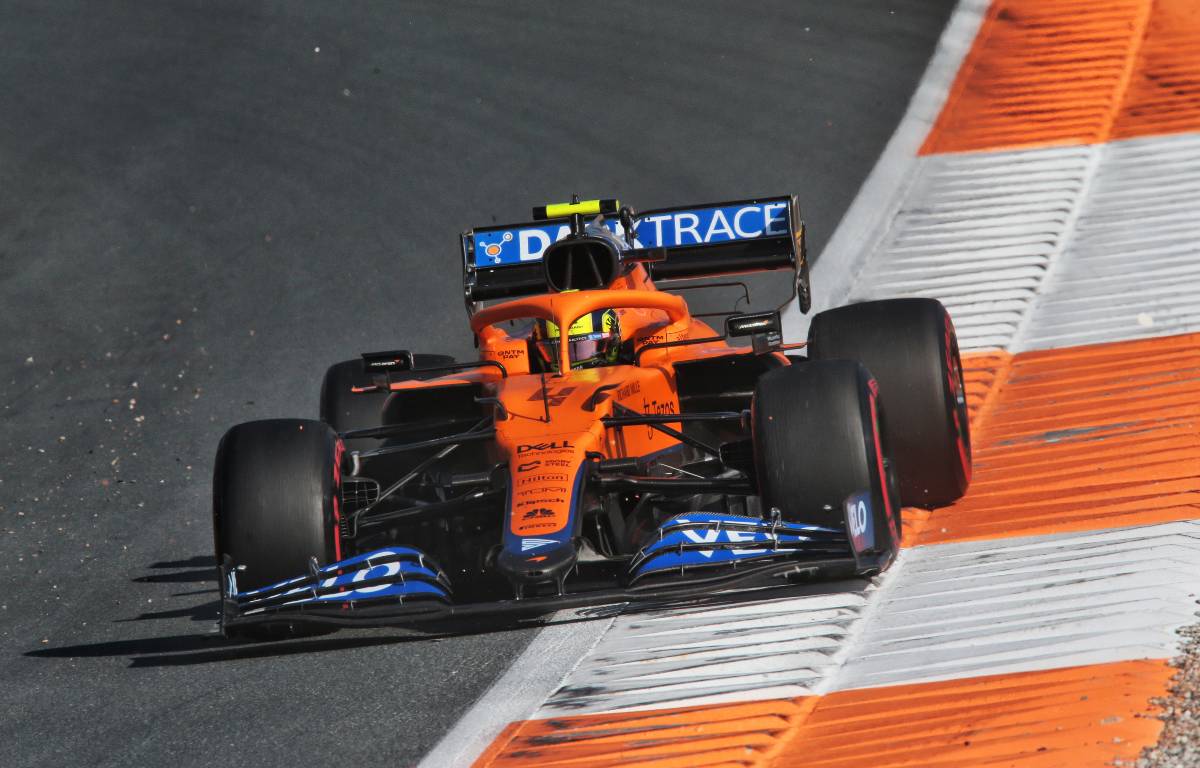 Lando Norris says McLaren struggled on the soft tyres in Friday practice at Zandvoort, but sees no way for large gains to be made.
Formula 1 has made its first visit to Zandvoort as the Dutch Grand Prix returns to the calendar, and quickly drivers have found out about the physical demands of this fast, narrow circuit.
Norris does have experience of this venue before its major upgrades for Formula 1 arrived, that coming during his 2017 title-winning Formula 3 season, but it is now a whole different ball game in Formula 1 machinery.
"Tricky, not an easy track for sure, tough just to put a lap together, tough physically, so a good challenge," he reflected to the media after FP2.
"But a good first day, definitely some things to work on, I think we looked good in FP1 and then maybe on the soft tyre we didn't seem quite as strong.
"So things to work on for quali, but it's a cool track to drive, good memories of 2017 when I was here, definitely one of the coolest tracks.
"In the simulator you don't really feel the G-force, so especially around the back, Turn 7, Turn 8, Turn 9 constantly turning right, it's punishing on the front-left tyre, physically you start to feel it a bit and it's extremely quick.
"It's a bit of a shock the first few laps you do, but once you get into it it's just a cool feeling and pretty tough."
Norris ended Friday as the fastest McLaren driver, yet P8 was the best he could manage, almost six-tenths down on Ferrari's Charles Leclerc who topped FP2.
Qualifying, though, is when Norris regularly steps it up a level, but the Briton does not believe there is a large amount of pace left to unlock in the MCL35M.
"I don't think there is anything big time-wise that we are going to find," he admitted.
"I think some of the others like Alpine looked extremely quick, so that was a bit of a surprise.
"I think we have a few areas to work on, but nothing that is going to transform the whole car."
Friday practice comes to an end. 🏁

Lando finishes FP2 in P8 with Daniel in P15.#DutchGP 🇳🇱 pic.twitter.com/Jp4hnEOWVu

— McLaren (@McLarenF1) September 3, 2021
Stand out from the crowd with McLaren merchandise via the official Formula 1 store
On the other side of the garage it was a disappointing day for Daniel Ricciardo, who failed to make the top 10 in either session.
There were though several red flag periods, the most lengthy coming during FP1 when Sebastian Vettel ground to a halt.
Lewis Hamilton and Nikita Mazepin brought out the red flags during the afternoon session.
But, at an "old school" track like Zandvoort, Ricciardo says such interruptions are to be expected.
"It's what you get with these old-school tracks, not much room for error," he said of the red flag delays.
"It is frustrating if you are on a lap and then you get red, but the track is fun, it's really cool.
"The crowd as well makes it pretty exciting, there's music and it feels like a festival, and it's only Friday so I'm looking forward to the next two days."
Ricciardo said the changes which McLaren made between FP1 and FP2 sent them backwards, but is confident of being back on the pace for FP3.
"This morning it was pretty good, we definitely hit the ground running and we were relatively comfortable straight away," he said.
"Made some changes this afternoon, safe to say they didn't work, so certainly this afternoon not great.
"But obviously you want to be quick, it's always easier when you're quick in practice, but not too concerned, I think we will find the direction to go in tonight and be back on the pace tomorrow morning.
"I think lap times are going to be super tight tomorrow."