Lando Norris forced all the way to 'Plan G' by Alex Albon's straight-line speed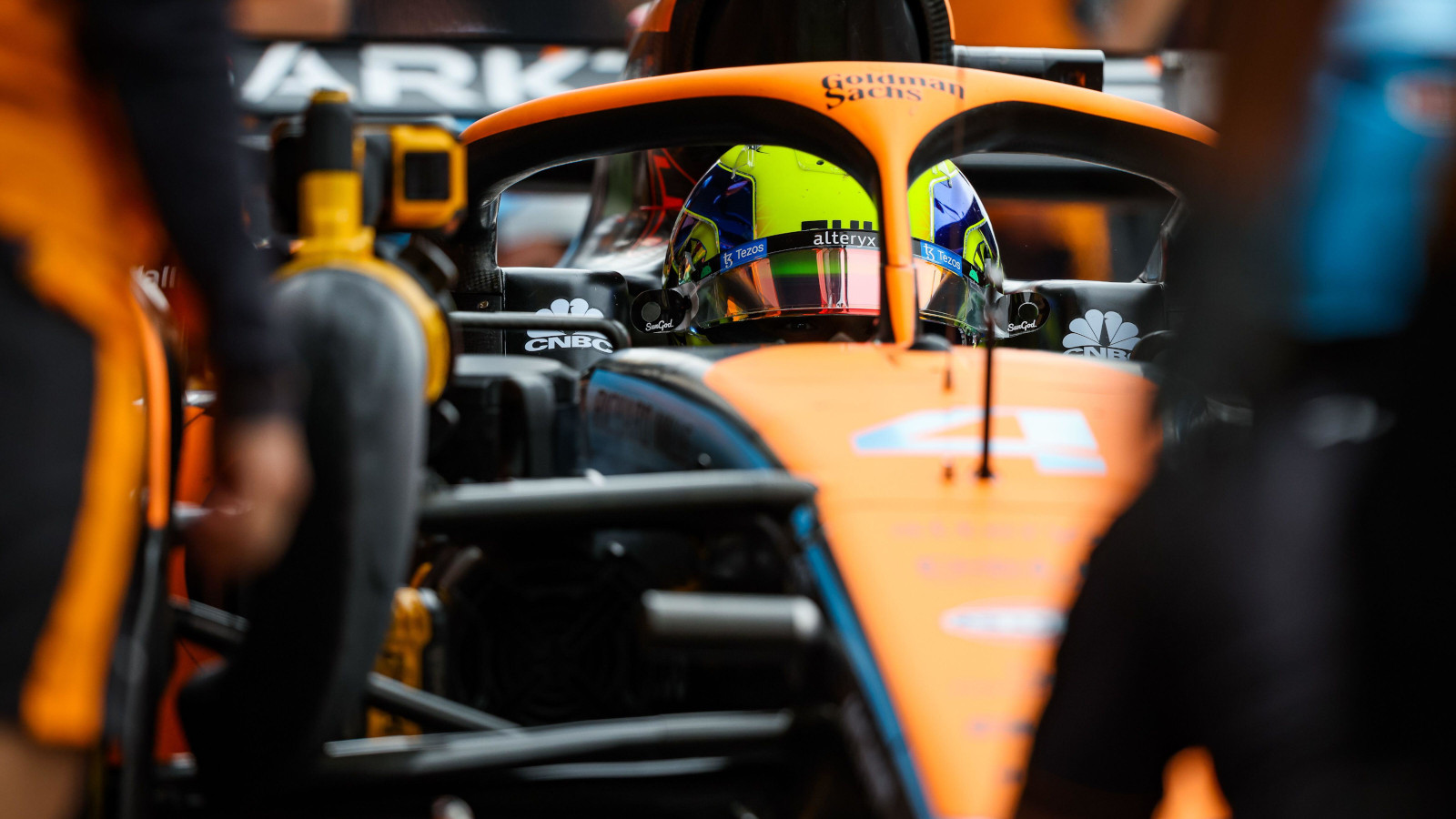 McLaren and Lando Norris reached further into their list of plans than ever before, but he was simply stuck at the Belgian Grand Prix.
Norris was part of the group of drivers who took grid penalties due to power-unit changes, the McLaren driver starting the Belgian GP from P17.
Ultimately, he was unable to break into the top 10, crossing the line P12 at the end of a race where overtaking for him simply proved too difficult.
It was a disappointing Sunday at Spa for McLaren, who failed to score any points as Daniel Ricciardo managed only P15.
Asked by Sky Sports F1 whether he had expected the race to be that tough, Norris replied: "I would say so. It was a tough one, but I think I all weekend kind of expected it.
"Just with the cars this year, the slipstream is so much less, so where you normally have a slipstream all the way to the final chicane and get close, we just don't really have that anymore.
"It wasn't just that, just the track grip was extremely poor today because of the wind or whatever, and just getting a good run out of Turn 1 for the back straight was pretty much impossible – I was wheelspinning in third or fourth gear.
"I don't think we had the pace really to do a lot more. Maybe in clean air we could have done, but just too difficult to pass, as expected really. It was a tough day, we tried, but couldn't do a lot more."
Norris at one stage made it all the way to 'Plan G', the Briton revealing McLaren have never come up with so many plans before to progress that far into the alphabet.
Stuck in the DRS train, headed by Williams' Albon who was mighty in a straight line, Norris just wanted to try something different – but sadly McLaren denied the request, saying it was too late.
"It's the most we've ever had, we don't normally plan that much," said Norris of 'Plan G'.
"But I think there were just a lot of different scenarios that could have happened today – one stop, two stops, three stops, different tyre scenarios and strategies.
"It was more that I just wanted to try something different. I was stuck at the end, I could catch them so quickly, over a second a lap, two seconds a lap. You get there and you are just stuck, just can't do a lot.
"Mainly because Alex [Albon] is so quick on the straights. Even when Lance [Stroll] had a good run out of [Turn] 1, he still couldn't pass him and I'm just in the DRS train behind not able to do a lot.
"Fair play to Alex, he held on for pretty much the whole race I think to like 10 cars. At least he got a point – he was rewarded for it, fair play to him. It's just too difficult to overtake.
"I guess we kind of paid the price of the engine penalty. I know [Charles] Leclerc had come through and Max [Verstappen] somehow won by 17.8 seconds, but they are just a different league and we are racing cars we are a similar pace to, that I was maybe one or two tenths quicker than yesterday.
"So you need a lot more than that in a race situation to get past and that's just not what we have."
Not our day in Spa. 😞🇧🇪 We'll work hard to make forward steps in Zandvoort. 👊#BelgianGP pic.twitter.com/jdZvdaQWbL

— McLaren (@McLarenF1) August 28, 2022
Ricciardo felt he was lacking the straight-line speed needed, due to being out there without his preferred rear wing spec, while being put on the back foot by Lewis Hamilton and Fernando Alonso's first-lap collision did not help his cause either.
Put to him it must have been frustrating not to score points having started P7, Ricciardo said: "We started there and I was able to get Albon at the start, and then it was a bit of a mess with Alonso and Lewis.
"I was trying to go here and there and obviously Lewis was nursing the issue. I kind of got a bit…whatever, in that situation, and Seb [Vettel] got me.
"We still had Albon, which we thought was kind of a critical one, but a couple of laps later he sailed past on the straight. I think while his tyres were fresh they could use the straight-line speed and make the gains they needed to.
"We were just too slow on the straight, that was the biggest thing. A little bit unfortunate because after the issue yesterday it's not the wing we wanted to run when we were forced to, and we knew today it would probably hurt us.
"I think in clear air we were quicker, but we never had clear air because if I had it I didn't have a slipstream, someone would pass me, and if I was right behind someone, even with DRS we couldn't make an overtake. Pretty long old day."