Norris congratulates Max for 'unbelievable drive'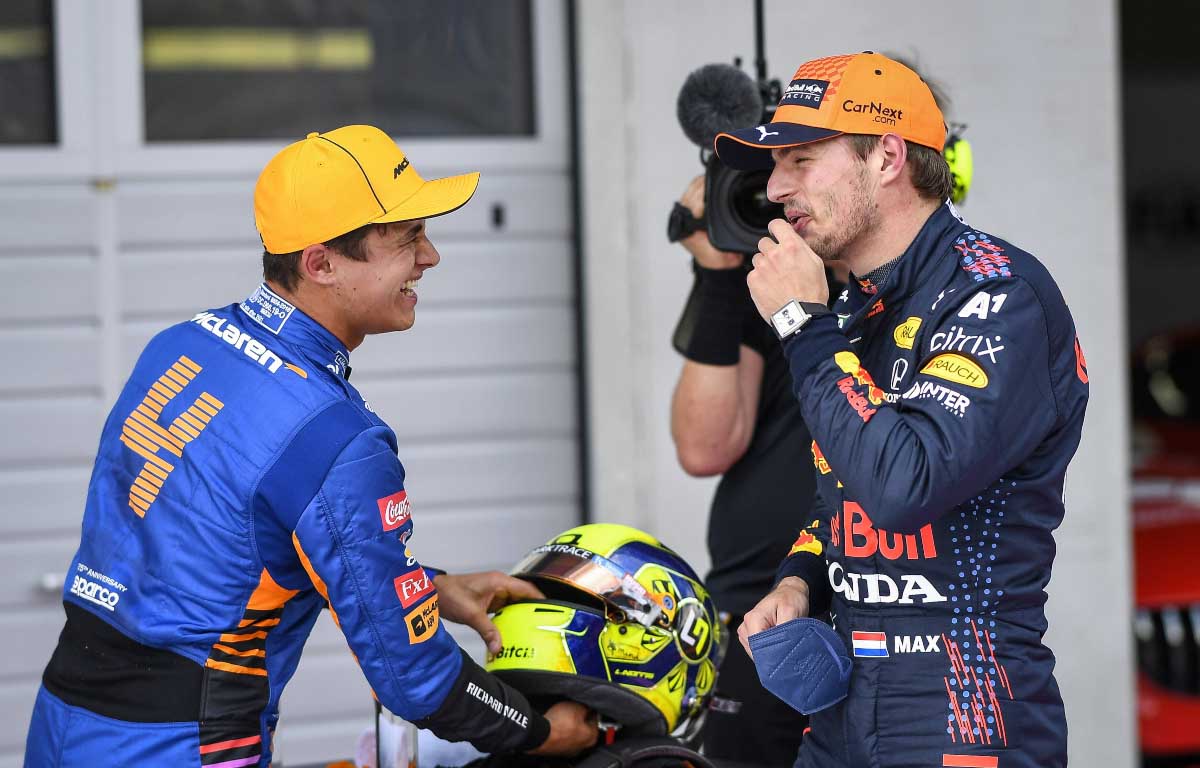 Lando Norris interrupted race winner Max Verstappen's post-race interviews to jokingly congratulate him on his "unbelievable drive" at Spa.
A farcical afternoon at the Belgian Grand Prix saw persistent heavy rain delay the start of the race, but after completing a couple of laps behind the Safety Car after more than three hours of delays, the race was abandoned.
As a result, pole-sitter Verstappen was declared the official winner of the race as he led the field under Safety Car conditions, and enough laps had been completed to qualify for an official race classification, with half points issued to drivers in the top 10 at Spa.
Norris was in a typically perky mood afterwards as he headed up to the Red Bull driver, offered a handshake and quipped: "Great race, mate. Unbelievable drive. I was catching you!"
Lando to Max: "Great race, mate. Unbelievable drive." 😂 #F1 pic.twitter.com/WOO8wgRpQa

— PlanetF1 (@Planet_F1) August 30, 2021
Get the Lando Norris look with the official Formula 1 store
After the non-event around Spa, Verstappen closed the gap in the Drivers' Championship behind Lewis Hamilton in front to just three points, but without actually racing in earnest on Sunday.
Several drivers have queued up to disagree with points being awarded and an official result being given, as Sebastian Vettel branded the decision "a joke" and Fernando Alonso described it as being like "early Christmas" for those given points, having not raced to earn them.
Norris was outside the points after taking a five-place grid penalty after parts were changed on his McLaren to get it fit to race on Sunday, and the Brit felt a run to the sharp end of the field would have been possible for him.
But because of the lack of action, the McLaren driver agreed with his colleagues that the results should have been null and void.
"I don't think any points should be awarded for today," Norris told reporters after the race. "I think for how little we did today, X amount of racing laps, we go out and we race for X amount of the race, but to drive around behind the Safety Car and then for people to get points…
"Maybe I'd be saying the opposite if I was first and I'd got a good amount of points, I don't know.
"I don't feel like – even though it's benefitted us today as Daniel [Ricciardo] got a good amount of points comparing to Ferrari – I don't feel it's [a] deserved race for points because it's not a race at the end of the day."