Norris 'couldn't see a thing' on way to Turkey grid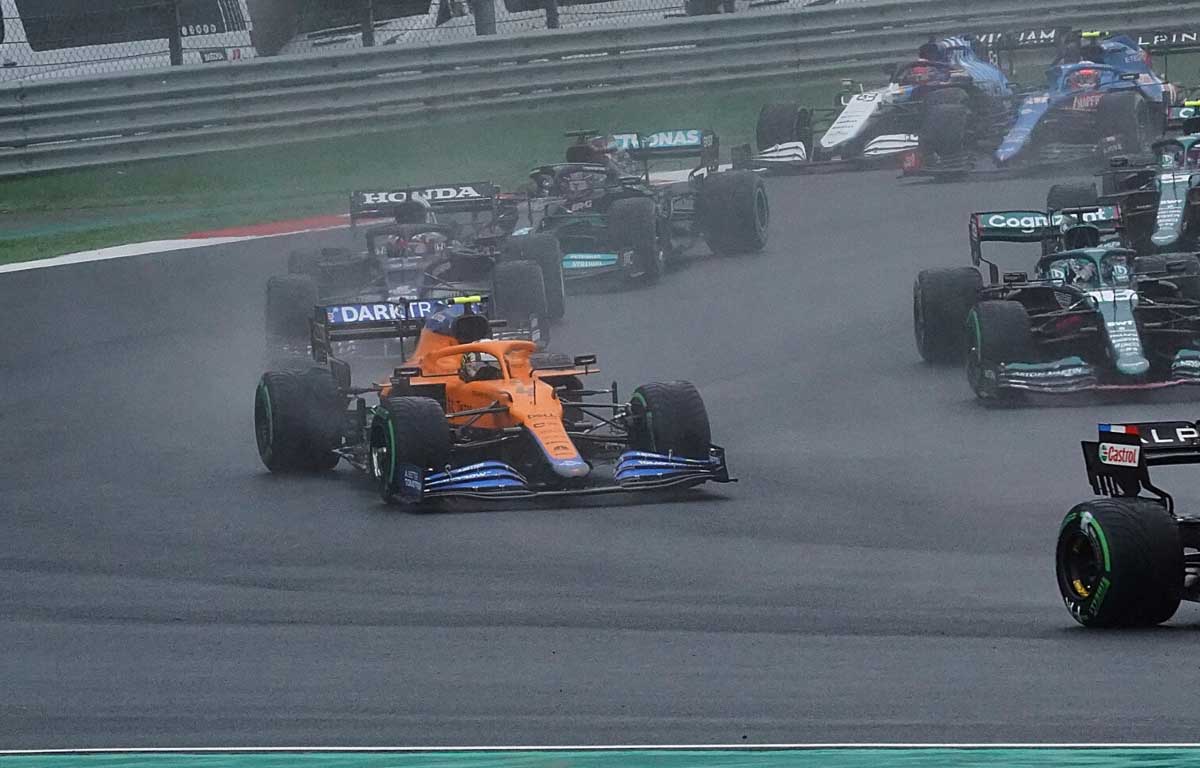 Lando Norris admitted he was afraid of how poor visibility was on his way to the grid in Turkey, with "oily water" on his visor.
Persistent drizzle contributed to damp conditions throughout Sunday's Turkish Grand Prix, and while the drivers were all on intermediate tyres rather than full wets, Norris said he was almost blind when faced with the spray from other cars in front of him.
"The laps to the grid I basically couldn't see a thing," said Norris, quoted by Autosport. "I was quite scared actually how bad it was. But I think the first lap I managed to get a gap and control it very well from then on.
"I think it's because the water sits on the surface quite a bit. It obviously didn't dry, so there's always that bit of water and I think it's not like down in the cracks of it [the asphalt]."
— Lando Norris (@LandoNorris) October 9, 2021
Get the Lando Norris look with the official Formula 1 store
The Belgian Grand Prix in August was limited to just two laps due to the conditions, and the extreme amount of water being thrown up when the cars were driving around Spa.
But according to Norris, it was a different kind of spray in Turkey – as the water mixed with oil present in the tarmac to stick to the drivers' helmets.
The track surface had been water-blasted to remove as much oil as possible prior to the race weekend, but visibility was still an issue.
AlphaTauri driver Yuki Tsunoda echoed Norris' opinion as well, citing that he "couldn't see anything because of dirt and dust" on Sunday.
The McLaren driver said the going was tougher as a result of this.
"A little bit more I would say," Norris said when asked if visibility was worse than at other tracks this year. "But it's terrible at other tracks, probably every other track you go to. It just stayed bad for a little bit longer.
"On lap one, it was more like an oily water rather than just water, if that makes sense. So it became like a bit more blurry and stuff, as well as the water going into the visor."
Race director Michael Masi, on the other hand, felt the conditions were not as bad as those exhibited in Belgium, saying that other members of the grid had not voiced their concerns.
"Having spoken to a number of drivers after the race, I don't think the spray was worse than what it was in Spa," said Masi. "I'm quite confident of that."
Norris went on to finish seventh in the race, on what was a relatively quiet afternoon for the McLaren driver in racing conditions.
Lando Norris open to future Ferrari move
Lando Norris said he would not rule out a move to Ferrari in the future.