Lando Norris reveals making same error that caused George Russell crash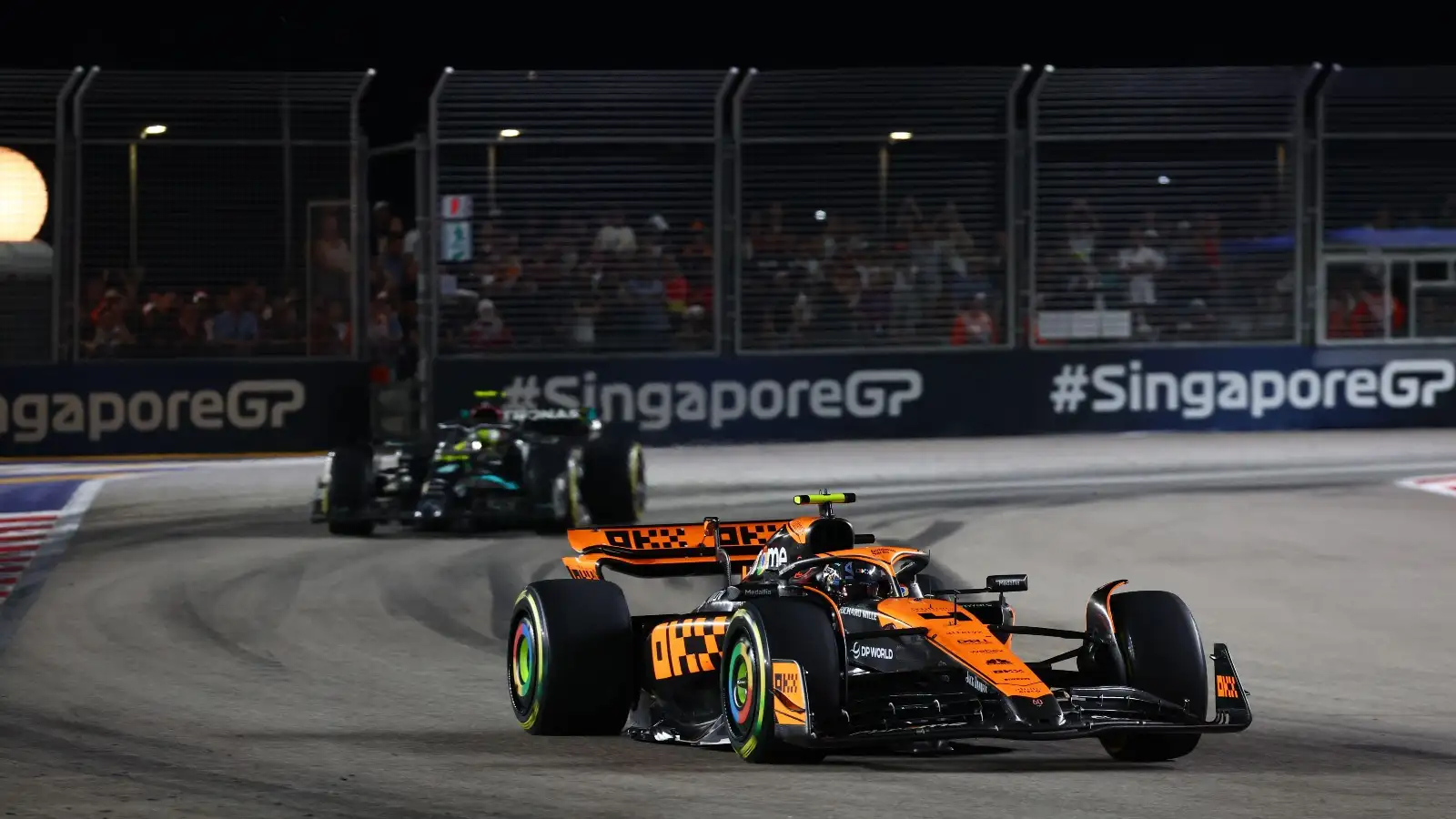 Lando Norris said he also hit the wall in the last lap but unlike George Russell it did not end in disaster.
The McLaren man looked to be a sitting duck late on in the race when both Mercedes drivers with fresher tyres were chasing him down but with the assistance of Carlos Sainz ahead, Norris kept hold of his P2.
No doubt the 23-year-old would have breathed a sigh of relief when he saw Russell career off the track in the final lap, all but ensuring he would keep a position he at times looked certain to lose.
Lando Norris close encounter with the Singapore wall
Russell's downfall came as he pushed to pass his fellow Brit but he overdid it, clipping the wall before crashing hard into the barrier at Turn 10.
With less than a lap to go, Lewis Hamilton was unable to apply the same pressure to Norris as his team-mate had done but the McLaren driver revealed he was very close to suffering the same fate,
"I hit the wall in the last lap at the same place," Norris said. "I did the same and so I think he copied me and just did it even worse.
"I feel for him, he fought a tough race. He was the quickest today I would say so. [The crash] helped me a bit the last couple corners, I could chill for just a little bit more but good points for the whole team as well with Oscar [Piastri] there [in seventh]."
PlanetF1.com recommends
Most F1 wins by engine: Ferrari add to their tally for first time in 15 months
F1 2023: Head-to-head qualifying and race stats between team-mates
It was the help of a former team-mate that helped Norris to keep hold of his podium spot with Sainz slowing down to allow Norris to deploy DRS which in turn ensured the Ferrari driver would keep the win.
Norris was grateful to the Spaniard, saying he had been "generous" in his race strategy.
"Carlos was very generous, trying to help me out in my race and [I] also helped his race," Norris said. "It was tough. We knew it was going to be tough as soon as the Mercedes boxed, especially with only a couple of cars for them to overtake but we're on the podium, P2, we held them off.
"We did everything we needed to do and more, so super happy."
Read more: Singapore Grand Prix – Carlos Sainz wins for Ferrari as Red Bull streak ends in inglorious fashion