Norris calls red flag tyre rule 'worst ever invented'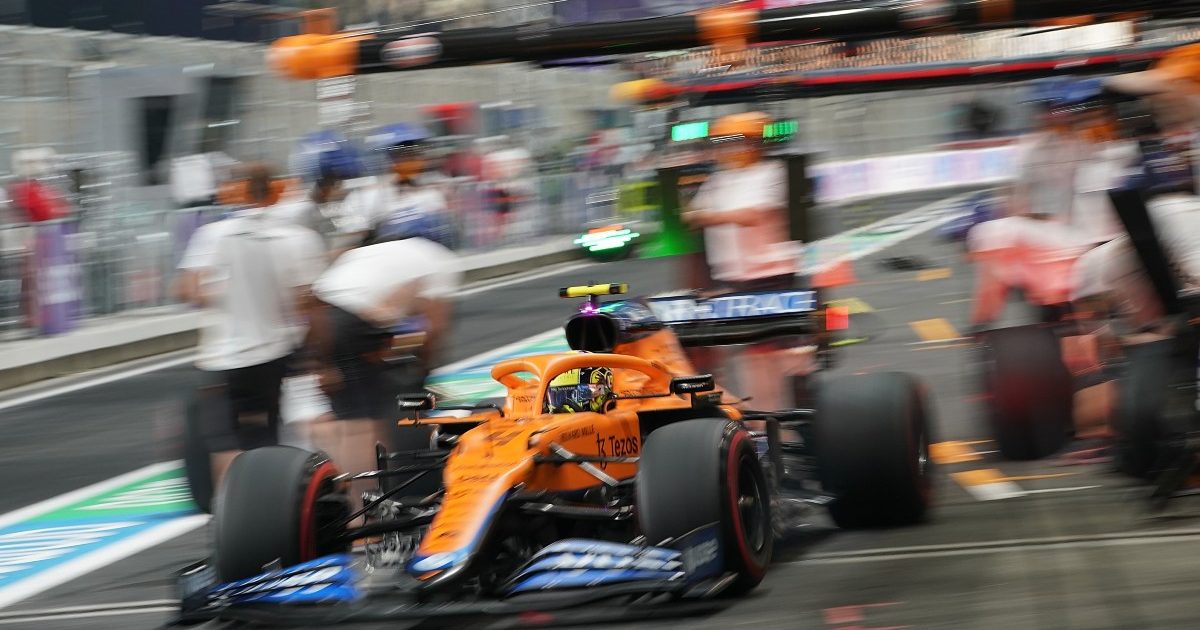 A furious Lando Norris gave a scathing review of the tyre rules under red flags after losing out badly in Saudi Arabia.
The first Saudi Arabian Grand Prix was a fragmented race with various Safety Car, Virtual Safety Car and red flag periods.
And it was the red flags that ruined Norris' race, with the Briton pitting before the race went into red flag conditions and so under the current rules, the drivers could then have a free tyre swap as they waited for the race to resume.
And this, Norris says, is the worst rule that has ever been thought up for Formula 1, referencing back to Pierre Gasly's victory at Monza in 2020 when he was able to fit a new set of tyres under red flag conditions, thus losing no time on track.
"Probably the worst rule ever invented by someone, being able to change tyres under red flag," Norris told Sky F1.
"We said it last year already – not to take anything away from Pierre [Gasly] because people would probably say that's what I'm trying to do, but with their Monza race last year Pierre got to change tyres for free.
"I don't feel like it's deserved in a way, it's just complete luck and it's luck that doesn't need to be given to someone and that's pretty much what it is, just given to someone.
"Just ruined our race today. Feels like you do so much just to get it all taken away.
"Sucks, because the team did a good job. I thought the car was pretty decent but this crap rule ruins everything.
"If Max [Verstappen] had won this race…I don't know what happened in the Turn 1 incident with them, but if Max had won just because he got the free pit-stop then I feel like Mercedes would complain.
"I just feel like it's such an unfair thing. They should still have to do that pit-stop – it should be more just unlucky rather than getting lucky."
That race had it all. 😳

Daniel and Lando showed their fight on an unpredictable night and secure P5 and P10 respectively.

Good points, team. 👊#SaudiArabianGP 🇸🇦 pic.twitter.com/6M8Rd6JqyD

— McLaren (@McLarenF1) December 5, 2021
Norris ultimately was able to recover from the back to claim a point for P10 and with his team-mate Daniel Ricciardo crossing the line P5, he accepted there was a positive to the race.
"Better than nothing. In the side I was on, Daniel got lucky with it and finished P5, so I guess there is a pro to it as well," Norris explained.
"If both of us had boxed then it probably would have been one of the worst days you could imagine.
"I'm happy from my side. I feel like I did a good job when I could, being patient and so on. A lot of people just crashed in front of me for some reason.
"I think it was a good day from my side. We just got so unlucky and that ruined it."
Norris thankfully did still enjoy driving the high-speed Jeddah Corniche Circuit and actually would have had the energy to go back out there racing again.
But considering the frustrating Sunday he had endured, he is happy to be leaving Saudi Arabia.
When told he looked tired, Norris responded: "Do I? I feel like I could go again right now. Obviously I don't want to, I want to leave.
"It was a tough race, just hot, didn't really have time to cool down. You're constantly focusing and working hard, especially from being in last place.
"I mean it's still enjoyable, it's still a fun circuit to drive, but when you feel like you have put that much in to get one point again, I think it's like my fourth consecutive one or two-points finish. So it's hard to take."
McLaren pull a point back but still advantage Ferrari
McLaren outscored Ferrari by one point but Ferrari still have the P3 advantage.