Norris keeps hold of Sochi P7 after pit lane reprimand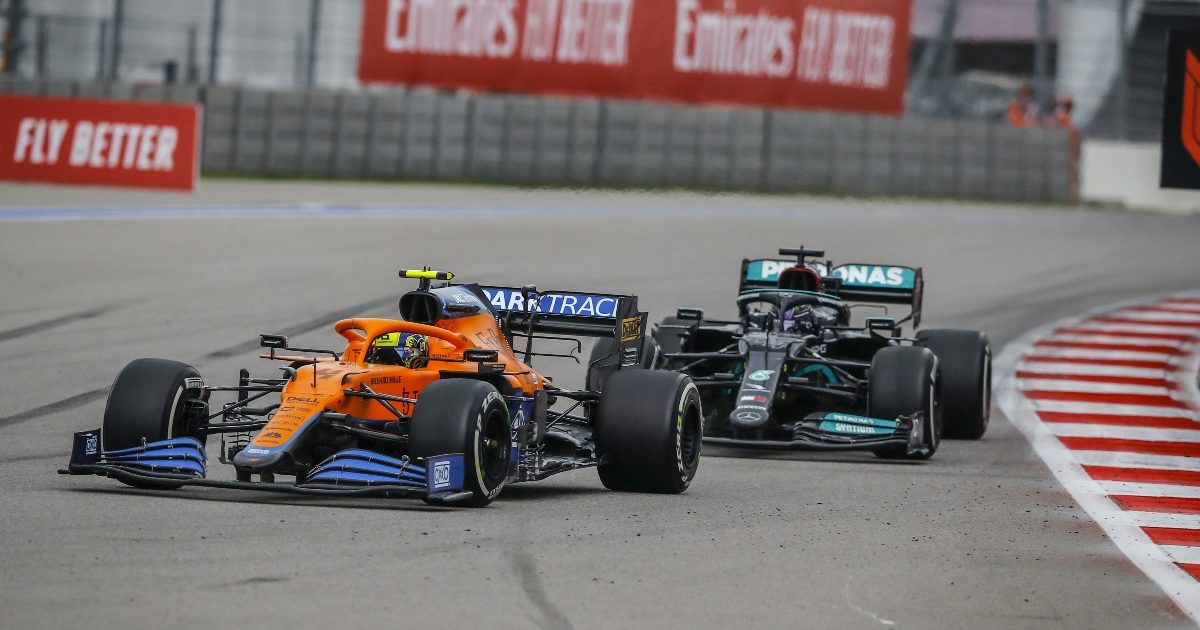 Lando Norris has received just a reprimand by the FIA stewards in Sochi for a pit-lane entry infringement at the Russian Grand Prix.
Teams had predicted that rain was on its way for the closing stages of the Russian Grand Prix, and it duly arrived, creating the dilemma of whether or not to pit for intermediate tyres.
Race leader Norris wanted to play it safe with a first Formula 1 victory in sight, his McLaren team telling him that the rain would be light.
The heavens would truly open though, leaving Norris stranded on the dry tyres as he limped back to the pits with zero grip.
And upon trying to enter the pit lane, he would slide back over the white line, before re-entering the lane – which you would usually say is a slam-dunk penalty in Formula 1.
However, the stewards have taken a pretty lenient view, saying that the track and weather conditions at the time played an integral role in the incident.
The verdict read: 'The Stewards heard from the driver of Car 4 (Lando Norris) and team representative, reviewed the video, radio and telemetry evidence and determined that a breach of the regulations had been committed. This was not considered as force majeure because it does not comply with the definition of force majeure in Article 20 of the FIA International Sporting Code.
'However, the Stewards took into account that on the previous lap the driver of Car 4 had passed through Turn 17 (adjacent to the Pit Entry) at a relatively high speed, without loss of control. During the ensuing lap, the conditions deteriorated rapidly and were varied in different parts of the circuit.
'The driver slowed considerably on entering the Pit Entry, with his speed approximately half of his normal pit entry speed, but still lost control and slid across the painted area between the Pit Entry and the track.
'Although obviously the driver chose to remain out on the track on hard compound slick tyres when others chose to change to Intermediates, and therefore sought to gain an advantage in retaining his race position, we do not consider that the crossing of the painted area was intentional or predictable in the circumstances.'
Clearly emotional after that potential victory slipped away, Norris did though make it clear that the McLaren team were not to blame, as he had pushed to be left out on the track.
"I'll probably get a penalty for that, it doesn't make it any worse," he told Sky F1 upon seeing the replay of his pit-lane blunder.
"The team told me what was going on, and I made the decision, I also said 'no I want to stay out', so it's not the team's fault, I made my decisions as well."