Vettel fumes on team radio after Norris' Q3 crash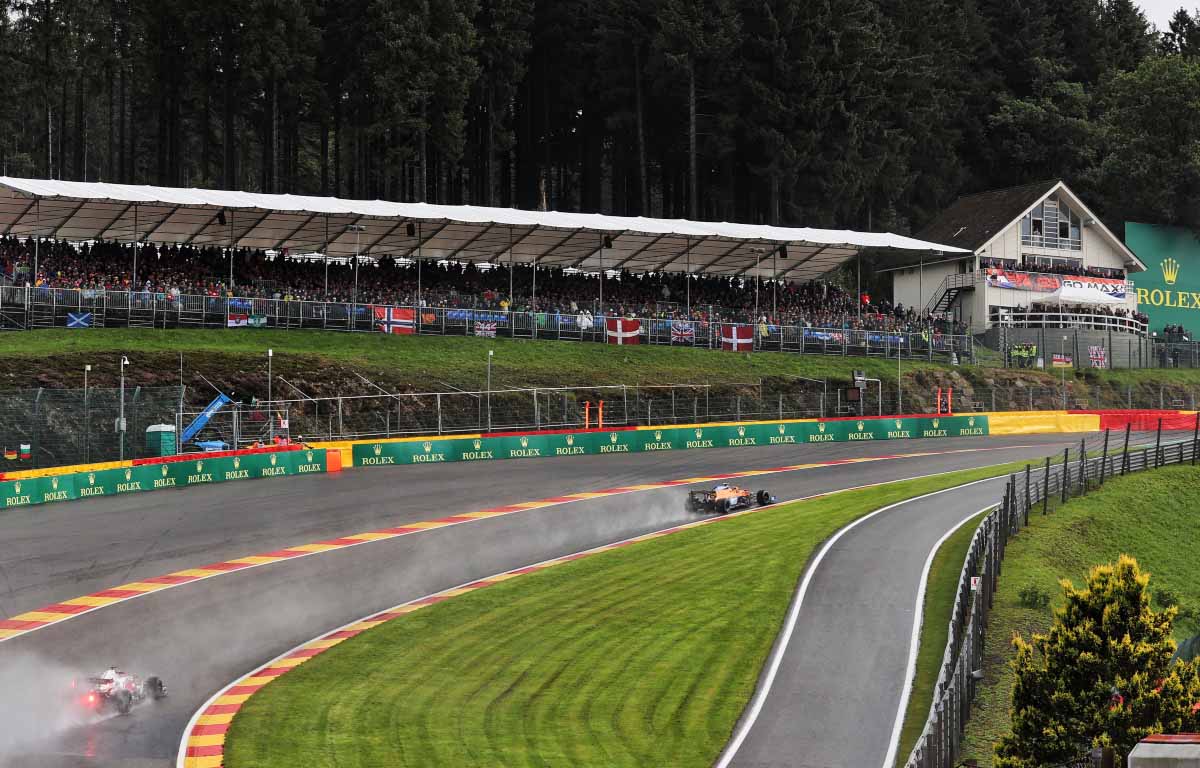 Sebastian Vettel aired his frustration at the slowness of bringing out the red flag after Lando Norris crashed out of qualifying at high speed at Spa.
The McLaren driver had been running close to the top of the timesheets throughout qualifying, but an extra rain shower prior to the start of Q3 forced the drivers back onto full wet tyres, having been able to run on intermediates in Q1 and Q2.
Norris lost grip as he appeared to aquaplane heading up the hill of Eau Rouge, and was sent careering into the wall at the high-speed kink of Raidillon, which caused a huge crash.
Norris was thankfully able to climb out and head into the medical car shortly afterwards, and he has been sent to the trackside medical centre for checks following his crash.
The session was red-flagged, but Sebastian Vettel was particularly animated as just moments before Norris' huge crash he reported on team radio the track was not safe enough to drive on.
Sebastian Vettel stopping at the scene of Lando Norris' crash to check if he is ok ❤️#BelgianGP 🇧🇪 #F1 pic.twitter.com/qxQ3PFDnff

— PlanetF1 (@Planet_F1) August 28, 2021
The Aston Martin driver furiously said over team radio: "What the f*** did I say? What did I say? Red flag. Unnecessary. Is he okay?"
Vettel pulled up alongside Norris while he was still in his car to ensure he was unhurt, and the McLaren driver responded with a thumbs-up in the immediate aftermath of the incident.
But with his pace, Norris' immediate concern was not for his health, but to apologise to his team as he could not capitalise on his speed, saying: "Sorry boys, should have had a good one there. I let you down. My bad."
Team principal Andreas Seidl confirmed to Sky Germany that Norris was largely well, but could not confirm at that moment if he will be behind the wheel when the lights go out on Sunday.
"Lando is okay," he said. "He held his elbow after the crash, he is at the hospital to get it checked. But he is okay."
But it was "too early to say now" whether or not he will be driving in the race.
Norris' accident was not the first time the Eau Rouge/Raidillon complex has been in the news this weekend.
Lewis Hamilton complained that a new "massive bump" has emerged at the compression point at the bottom of the hill of Eau Rouge, which could potentially destabilise cars running through there.
At the W Series qualifying session on Friday, a rain shower led six drivers to all crash out at the same corner when they lost grip going up the hill.
A serious pile-up occurred as a result and, while two drivers were sent to hospital on Friday night, they have thankfully since been discharged without major injuries.
The tragic death of Anthoine Hubert in 2019 brought the safety of Eau Rouge and Raidillon into focus and, following the incidents this weekend, calls may continue to grow louder to make one of Formula 1's most famous corners safer.