Norris suggests 'extreme hypersoft' to spice up sprints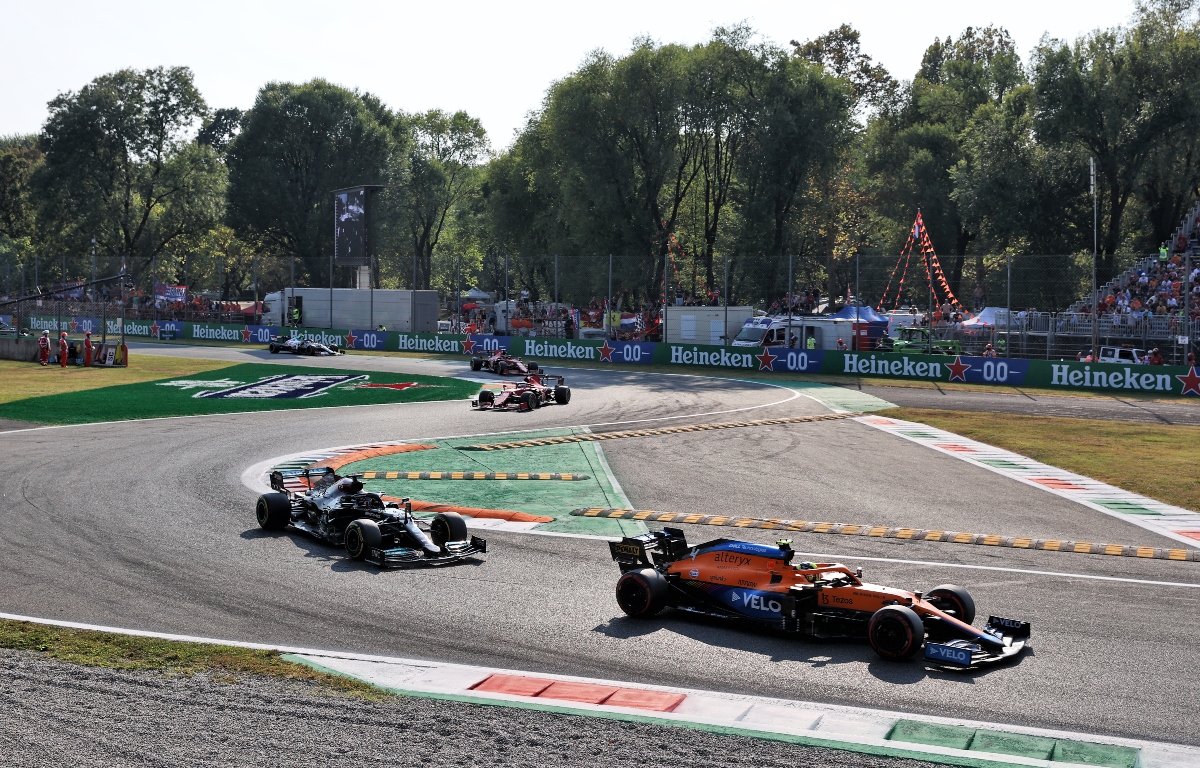 Lando Norris has suggested extreme hypersoft tyres being introduced for sprint qualifying to make it more exciting. 
The first trial of the new format took place at the British Grand Prix and received a generally quite positive reaction from fans and drivers alike.
Monza played host to the second edition of the sprint race this weekend and proved to be less entertaining than the first though, with overtakes and wheel-to-wheel racing hard to come by in the 18 laps.
Norris feels the problem is that drivers don't have to worry about managing their tyres and don't lose any pace due to degradation.
Given that, he thinks bringing in a softer compound could make things better.
"It's tricky," he told Sky F1 when asked whether he liked sprint qualifying.
"Because you're just pushing the whole way, and even on the softest tyre there's not really much [degradation], not a lot of stuff happens.
"And when we see a lot of racing tomorrow it's going to be when tyres go off and, you know, different strategies rather than just racing.
"So whether we just have like an extreme hypersoft for the sprint race and people have to manage a bit more, maybe then you'll see something."
While he may not have enjoyed it much though, it was a largely successful session for Norris with the McLaren man getting and staying ahead of Lewis Hamilton to finish P4 and earn P3 start for the race.
He does admit that the format is not only better than FP3 for the fans but benefits midfield teams too as they can afford to take more risks than the frontrunners.
"Of course, from a spectator point of view this is way better," he added.
"It's for the fans, it's for you guys, it's for everyone watching. I think there are a lot of positive things about it.
"and I think it sets us up for well tomorrow. You need that risk vs reward. We can take the risks and other people have to be a bit more cautious like Mercedes and Red Bull, so we can take advantage of that."
Get in there, DR! 🍯🦡

That's what it's all about.

P3 for @DanielRicciardo in the #F1Sprint at Monza. 👏 #ItalianGP 🇮🇹 pic.twitter.com/7ZC678tkM1

— McLaren (@McLarenF1) September 11, 2021
F1 TV are offering PlanetF1 readers 10% off both monthly and annual subscriptions! In order to claim this fantastic discount, click the following link and use the promo code PLANETF10 at checkout!*
*The offer ends at midnight on September 12 and excludes Netherlands
One downside of his day was that he was beaten by team-mate Daniel Ricciardo, who finished just ahead of in P3 after passing him at the start.
The Brit is happy to have the Aussie at the front with him for the race though.
"It's good," he said.
"This weekend, from the beginning, he's been very good and very competitive so I think we've pushed each other a lot and he's got one point for the team today so I think it's beneficial.
"We're starting in a good position tomorrow and I guess from a Constructor's point of view, it's easier for me knowing he's there because it's not just that we have two cars up there, we can use it strategically to hold off other people or attack other people and so on.
"So it's good for him and also he deserved today, he's been driving well this weekend."