Norris: Stroll doesn't deserve podium due to 'stupid' rule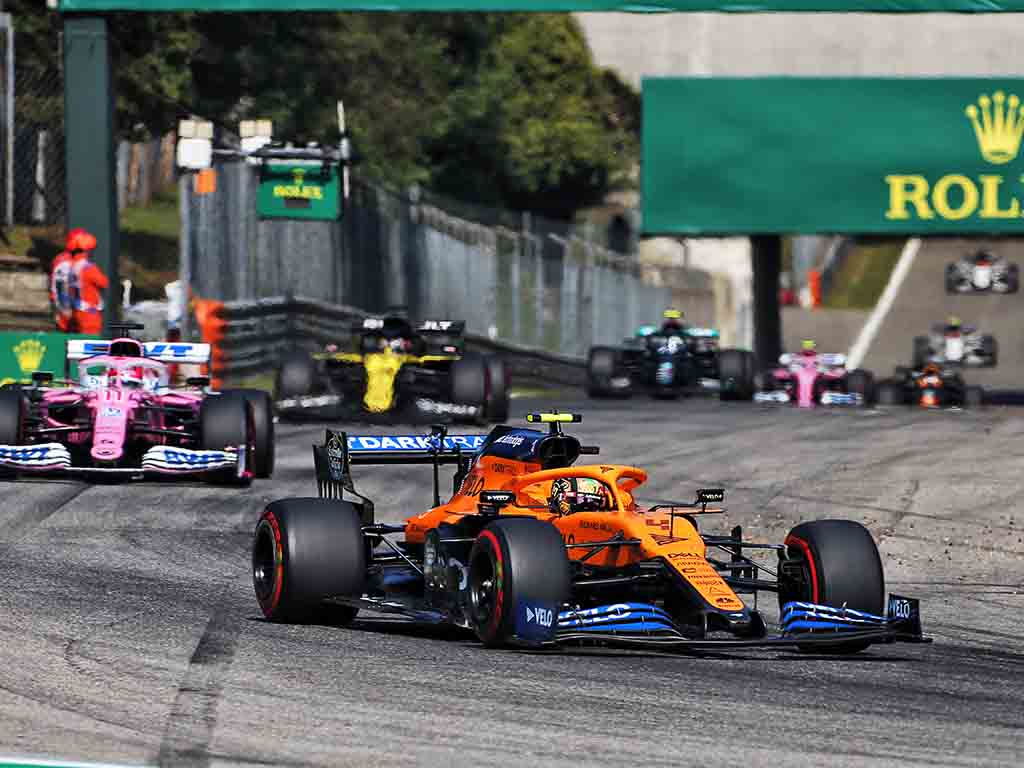 Lando Norris thinks a "stupid rule" has prevented him from joining Carlos Sainz on the podium at the Italian Grand Prix.
When a race suspended via a red flag, as seen after Charles Leclerc's huge crash at Parabolica, Appendix 41.4 of the Sporting Regulations state:
41.4 Whilst the race is suspended:
a) Neither the race nor the timekeeping system will stop, however, in accordance with Article 5.3 the length of the race suspension will be added to the maximum two hour period.
b) Cars may be worked on once they have stopped in the fast lane but any such work is restricted to that listed in i) to ix) below and must not impede the resumption of the race.
i) Starting the engine and any directly associated preparation.
ii) The addition of compressed gases (see Article 4.5 of the F1 Technical Regulations).
iii) The fitting or removal of permitted cooling and heating devices.
iv) Changes to the air ducts around the front and rear brakes.
v) Changes to the radiator ducts.
vi) Changes made for driver comfort.
vii) Changing wheels and tyres.
viii) Repair of genuine accident damage, including the replacement of assemblies containing such damaged parts.
ix) The aerodynamic set up of the front wing may be adjusted using the existing parts. No parts may be added, removed or replaced.
c) Only team members, officials and duly accredited television cameramen will be permitted in the pit lane.
That ruling allowed Lance Stroll, who finished P3 behind Pierre Gasly and Carlos Sainz, to essentially gain a completely free pit stop as his tyres were changed during the stoppage.
And Norris thinks that rule has stopped him from another podium spot this season because he pitted just before the race was red flagged.
Get your hands on the official McLaren 2020 collection via the Formula 1 store
Well done to @LandoNorris for an excellent P4 finish.

P2 and P4. WHAT A RACE! #ItalianGP 🇮🇹 pic.twitter.com/L2fKjdyxi9

— McLaren (@McLarenF1) September 6, 2020
"I couldn't have done anything more," Norris told Sky F1.
"The only reason I think I was not on the podium today was Stroll benefitted from a free pit stop. It is a stupid rule. They just get it for free and they don't deserve it, in many ways.
"I'm still proud [of finishing P4]. And the only way I would have finished in P2 [where team-mate Carlos Sainz had finished] was if I qualified ahead on Saturday.
"I couldn't have got ahead of Carlos today. He did everything he needed to do. You can always do a better job but it doesn't mean you can just finish ahead of everyone even if you a perfect job.
"So, yeah, Carlos, did a good job.
"From my side I still think I did a good job. It wasn't a podium but I think that was out of our hands. As a team, though, we did the best job today."
Pressed further on his comments about being able to change tyres in a red-flagged race, he said: "I think it should be taken out.
"I think we have the two examples. We've got Gasly who boxed just before [the Safety Car], he was ahead, the race gets red flagged and that's fair.
"You can't do anything about that. But for someone who just hasn't boxed [like Stroll] they have just gained 24 seconds for doing nothing.
"He should still have to pit. You can get lucky doing what Pierre did but I think that's still just fair play.
"But not having to box and not having to use that mandatory pit stop is a thing that I don't think is right."
Hear what the PF1 team think of Gasly's win, McLaren's revival and reverse grids in the latest episode of Torquing Point!
Follow us on Twitter @Planet_F1, like our Facebook page and join us on Instagram!