Norris: Styrian GP best race of F1 career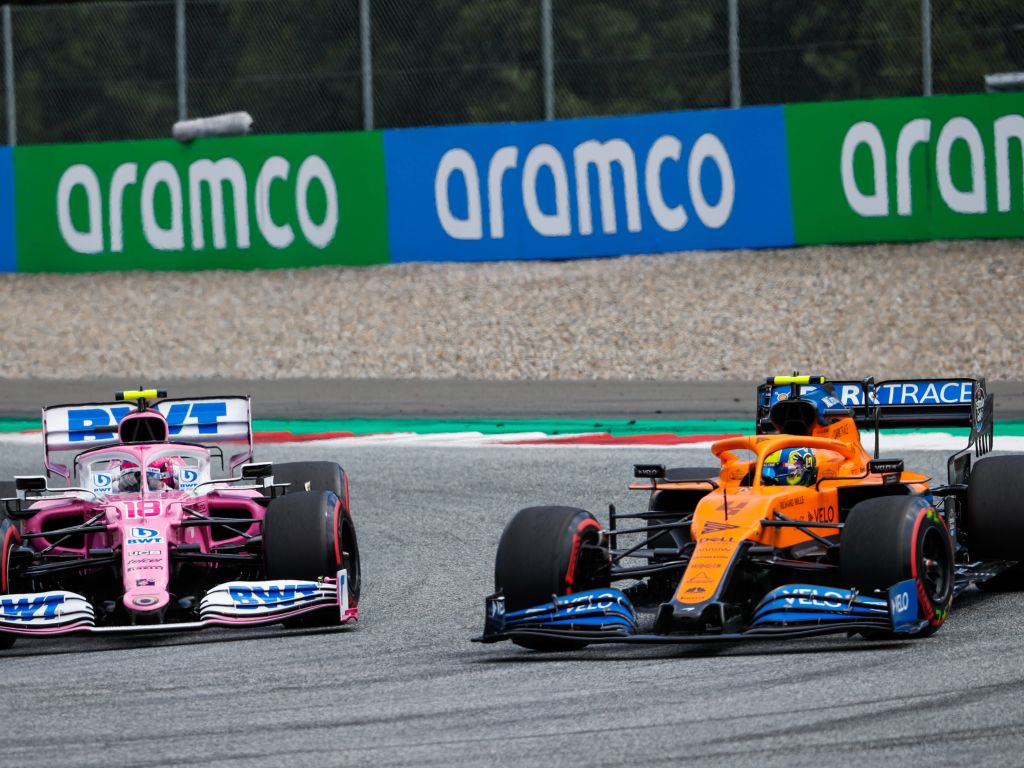 Lando Norris has branded his P5 finish in the Styrian Grand Prix as "one of the best races" of his F1 career so far.
A grid penalty meant that the McLaren driver started P9 for the second race of 2020 at the Red Bull Ring, having scored his first podium finish at the venue on the previous weekend with P3.
And after an unspectacular start Norris was able to work his way up the order in the closing laps, passing Sergio Perez who had front-wing damage at the last corner of the final lap for P5.
"It was very enjoyable, especially those last few laps, just the second stint," he told Sky F1.
"The first stint I didn't like, we were just in a DRS train and you can't do anything.
"And I went much longer than we thought was going to be possible on the softs, Lap 45, and that played into out hands perfectly going onto the mediums and then I had a lot better pace than everyone around me.
"So I think it's a shame what a difference being in dirty air to cleaner air makes.
"We got a bit lucky with Perez into the final corner, but I would say this was probably one of the best races of my F1 career so far.
"Races weren't one of my strong points last year, they are something I've worked on throughout the winter into this year to see those improvements and to see how much I've improved has given me lots of confidence.
"I look forward to the next few races, but I think we have to ready for an even more difficult and tough weekend."
Norris struggled early on to match the pace of the Renaults or Racing Point, but he revealed that he had made the decision to save his tyres whilst stuck in that group.
"I don't think it was bad, I was trying to save my tyres," he explained.
"Carlos was the leader of that pack, so he had the clean air and the rest of the guys kind of pulled away and he was controlling what he was doing.
"So I was just stuck being second-to-last in the group so struggling with a lot of dirty air no matter what line I did.
"The guy behind me could always back off, cool his tyres and go again, so I always felt like I was in the wrong place in the group.
"The only thing I could do to make the best of it was to look after my tyres and I did, so I think that was a great decision by me, great strategy, and that was one of our keys to the race."
An extraordinary last lap from @LandoNorris as he passes Stroll and Perez to snatch P5 at the Styrian Grand Prix 🚀 😮#AustrianGP 🇦🇹 #F1 pic.twitter.com/87yQtu7xk7

— Formula 1 (@F1) July 12, 2020
After two rounds Norris is P3 in the Drivers' Championship, but he said he had to "thank" team-mate Sainz for playing a perfect team game in Styria.
"I'm retiring," he joked.
"Today was just a wonderful day, last week I qualified well and had to hang on in there, whereas this week was more of a fighting kind of race.
"Perfect strategy, good pace against Carlos and we had a good strategy going on between us two, he helped me, I've got to thank him because without that we wouldn't have finished so high.
"An awesome first two weekends, didn't think it was going to go this well, but we made the most of the mistakes from everyone else and I look forward to the next one."
Follow us on Twitter @Planet_F1 and like our Facebook page.