P5 finish no longer has the 'wow' factor for Norris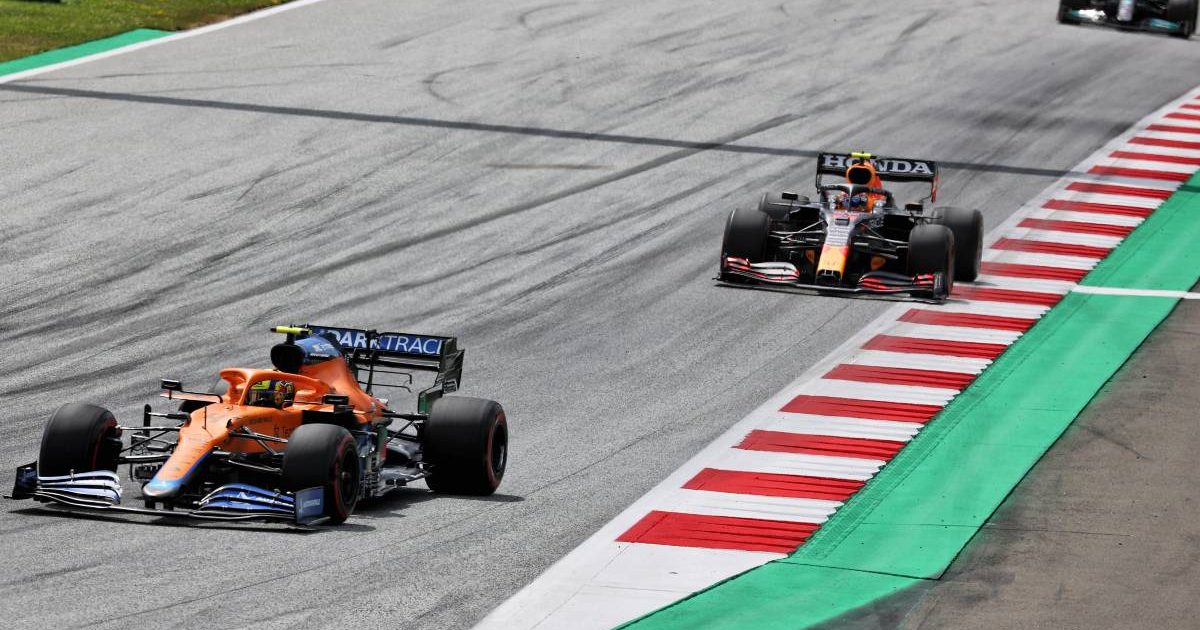 Lando Norris admitted finishing fifth is barely satisfactory for him these days – whereas last year, it would have felt just "like a win".
The McLaren man has improved so markedly this season that it is no longer any surprise to see him finish races as the best non-Mercedes or Red Bull driver, and that was the case once more at the Styrian Grand Prix.
Starting third on the grid, Norris was able to keep Sergio Perez and Valtteri Bottas behind him in the early stages until passed by both, while eventual winner Max Verstappen and Lewis Hamilton raced off into the distance.
The Briton knows his car is more competitive in qualifying trim than race set-up and wishes he could be a more regular podium contender – even though he has finished third twice already this season.
Nevertheless, Norris' consistency – he has finished fifth in each of the last three races – means he remains an excellent fourth in the Drivers' World Championship standings.
"I don't think we could have done a lot more really today," Norris told Sky F1.
"Just a bit of a lonely, straightforward race for me – which in some ways is really good. It's a positive that it's quite a lonely race when you're in fifth position. But you always want more no matter where you finish, until you get to P1.
"A day like today shows that in qualifying why it's so good to be where we are. For us to be ahead of one of the Red Bulls yesterday when they have a car that's so much faster shows we are doing a very good job and I'm driving well and things.
"We are extracting everything we can from the car but when we get to the race, the car performances separate and you're on high fuel with a lot more tyre deg, you struggle with the rears a lot more and you're a lot more limited by the car rather than being able to push it to the limit.
"Maybe next week we can find a second all of a sudden and be a lot more competitive!"
Nice chunk of points and another P5. That's where we were at today. Back for more next week. Thanks @McLarenF1. pic.twitter.com/1fmKXGq4vw

— Lando Norris (@LandoNorris) June 27, 2021
Get the Lando Norris look with the official Formula 1 store
It was a definite case of mixed feelings for Norris, who wants to take the next step but also knows he should focus on the immediate target – beating Ferrari for third position in the Constructors' Championship. McLaren are 12 points ahead of the Italian giants.
"I remember last year if we had a P5 it was like 'wow', it's like a win. But every time you get into that position and get comfortable with it, you want to achieve a little bit more," added Norris.
"It's annoying because they [Mercedes and Red Bull] were so much further ahead today – it's not like it was five, 10 or 15 seconds, it was [looks at timing screen] 26.7 seconds ahead, so that's a lot of lap time.
"A much better car is needed and a lot more grip. It's frustrating because we want to improve, but I guess for a while you won't see us do a lot better than that in terms of pure performance.
"But days like today are very good – a lot of points for myself and for us as a team. Ferrari were very fast and maybe outscored us a bit today but there's not a lot more we could do. I think next week Ferrari can be much more of a threat if they start in a good position and don't have any incidents.
"Although you always want that little bit more, days like today at the end of the year are the ones you're thankful for."
Follow us on Twitter @Planet_F1, like our Facebook page and join us on Instagram!